Create Video Ads Easily With The Best Online Video Ads Creator.
Make professional video ads for all of your social advertisement campaigns and more, in just a few clicks. Create video adverts and promos in minutes with no technical experience needed!
Viddyoze lets you create video ads from a vast library of 1000s of templates. It's the ultimate video ads creator online.
Our Video Ad Creator Is Used By 1000s Of Happy Users Around The World
Generate More Leads & Sales With Powerful Video Ads That Can Be Created In Minutes.
To create social media ads that make a profit, you need to post vibrant videos that clearly explain your value proposition. Otherwise, you risk wasting your budget without generating many leads or sales.
At Viddyoze, our video ad creator has 1000s of ready made templates that are designed to grab attention and promote any product or service you want in the best possible way.
Just choose a template, upload your product imagery, edit up the text to convert viewers to buyers, and hit "Create". Viddyoze will then automatically create a video ad for you, with your brand assets and text in minutes.
Retarget Leads With Personalized Product Video Ads
Retargeting PPC campaigns is an effective way to re-engage your website visitors. However, video advertisement makers often miss out on easy conversions by using the wrong video ad creative.
Simply put, all video advertisements must reflect the product page your site visitors engaged with in the first place.
Stop using generic adverts in your campaigns and get more sales by displaying engaging product videos that match the product your website visitors showed interest in.
Use the Viddyoze ad maker to create videos for all of your products in minutes, yo ucan match colors to your website brand and upload all of your own product imagery.
Create Perfect Social Media Video Ads Without Complicated Software
Before Viddyoze, if you wanted to create eye-catching video ads, you'd have to hire a videography team to shoot your footage, then edit your video ad with specialist software.
This would take lots of time, and of course, huge budgets. This would stop many businesses in their tracks.
Now, you can create adverts that get results without the headaches or expenses.
With Viddyoze, our easy to use video ads creator platform is all about customizing ready made, incredible video ad templates, in just a few clicks.
You login, choose a template, customize it with your messaging, brand colors and images, then download! It really is that easy.
If you are looking for an easy to use online video ad creator, then you just found it.
Exclusive Video Ad Templates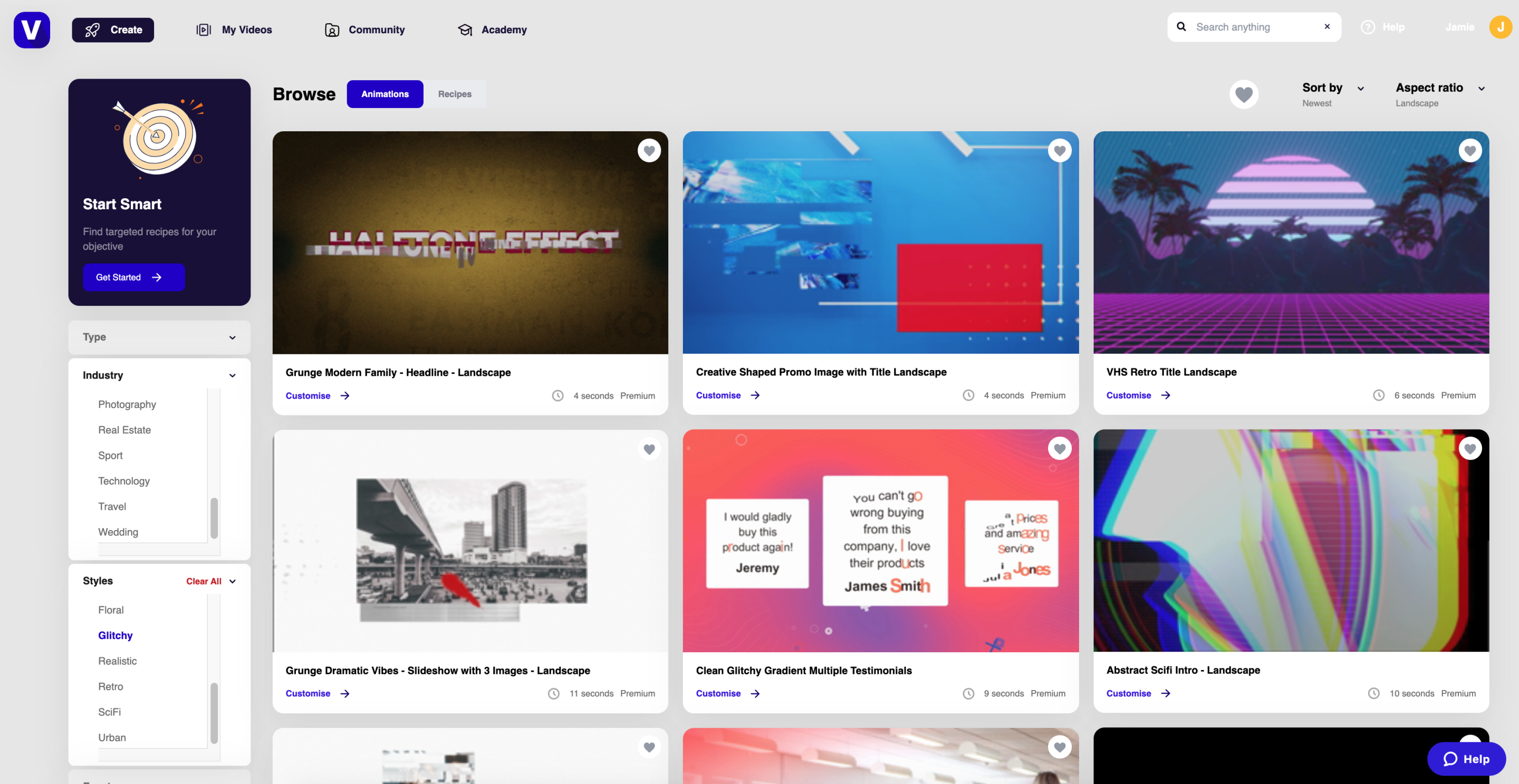 Sign up to the Viddyoze app for free.
Choose a template from our library and customize it
Download and post your video

Wayne
"Hey guys, I am impressed with Viddyoze it gives me a bigger punch than I actually have. I am perceived by my audience as producing High quality video and I am glad I am able to make that impact."

Kenville
"I have all that I need in one place I've never done a better thing than when I made this purchase its off the chain and the customer service is excellent if I could give a million star I wouldn't even think twice wonderful, excellent and amazing software."
Powerful Ways You Can Utilize
Viddyoze's Video Ad Creator
Stop Posting Regular Image Ads Which Nobody Remembers. Turn Them Into Videos.
Video content has become the most popular tool in marketing. Why? Because it gets results. Invisia reports that viewers retain 95% of a message when they watch it in a video, compared to just 10% when reading it in text.
That means standard image-based adverts just won't cut it anymore. Why spend your ad budget promoting creative that only 10% of your audience will remember when it's time for them to buy?
The Viddyoze ad maker empowers you to create scroll-stopping video ads with ease, which engage viewers and make them remember your brand story and the USP of your products or services.
Increase the ROI of your ads campaign today, simply by posting a video ad in the format your customers want. Step up your game. Start advertising with your own videos now.
It's so easy with Viddyoze. 
Create A Video Ad For Every Social Media Platform
Instagram, Twitter, LinkedIn, TikTok, YouTube, Reddit, or even Quora – all different social media platforms have their own quirks and user behaviors. There's no guarantee that adverts that generate tons of clicks and engagements on one platform will get the same results when copied to another.
When launching a video ad campaign across multiple social media platforms, it's crucial that you take the time to audit each platform and understand what content will be best received by its audience.
Once you've decided on what type of content your business should promote, your next step is to create your adverts in Viddyoze's ad creator.
The Viddyoze app has 1000s of video ad templates in a wide variety of styles, so you can confidently create adverts that drive sales across all of the different platforms out there.
You can also create in portrait, landscape and story mode too!
Inspire Trust And Credibility In Your Brand With Top-Quality Video Ad Templates
The hard truth about using video content to market your business is this: if your videos are cheaply-made, it'll cost your brand more sales than it makes.
That's because poorly-produced content, with bad visuals and audio, is associated with unprofessionalism and raises doubts about the quality of your service in the watcher's mind.
Viddyoze eliminates this problem by enabling you to create video ads to a high level, which inspires consumer confidence in your brand, every time. Our team of dedicated animators work tirelessly to produce studio-quality animations exclusively for Viddyoze's ads maker. Make your business ad stand out with our video templates.
1000s Of Video Ad Templates To Choose From
Unrivaled
Customer
Support
Trusted By 180,000+ Users
New Video Ad Templates Added All The Time
Create Your Video Ads In Just A Few Clicks
Super Fast To Render Videos
Easy To Use App/Interface
You've Got Q's. We've Got A's.
What Are Video Ads?
Video ads are visual clips that you pay platforms or broadcasters to display to their active users.
Even if you don't intend on using paid advertising, you can still use video ads to promote your products and services organically across social too.
Essentially a video ad is a promotional video intended to show off your product or sevice.
How Do I Make Video Ads?
You can create video ads by using the Viddyoze ad creator. Simply choose a video ad template from our library, customize it with your product imagery and branding, then download and upload anywhere online.
With our vast library of video ad templates, creating perfect video ads is as easy as that.
Can I Post My Video Ads On Facebook?
Yes, you can make Facebook ads with Viddyoze! In fact, you can use our ad maker to post your ads anywhere you want. We even have specific Facebook ad templates completely customizable for social media. In terms of length, Facebook recommends that an ad should be no longer than 15 seconds.
Is Viddyoze Just An Ad Maker?
No. Viddyoze can be used to make all kinds of videos. Video ad production is just one form of content we offer.
What Type Of Ads Can I Make On The Viddyoze Video Ad Maker?
You can use our ad creator to make any of the following social platforms (plus much more):
• Banner ads
• YouTube ads
• Twitter ads
• Ads for your Facebook page
• Generic Facebook ads
• Instagram ads
• Ad video
• Plus many more!
Once you're done creating, simply upload and share.
Can I Make Adverts With My Own Images?
Yes, you can upload your own photos to any Viddyoze ad template. You can also add stock photos.
How Do I Create The Perfect Ad?
The best advertising campaigns speak to your target audience, match your brand identity, align with your marketing strategy, and possess a strong call to action. If your ad design ticks these boxes, it will grab attention and hook in more potential customers. Just pick a template and spend some time creating and then upload – it only takes a few minutes with our templates.
Which Industries Can I Create Advertising For?
Our templates can be used to promote many different industries, from dog grooming to computer science; for a small business or a large corporation.
Each video ad template is completely customizable, with multiple design elements. Simply search for the right template, upload your photos, edit text, music, and logo, tweak the color palette to match your brand and download, and start promoting. You can even create adverts in multiple sizes to suit different social channels.
Do You Offer Training?
Yes! Although we offer custom made templates, starting out is never a blank canvas with Viddyoze.
That said, even though our platform is super simple, we offer plenty of tutorials and quick tips on our YouTube channel and blog to help you in creating that perfect video ad.