Create Fun Explainer Videos Which Educate And Entertain Your Audience
Viddyoze empowers you to create tutorial videos that effectively
communicate your message, easily and quickly.
Experience the Joy of Explainer Video Creation with Trusted Results
Speak To Your Customers The Right Way
Hubspot reports that 94% of consumers have watched an explainer video to better understand a business or its products. If your marketing strategy doesn't include video content, that means you're isolating a huge segment of your audience.
Viddyoze enables you to create explainer videos that transform complex ideas into easy-to-understand messages. Win more customers by eliminating confusion about your products.
Create Video That Generates Demand For Your Products
Businesses often make the mistake of creating flashy videos that don't address their customer's pain points or provide solutions to their problems.
Viddyoze's animated explainer videos use eye-catching graphics to focus the watcher's attention on the value your products provide, making them want to buy immediately after watching.
Make A Spellbinding Explainer Video, Quickly And Easily
Before Viddyoze, it was impossible to create top-quality tutorial videos without having any experience with animation or videography.
Now, thanks to our innovative explainer video software, any business can make a fun tutorial video in just three clicks. All you need to do is choose an explainer template, customize it with your messaging and imagery, then download and post. It really is that simple!
Gain Access To Over 3,400
Exclusive Video Templates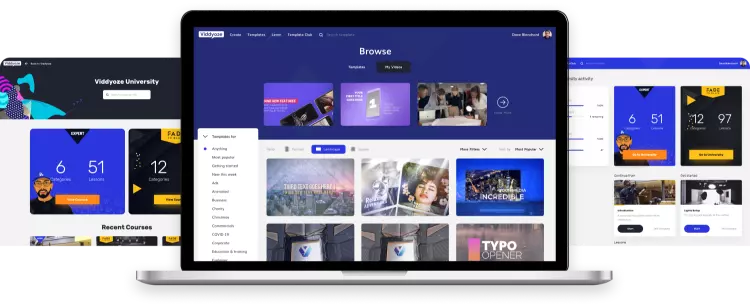 Creating Your Own Animated Videos
Sign up to the Viddyoze app for free.
Choose a template from our library and customize it
Download and post your video

Essam
"Viddyoze has tremendously helped me create more engaging educational videos about Endodontics. THANK YOU."

Zach Day
"Love the software and the support team is awesome!"
Explainer Video Which Engages Your Customers
Build A Tutorial Hub For Your Video Clips
Tutorial videos have two game-changing benefits for your business. Firstly, they take pressure off your support and sales staff when customers have an issue with your products. Instead of picking up the phone, they can simply head to your website and watch video clips for the solution.
And secondly, posting regular tutorials is a great way to market your products. For example, if your products have a specific USP or feature, then making a good explainer video showing exactly how to utilize this feature is an excellent way to raise awareness of it and keep your existing customers happy.
With Viddyoze, creating fun, engaging explainer videos for all of your products and their features is simple. It takes a matter of minutes, saves you money, and keeps your viewers happy.
Share Engaging Videos On YouTube And Drive New Leads
YouTube has an eye-watering 2.1 billion active monthly viewers, who watch 5 billion videos every single day. When it comes to video, it's a very powerful tool for marketers – and it stands out above other platforms.
By creating engaging videos (for example, a series of explainer videos that cover all questions related to your industry), you can build your thought leadership and become an expert in your niche. Then, when your customers are ready to buy, your brand story will be the first they think of.
Kickstart your acquisition strategy now with Viddyoze. Our animation video maker helps you to create a professional video in a matter of minutes. Win the trust of your viewers and turn them into leads with new scenes – no video editing experience needed.
Use An Explainer Video To Get More Website Conversions
When a person visits your website, they're a red hot lead. They've taken the time to learn more about your brand and your products, after all. That means they're very interested in what you're selling.
However, if your visitors can't easily find the information they're looking for, they'll likely bounce from your website without completing your inquiry forms.
Make it easy for site visitors to find the information they need by embedding a great explainer video onto the relevant landing pages. Viddyoze enables you to create helpful, user-friendly animated video content for all of your web pages so that you can improve the user experience of your site and convert more visitors into customers.
Over 3,400 templates 
to choose from
Unrivaled
Customer
Support
Active
Facebook Community
New Templates Added All The
Time
Videos
Rendered In MP4/MOV
Format
Super Fast To Render Videos
Easy To Use App/Interface
You've Got Q's. We've Got A's.
What Is An Explainer Video?
An explainer video is a piece of content that is used to answer questions the viewer may have about your brand, products, or industry. They're often used to educate your customers and raise awareness. In general, animated explainers perform better.
How Do I Make An Explainer Video?
You can make professional animated explainer videos using the Viddyoze app. All you need to do is choose an explainer video template from our library; customize it with your logo, messaging, and imagery; then download the video and start telling your story! It's as simple as that.
How Long Does It Take To Make An Explainer?
With Viddyoze, you can make an explainer video in minutes.
Can I Add Images Or Photos To My Explainers?
Yes, you can add your own pictures to our explainers. Adding your own images adds a personal touch to your content. We also have pre animated characters, which you can use to bring your photos to life.
Can Viddyoze Create Animated Explainer Video Content?
Yes! We have a number of animated templates that you can access today.
Should Explainer Content Feature In My Marketing Strategy?
Yes. Almost 70% of YouTube's searches are for "How To" style video content, according to the platform.
Where Are Explainer Videos Effective?
The success of your explainer video depends on where you put it. We recommend uploading your content to all the relevant product pages on your website. Next, ensure that you share videos across your social media channels, such as Facebook, Instagram, and TikTok. Other key social channels include LinkedIn, Twitter, and Reddit.
Can I Add Music To My Explainer Videos For Free?
You can add music to your content as part of the Viddyoze subscription fee. It doesn't cost a dime extra. Either choose from our library or upload your own audio.
Can I Add Animated Text Effects To My Content?
Yes. We provide pre animated characters in selected video templates.
Can I Edit Video Footage In Viddyoze?
No, to edit video footage you will need separate software.
Can I Make Explainers For Facebook?
Yes, you can make explainer videos for all social platforms with Viddyoze.