Make Professional Montage Videos In Just 3 Clicks
Our video montage maker allows you to create stand-out video content in minutes. No specialist software knowledge needed.
Our Montage Maker Has Got The Thumbs-Up From Many Brands, Users, and Creators.
Create A Montage Which Tells Your Story
No matter what you're selling, the key to good marketing is storytelling. And nothing tells a story and shows your progress like an epic montage. Don't know where to start? We've got tons of montage templates waiting for you.
Properly branded montage videos tell your viewers exactly who you are and what you stand for. By showing your logo, you're more likely to be remembered later, too. With Viddyoze, you can brand your montage videos in minutes. Stand out. Build trust. Sell more.
Drive Sales With Slick Product Videos
When it comes to showing off your products and services, nothing cuts through the noise like video content. But creating top-quality product videos which make people want to buy right away is difficult.
With our montage maker, you can keep the quality levels high every time by accessing pro-level video templates which showcase your products at their very best and make viewers take action.
Make Quality Montages With No Video Experience
Making an engaging video has never been easier. With Viddyoze, you don't need to hire a videographer, video editor, or video software specialist. You can make everything yourself, using our super-simple platform.
Not only is making video much cheaper than it used to be, but it also takes a fraction of the time. With our easy-to-use tools, you can create one video montage in just a few clicks.
Access Exclusive Montage Templates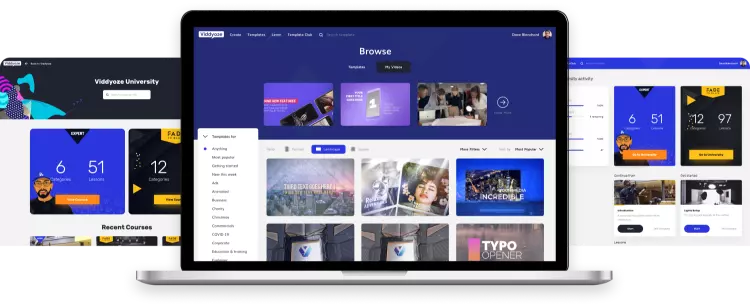 Sign up to the Viddyoze app for free.
Choose a template from our library and customize it
Download and post your video

Steven
"I rely on Viddyoze for top-notch graphic elements. There's a vast array of choices…"

Jennie
"Absolutely love this super simple and highly effective tool!"
Spread Your Message And Generate
Leads With Slick Visual Content
Create A Video Montage Which Shows Your Customer's Journey
A video montage is the perfect way to create an emotional bond between your brand and your customer – hey, it worked for Rocky, didn't it? There's a reason for that.
Before you can improve your sales, you need to show your viewer that you understand their problems, and that you can help solve them. A high-quality montage video is the way to do it.
It could be something as simple as showing the different ways your product works. It could be a short montage of happy customers. It could even be a recap of a project or case study to show potential customers how transformative your services are. No matter how you approach it, Viddyoze has the template to bring your idea to life.
Convert Leads With A Powerful Call To Action
Whether you're making a product video montage, a brand documentary, or a thought leadership interview, a convincing call to action (CTA) is one of the most important features a video should have.
Your CTAs will be different, depending on the goal of your content. For example, if it's a product video montage, you'll want to drive sales. Making a tutorial? You should ask for sign-ups.
Viddyoze makes it easy to add a strong, engaging CTA to any type of video. With our easy montage maker, you can give your viewers the extra nudge they need to commit to your product or service.
Make A Video Montage For Any Kind Of Campaign
Whether you're launching a new product or plugging your big summer sale, a well-made montage video can support any kind of marketing campaign.
Montage videos work particularly well with product launches, sales promos, user-generated content (why not edit your UGC together in one video?), and contest/giveaway campaigns (don't be afraid to show your audience those prizes!).
Our easy-to-use templates allow you to make a video montage with your own video clips, stock videos, or photos. You can even add music (or other audio, such as sound effects), text, and other handy features to help get your message across.
Over 3,400 templates 
to choose from
Unrivaled
Customer
Support
Active
Facebook Community
New Templates Added All The
Time
Videos
Rendered In MP4/MOV
Format
Super Fast To Render Videos
Easy To Use App/Interface
You've Got Q's. We've Got A's.
How Do I Make A Video Montage For Social Media?
Sign up to the Viddyoze platform to use our video montage maker for social. Our easy-to-use templates are custom-made to work on any major social media platform. In only a few clicks, you can make an awesome video for YouTube, Facebook, Twitter, Instagram, TikTok, or LinkedIn.
Can I Add Music And Other Audio To My Montage Video Clips?
Yes. It's super simple to add a music track to your video montage clips. In fact, our montage templates come with their own dedicated royalty free music and audio tracks. There's also the option to upload your own music audio file.
Can I Use Photos In My Video Montages?
Yes, our photo montage maker allows you to produce high-quality animated content with multiple images. You can even edit your images to add text, audio, transitions, and special effects to your photo media. Royalty free images can also be selected from a number of image banks, so there's no need to worry about watermark images!
Is It Easy To Edit My Content Using The Viddyoze Video Montage Maker?
Yes, it is easy to edit video using Viddyoze's editing tools. Our software is designed to make creating video montages easy and quick. Once you've selected the video montage template you like, you can use our editing tools to change the colors, audio tracks, photos, clips, and text – all the features you need to make a great video montage.
What Type Of Content Can I Make With A Montage Video?
Montages work well in the following types of video:
• Promo video
• Explainer video
• Product launch video
• Company culture video
• Testimonial video
• Event recaps
• Case studies
• Tutorials
• And many more
Can I Share My Video Montage Online?
Yes. Once you have completed your photo or video montage, just download the final video and then upload it to your preferred platform. Share it with friends on social, customers via email, or potential customers through your website or social ads.
Can I Create Animated Transitions With Viddyoze?
While you can't create your own animated transitions from scratch, Viddyoze allows you to customize a wide selection of existing transitions with our easy-to-use editing tools. Just like music, transitions are a great way to add an extra layer of engagement to your media clips.
Do I Need My Own Footage To Make Content With Viddyoze?
While we recommend filming your own footage from time to time, you can also use stock videos if you don't have the resources to do this. We also have tons of animated templates that work with images, too.