Create Incredible Logo Animations In Just A Few Clicks With Our Automated Logo Animation Maker.
Use our logo animation maker to create incredible, professional logo animations in just a few clicks. It's time to level up your brand when it comes to video content. No technical skills needed.
Create your first logo animation now for free below.
Our Animated Logo Maker Is Trusted By Many Happy Video Creators & Brands.
Maximize Your Video Content With A Professional Logo Animation.
Many businesses fail to make their marketing videos count because their brand presence isn't felt throughout the content.
That's where a logo animation comes in.
Viddyoze was created to help you create powerful logo animations without having to be a technical wizard.
In just a couple of clicks, you can choose a template, upload your logo, and Viddyoze goes to work and turns your logo into a video animation. It's that easy.
For Youtube Or Your Website, Logo Animations Set The Scene For Your Content.
Whether you are looking to buy a product, or scrolling Youtube for your next episode fix, everyone is watching more and more online video content.
As a business owner or video content creator, if your content has poor production standards, viewers move onto the next video. There is so much video content out there, that you have to stand out.
And if you think about it now, when was the last time you watched a Youtube video that didn't have a cool looking logo animation at the beginning or end.
Don't lose customers to bad quality video! Use Viddyoze's animated logo maker to give your content the professionalism needed to convince people to buy your products.
It doesn't matter how technical you are, our logo animation creator will turn any logo into a powerful, engaging logo animation in minutes.
Create Professional Logo Animations, Quickly And Easily
Up until this point, creating stylish logo animations required specialist software knowledge, video editing skills, and a huge time commitment.
And if you didn't have any of those things, then spending thousands with a professional animator was your only option.
Now, thanks to Viddyoze, you can create logo animations for any project in just a few clicks. Simply choose a template (from 1000s of options) that you like and upload your logo – it's as easy as that!
1000s Of Exclusive Animated Logo Templates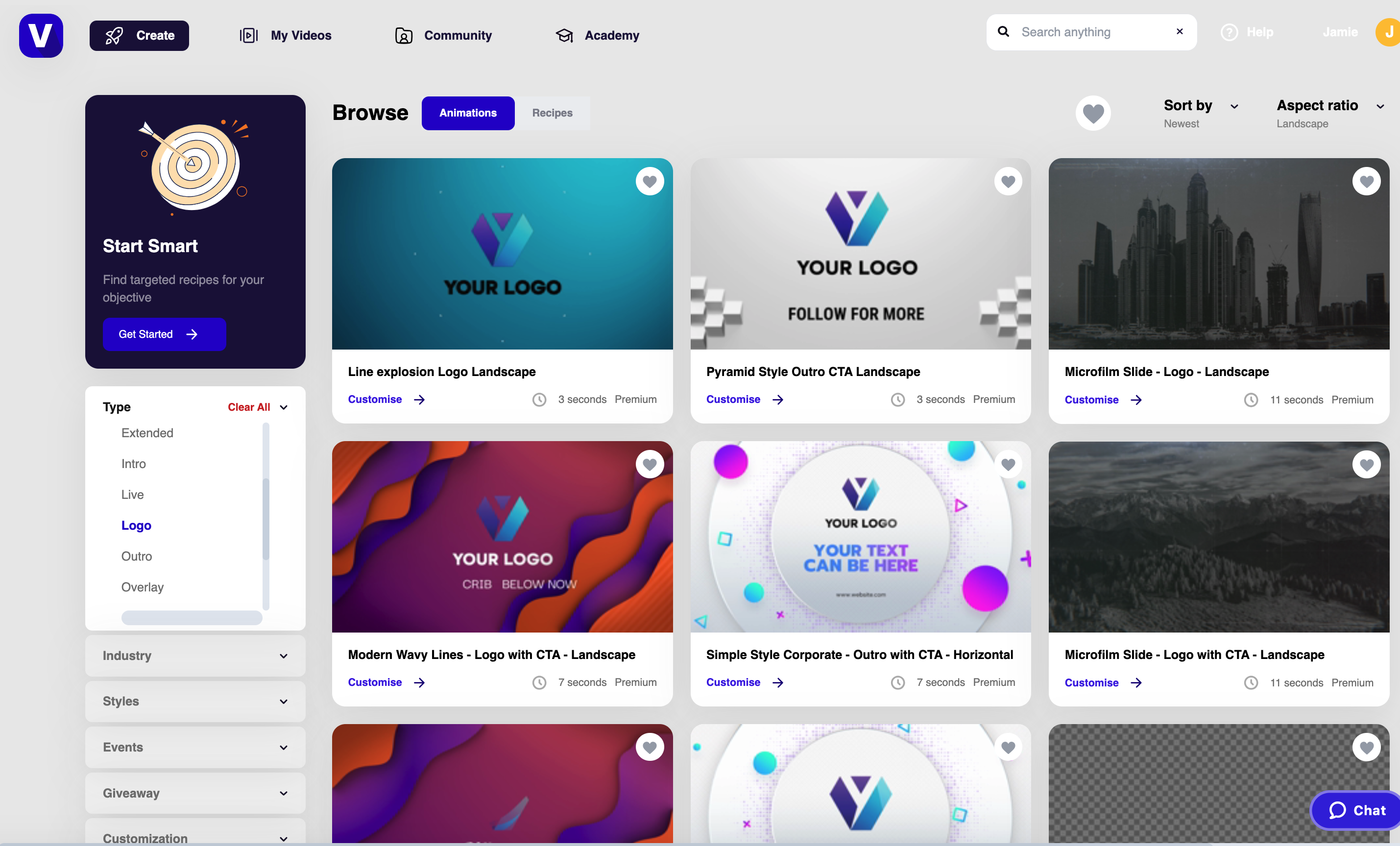 Making Animated Logos In 3 Easy Steps!
Sign up to the Viddyoze app for free.
Choose a template from our library and customize it
Download and post your video

Alvaro Abril
"Viddyoze is a professional application for companies that need to make 3D effects with their logos. With amazing imagination and high technology, unsurpassed animations are achieved. Congratulations to the Viddyoze team, Regards, Alvaro Abril."

Kanya
"Great app. The animated logos make my videos pop. Love it."
How Viddyoze Enhances Your Content
Start Your Videos With Branded Intros
Starting your videos with an intro which prominently features your logo animation is a no-brainer. That's because it forces the viewer to focus on your brand name for a few seconds, giving them all the time they need to memorize it and become a fan.
The very best intros take this one step further by conveying their brand story in microcosm. They manage to explain which industry they operate in and express their brand personality with one short visually engaging clip.
With Viddyoze, you can create distinct introductions for each content series you produce plus your YouTube channel. If you juggle multiple brands or multiple products, this is your chance to give them their own identity and custom logo animation.
Create Branded Logo Animations As Transitions
Transitions are a crucial part of video editing. Transitions are used to keep the viewer engaged throughout the video by switching scenes or camera views. Because, let's be honest, it's hard to stay focused on single-camera setups.
Savvy content creators, however, have recognized that transitions are an excellent opportunity to add extra brand touchpoints into their videos. They do this by using logo animations as their transitions.
With Viddyoze, alongside our many logo intro animations, we also have a vast library of logo video transitions too. You can create more than just an intro with Viddyoze.
Get More Leads From Your Video Ads
Scrollers on social media channels are infamous for their short attention spans. You only have a few seconds to convince them to watch your video ads before they'll keep scrolling.
Use this time wisely by opening your promo videos with a quick logo animation. This way you can still get your company logo and branding in front of people who don't stay to watch your ads.
Get access to the Viddyoze library and choose a logo animation template or ad template to use as the bedrock for your next social ad campaign. Our templates are built to look great on every social channel and as part of any brand or video.
1000s Of Logo Animation Templates 
Unrivaled
Customer
Support
Trusted By 180,000+ Video Creators
New Templates Added All The Time
Create Your Logo Animation In A Few Clicks
Super Fast To Render Videos
Easy To Use App/Interface
You've Got Q's. We've Got A's.
Can The Viddyoze Animation Maker Animate Any Logo?
Yes, with our app you can turn any logo into a powerful logo animation in minutes. For the best results to animate your logo, we recommend uploading your images with a transparent background.
Do Created Logo Animations Come With Music Or Audio?
Yes! Every logo animation on our platform comes with a selection of royalty-free music tracks or audio piece, which you can apply to your video file. Alternatively, you can create without audio.
Will Videos Contain A Watermark?
You don't have to worry about your logo animation containing a watermark. Viddyoze does not edit or apply watermarks to any videos made on the platform. We want your videos to maintain a professional and modern look at all times.
Will My Finished Logo Animation Look Great On Social Platforms?
Yes! We provide templates in portrait, square, and horizontal format so that you can easily create videos which perfectly fit the screen on every platform.
What File Format Will The Animated Logos Be?
We export new content to download in MOV, MP4, and GIF file formats. Export your logo animation in which format works best for you.
Where Can I Post My Animated Logo Videos?
Anywhere you choose! We recommend posting your logo animation to:
Your company or business website
• Facebook and other social channels
• YouTube
• Ad platforms
What Types Of Visual Media Can I Create With Viddyoze?
At Viddyoze, we give you all the tools needed to create a wide variety of video content. Alongside logo animation, our platform can be used to produce:
• Product feature videos
• Professional staff introductions
• YouTube and social media content
• Ad content
• Launch announcements
• Sales or promotion announcements
• Business testimonials
• Explainer videos
• Website landing page videos
We have lots of content on our site about these other types of video content you can create. All is accessible with our free trial instantly.