Create Video Outros That Drive Engagement And Supercharge Your YouTube Channel
Use Viddyoze's online outro maker to create the perfect ending for your video content. Animate your logo with no technical skills needed!
Ignite Your Creativity with Our Outro Video Maker
Make Stunning Outros That Feature Your Logo
Content creators often struggle to get more subscribers because they don't have enough brand touchpoints within their videos. If you don't tell watchers who you are, they won't remember your channel name or be able to recommend it to a friend.
Use Viddyoze to create YouTube outro videos that animate your logo and makes your watchers take notice, so they know where to find you and keep coming back for more.
Grow Your Subscribers With An Outro That Calls Viewers To Action
You've shared great video clips. Now what? Your audience requires direction. Without it, they'll click off your content and continue scrolling without performing an action.
Eliminate any confusion with end screens that have a clear call-to-action, using one of our outro templates. Whether you want viewers to subscribe to your YouTube channel or visit your website, Viddyoze lets you create an outro that gets results.
An Outro Creator That Makes Studio-Quality Animations Easily And Quickly
Animation is your best friend when it comes to creating an unmissable outro or end screen. Thanks to Viddyoze, you can now create premium animated templates in minutes with no specialist software experience required.
Every Viddyoze template has been designed and animated, in-house, by our specialist team. All you need to do is choose an outro template or end screen, customize it (add music, color and images), then download and post! It really is that easy.
Access Exclusive YouTube Outro
Video Templates For Your Brand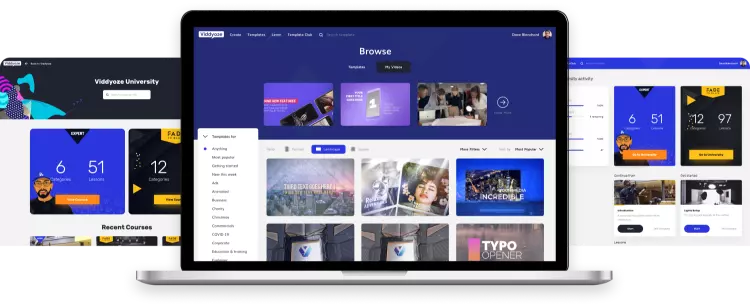 Sign up to the Viddyoze app for free.
Choose a template from our library and customize it
Download and post your video

Vanessa Hines
"Amazing app if you want to create customized professional animations and videos without any technical skills. You LITERALLY can make animations in just a matter of a few clicks, as they say. They also have awesome customer support… super responsive!"

Randijay Uy
"Great simple to use app with active live support to help you online."
Use An Outro Template To Extend Your Watch Time
YouTube is the world's second-biggest search engine. And just like every other search engine, it uses an algorithm to determine which content to recommend or display in searches.
Two key ranking factors in YouTube's algorithm are retention rate and length. Remember, YouTube's main goal is to keep people on its website for as long as possible. Videos that accomplish this are rewarded with extra visibility on the platform.
Use the Viddyoze YouTube outro maker to create an engaging outro that keeps people watching until the end screen. A well-crafted outro has the power to increase your retention rate and video length, which in turn, will give your channel a boost in visibility.
YouTube's Technical Requirements For Outros
When posting any content on social media, it's essential that your creation looks great and displays correctly. Because if it doesn't, the poor viewing experience will prevent people from watching it.
For the best results, YouTube's official guidelines recommend maintaining an aspect ratio of 16:9. An aspect ratio is the proportional relationship between the width and height of the content, meaning that for YouTube, the content needs to be 16 units wide and 9 units long.
As long as you maintain this aspect ratio, the platform can automatically resize your content to make it look great on any mobile device. And to make things even easier, Viddyoze natively produces videos with a 16:9 aspect ratio, so that you can create perfectly formatted YouTube content, every time, without any headaches.
Make An Outro That's Consistent With Your Branding
When launching your channel on YouTube, it can be easy to put off finalizing the visual elements of your branding such as: fonts, color palettes, and logo. However, delaying the visual design elements of your brand makes it harder to attract subscribers.
That's because you're lacking brand recognition among your target audience. The goal of a strong brand identity is to make your marketing or content immediately recognizable to your audience. Regularly chopping and changing visuals makes this impossible because it gives your audience too much to try and remember.
So to make your content instantly recognizable to your audience, even in busy newsfeeds, keep your logo and branding consistent across all of your content. Especially during your video intro, transitions, and outros (also known as YouTube end screens).
Doing this with Viddyoze's outro maker is easy: we have a number of template families which you can apply to your videos to give them a consistent look and feel.
Over 3,400 templates 
to choose from
Unrivaled
Customer
Support
Active
Facebook Community
New Templates Added All The
Time
Videos
Rendered In MP4/MOV
Format
Super Fast To Render Videos
Easy To Use App/Interface
You've Got Q's. We've Got A's.
Is Viddyoze A Personalized YouTube Outro Maker?
Yes, we guide you to create your own YouTube video outro! You can create content for any purpose using Viddyoze, including YouTube videos, intros, lower thirds, any short video clip, or long-form video.
How Long Does Online Video Creation Take?
We can't give a precise answer as it depends on the template edit and video length. For the average YouTube Outro or Video Outro, it can be done in under five minutes.
Can I Share My Video Content Online?
Yes! We offer video files in MP4 or MOV, which you can post immediately. All Viddyoze templates are optimized. This means that you can easily download, embed and share your video content on your social platforms, channel, blog etc. Try adding YouTube end screens to keep viewers engaged.
Do I Need Experience To Use Viddyoze?
You don't need to be a professional or experienced video creator to create animated videos using Viddyoze. You can easily create your first outro video in just 3 clicks. We have a friendly support team and free tutorials if you do get stuck. Check out our blog for quick tips on how to make, customize and upload great videos.
How Do I Make Engaging Outros Using Viddyoze?
Creating an outro featuring music, text and pictures has never been easier. Select one of the many templates available within your account. Customize by uploading your photos, adding your text, selecting brand colors and choosing from a bunch of different music tracks. You can even preview your outro video before hitting the download button.
Do I Need Video Experience To Use Viddyoze?
No design skills necessary! Viddyoze is a simple platform to use, whether you're using it as an outro maker or for your video intros and lower thirds etc. Viddyoze is cloud-based which means you can use Viddyoze as an outro maker, wherever you are. Simply access the platform from your desktop or mobile device and begin work on your project.
Does Viddyoze Provide YouTube Specific Outro Templates?
The Viddyoze platform provides exclusive YouTube outro templates as well as other templates that can you can customize to suit any purpose. Once you're done, just save and upload to social media, your site, and crucially, your YouTube outros.
Can I Add My Own Music To Viddyoze?
Yes. You can upload music of your own to our videos.
Can I Add My Own Images To Viddyoze?
Yes, you can add your own photos to our platform. In fact, this is one of our key features, especially when it comes to logo creation.
Can I Create An Animated Logo Using Viddyoze?
Yes, you can use Viddyoze to build an animated logo, thanks to our customizable outro templates. Whether you want to make a logo intro, logo transition, logo lower third, or logo outro, we have a logo template that will work for you. Simply upload your logo to our platform and customize it to meet your own video clips requirement.