Make Professional Twitch Intros In Just A Few Clicks Using The Best Twitch Intro Maker.
You can create professional Twitch intros in just a few clicks with the Viddyoze Twitch intro maker. Wow your audience with the perfect intro today.
Create The Best Twitch Intro With Our Automated Twitch Intro Creator
Take Your Stream's Production Value To The Next Level With A Pro Twitch Intro
Modern Twitch users expect a viewing experience similar to what they'd get from watching TV. To convince viewers you're serious about your channel, raise the production value by adding professional intros and outros to your content.
With our easy-to-use Twitch intro video maker, you'll be able to pull in new followers using high-quality animated intros. Show off your logo, social media handles, and begin making an impact on Twitch.
Brand Your Twitch Channel And Win Subscribers
To win subscribers and maximize the benefit of your content going viral, you need to effectively brand your channel so that people know where to find more of you.
Viddyoze's simple software allows you to create Twitch intro videos, which feature high-quality logo animations, and put the viewers focus on your channel name. So when people see something they like, they come straight to your channel and subscribe.
Make Twitch Intros, Quickly & Easily
Twitch is live, fast-paced, and dynamic. Most pro accounts stream upwards of 30 hours a week. To get to that level of output, Twitch users need to create content quickly.
Viddyoze allows you to create intros, lower thirds, and scene transition animation videos in just 3 clicks, meaning that you never fall behind schedule when creating content. Just log in to the app, choose an impactful Twitch intro, edit to suit your brand, and download. It really is that simple.
Access Exclusive Twitch Intros & Outros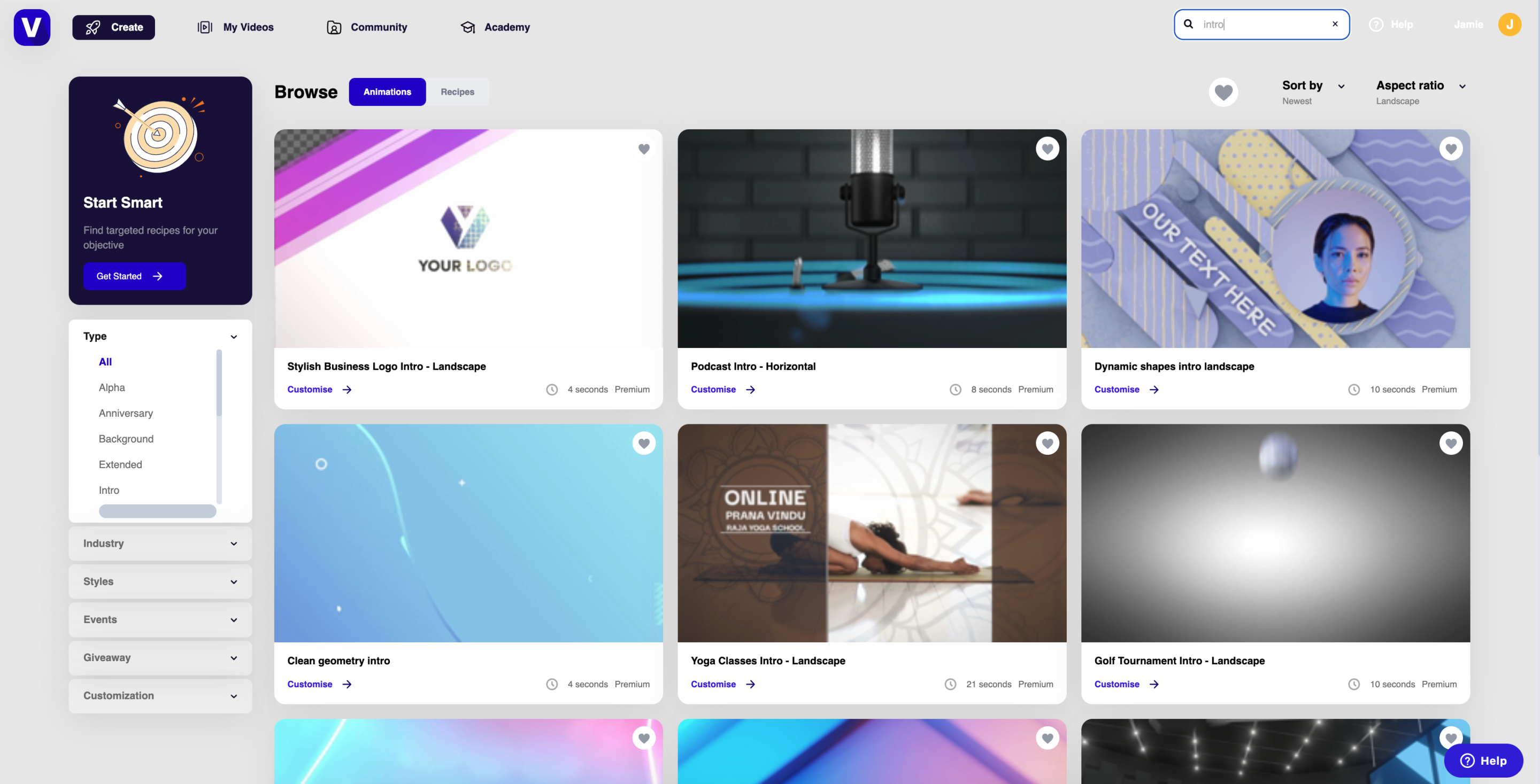 Sign up to the Viddyoze app for free.
Choose a template from our library and customize it
Download and post your video

Erick
"Overall wonderful product. I have saved enormous amounts of time with Viddyoze."

Yordanka
"I am very pleased with the results and I would always recommend Viddyoze. Thank you."
Grow Your Twitch Channel Too!
Create A Highlight Reel For YouTube
Twitch allows you to record hours and hours of content. While the stream itself is often the main attraction, you can repurpose some of this footage into new content later.
Put together some of your channel's best bits with a Twitch highlight reel for YouTube, and promote your channel across other social media platforms. With 2 billion active users, YouTube is the perfect place to find new followers.
Using Viddyoze's easy-to-use video-making software, you can edit together your Twitch highlight reel in minutes. Once you're done, simply upload it to YouTube and share your animation far and wide. It's an easy way to generate additional revenue from a second platform without much extra work!
Drive Followers From Viral Social Media Content
We've already mentioned highlight reels, but there are tons of other things you can share on social media to drive people to your Twitch account. A few examples include: a short video clip announcing that you're about to go live on Twitch, a weekly video update about your streaming schedule, links to key YouTube clips (think specific bosses you've beaten), GIFs, and video ads.
The key to driving engagement on social media is quality and consistency. So, once you've decided which types of video you're going to share, you can use Viddyoze to optimize your content. Using animated graphics, such as branded lower thirds, intros, and outros, you can elevate your social media content and drive viewers to your Twitch account.
Make Epic Twitch Videos With Exclusive Animations
Beyond your Twitch intro video, there are tons of other ways to improve your content with dynamic animations. To keep your audience engaged, the perfect video needs to be bold, brave, and on-brand throughout.
First of all, include an engaging transition between clips. Viddyoze has tons of eye-catching animated templates to bring your branding to life, which are only available to Viddyoze customers. Next, think about using lower thirds: tell your viewers which boss you're fighting, which level you're on, or prompt them to subscribe with a CTA – it's super easy with Viddyoze.
Remember, the whole point of Twitch is to have fun. So keep things exciting with dynamic text, upbeat music, vivid animation, and bold graphics in your videos.
1000s Of Twitch & Other Templates To Choose From
Unrivaled
Customer
Support
New Templates, Including Twitch Focused Videos, Added Regularly
Create Twitch Intros In Just A Few Clicks.
Super Fast To Render Videos
Easy To Use App/Interface
You've Got Q's. We've Got A's.
Can I Upload My Twitch Intro Video Directly To Twitch?
Yes! The Viddyoze video intro maker allows you to upload your creations directly to Twitch. It's never been easier to get your message across with video.
Can I Host My Videos On My Website Landing Pages?
Yes. Every template on Viddyoze is compatible with modern website hosting platforms.
How Long Does It Take To Create A Twitch Intro Video?
You can make a pro-quality video intro in a matter of minutes using Viddyoze. In fact, it takes just 3 clicks with our super-fast editing process.
Can I Upload My Twitch Intro To OBS Studios?
Yes, with Viddyoze it's easy to upload your Twitch content directly to OBS Studios. Viddyoze outputs its videos in standard video formats, so you can easily upload them to any streaming platform.
Do Your Twitch Intros Include Audio?
Yes. Every Twitch intro template within the platform includes royalty free audio.
Can I Use Images In My Videos?
Whatever your style, our software allows you to produce high-quality animated content with multiple images. You can even edit your images to add text, audio, and special effects.
What Kind Of Videos Can I Make To Gain More Viewers?
To appeal to more viewers, we recommend the following types of video content:
• Animated streaming schedules
• Animated video ads
• Competition promo videos
• Video clips from your streams
• Twitch intro videos
Where Can I Share My Twitch Video Content?
To earn more viewers and get your message across we recommend sharing your content across all major social platforms, including Facebook, Instagram, YouTube, TikTok, and Twitter.