Create Videos For Twitter With Our Automated Twitter Video Maker.
Grab attention on crowded newsfeeds by using our Twitter video maker to create viral content which your followers will love.
No animation or videography experience needed!
Just choose a template from an evergrowing library of Twitter video templates, customize around your brand, and click create.
In just a few clicks you can create Twitter videos in minutes.
Create Incredible Twitter Videos With The Ultimate Twitter Video Creator
Earn Followers Faster With Branded Video Tweets
To grow your follower count on Twitter, you need to add more brand touchpoints into your content, otherwise you risk people not taking any action when your tweets go viral.
Viddyoze enables you to create distinctive videos which prominently feature your logo and messaging, so that tweeters know where to find more of your content, and follow your page.
Get More Engagement On Your Tweets Using Our Twitter Video Maker
Did you know that tweets containing video generate 10x more engagement than tweets without video, according to research published by Twitter itself? If not, that's your cue to stop posting generic text tweets which bores your audience!
Instead, use Viddyoze's Twitter video maker to create eye-catching videos which make people enjoy interacting with your account and get them retweeting your posts.
Twitter Video Creation Made Quick And Simple
Before Viddyoze, if you wanted to tweet regular video content, you'd need specialist software knowledge and have to plan your content well in advance, to allow time for the animation to be completed.
Now, you can create studio-quality videos, in minutes, with just a few clicks. Simply, logon to the Viddyoze app, choose one of our Twitter video templates, customize it with your imagery and branding, then download and post! Keeping your Twitter account active with regular video posts really is that easy.
Exclusive Twitter Video Templates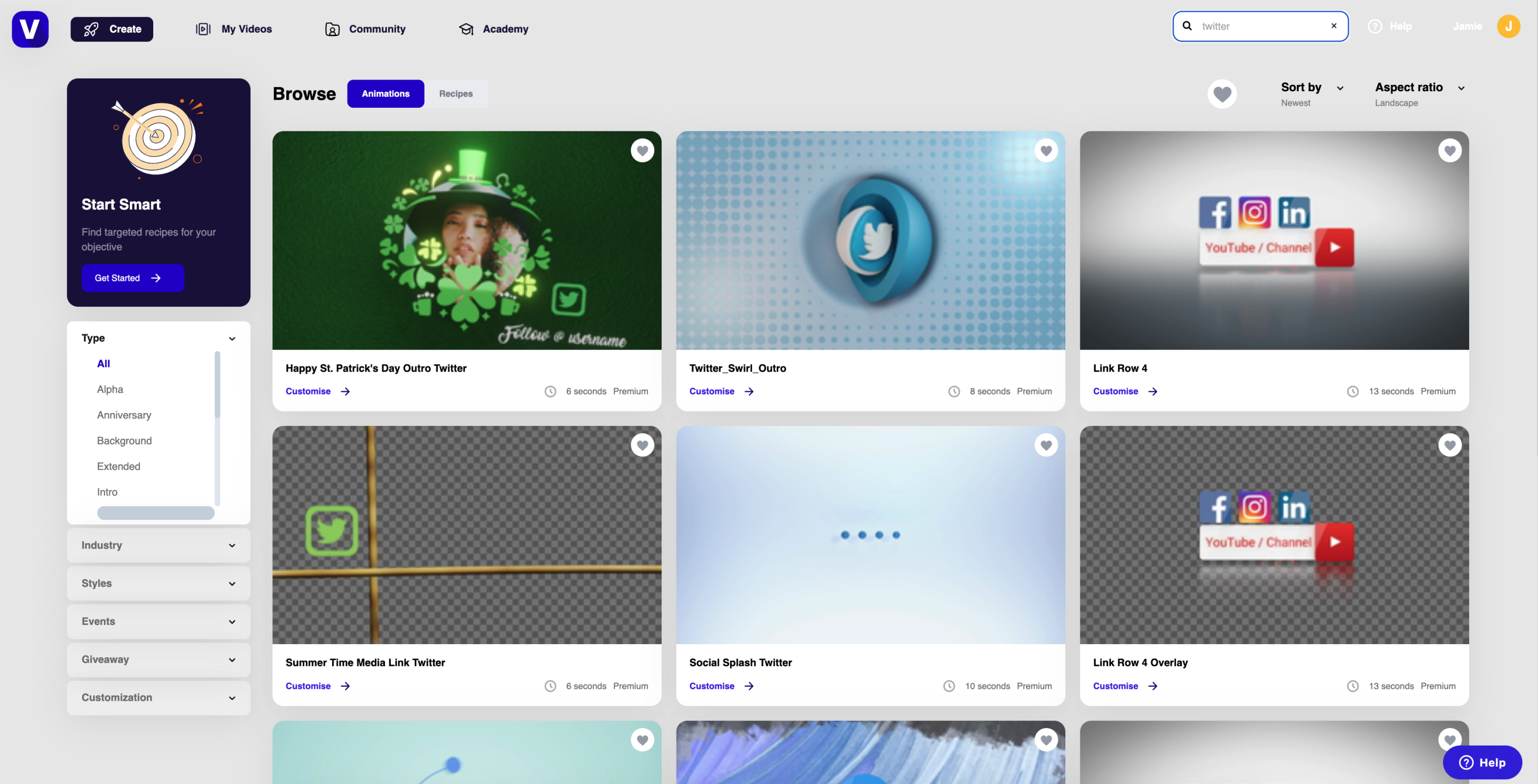 Creating Your Videos For Twitter
Sign up to the Viddyoze app for free.
Choose a template from our library and customize it
Download and post your video

John
"It's a fantastic platform with great training and very well explained."

Sreejith Nair
"Viddyoze is a great solution, helping me to save many hours daily. I am using many video editing software, but my tight work schedules are met on time with Viddyoze. Thanks Viddyoze team!"
Create Twitter Video Ads Which Get More Clicks For Less Money
When we tell pay-per-click (PPC) marketers that there's an easy way to bring down their customer acquisition cost and get more leads without increasing their budget, they think it's too good to be true. But not only is it true, it's also easy to implement.
The trick is to use compelling video ads, which grabs your audience's attention, and makes them clearly understand which problems you solve. The stats speak for themselves. Video marketeers get 66% more qualified leads per year, whilst at the same time, raising their brand awareness by 54%, according to Optinmonster.
So what are you waiting for? Start making your Twitter ad campaigns more profitable by switching your creative to conversion optimized videos. Viddyoze's Twitter video maker empowers you to build video ads, which drive sales, by clearly explaining how your product can transform the lives of your customers.
Announce Your Sales Promos With A Video Tweet
When running a promotion or price discount, brands are often left disappointed when their limited time offer doesn't cause the rush in sales they were hoping for. But more often than not, the lack of sales isn't because your offer wasn't generous enough, it's because you haven't done enough to make your customers aware of the promotion.
To put it simply, if you're not using Twitter videos to get the word out about your promos then you're making a huge mistake. A whopping 93% of brands claim to have generated new customers by posting videos to their social accounts, reported by Hubspot.
Start generating buzz on Twitter by posting professional announcements video which firmly puts your offer into the spotlight. Viddyoze's exclusive video templates are built to stand out on crowded newsfeeds, so that your messaging can reach more people and make your promotion a big success.
Use Our Twitter Video Creator To Introduce Your Brand And Tell Your Story
Not all marketing activity is designed to generate sales right now. Savvy brands take a long-term approach by focusing on building their brand awareness, so that when they're potential customers are ready to buy, they think of them first. But to make this strategy work you need to make your marketing memorable. Here's how to do that.
Harvard Lecturer Jerome Bruner's research into cognitive psychology confirms that facts are 22x more likely to be remembered when presented in a story. Combine this with Insivia's case study, which claims that viewers retain 95% of a message when watching it in a video, and the answer is clear: create videos which tell your brand story.
Thanks to Viddyoze's Twitter video maker, telling your brand story has never been easier. Our video templates have been constructed to entertain watchers and guide them through a narrative, so they retain all the crucial information about your brand, and ensure that they come to you when they need your services.
And are you ready for the kicker? An estimated 2 billion videos are viewed on twitter everyday! Making it the perfect channel to get new people watching your brand story video.
Tons Of Twitter Ready Video Templates To Choose From
Unrivaled
Customer
Support
Over 180,000 Users And Creators
New Twitter Video Templates Added Regularly
Create Twitter Videos In Just A Few Clicks
Super Fast To Render Videos
Easy To Use App/Interface
You've Got Q's. We've Got A's.
What Is The Best Video Format For Twitter?
The best video format for Twitter is MP4. Viddyoze exports its videos in MP4 and MOV format so that you don't need to worry about your videos looking great on the social media platform.
What Are The Twitter Video Specs?
It's recommended that videos for twitter follow a 16:9 and 1:1 aspect ratio. 16:9 is the landscape format and 1:1 is for square videos. You can easily create video clips in both formats using Viddyoze, so that your media looks great on every device.
How Long Can Twitter Videos Be?
The default length which you can create Twitter videos is 140 seconds. You can post a longer video with permission from your Twitter's account manager.
How To Embed Twitter Videos To Your Website?
To embed videos on your website from the Twitter platform, select the ••• button on the desired video, select 'embed video', copy the iframe code, then paste it onto your website.
How Do I Edit Twitter Videos Templates?
You can edit twitter videos templates on the Viddyoze app by simply following the instructions on screen. We guide you through every step of the process (how to add text, upload your images or photos, how to upload your music) so that you create perfect video content every time, super easy.
Can I Create Scene Transitions With Viddyoze?
Yes! Our video tools support you to create engaging branded elements for all of your content. Create intros, outros, lower thirds, and scene transitions, with Viddyoze, that make your audience recognize your content.
Can I Upload Images To Any New Project?
Yes! You can upload any images from your computer directly to Viddyoze's online video maker, so that all of your videos for twitter prominently features your logo, team photos, or product images.
Where Else Can I Post My Video Clips?
Anywhere you want! We recommend you upload your videos to your:
• YouTube channel
• Facebook page
• Business or team site
• Any relevant blog
• Any ads platform