Create Unskippable YouTube Videos With The Most Powerful Youtube Intro & Animation Creator.
Use Viddyoze to create engaging YouTube videos that skyrocket your engagement and subscriber count.
Create Youtube intros and animations like the pros in just a few clicks with the most powerful Youtube animation creator. No technical skills needed.
Create Pro Youtube Intros & Animations Easily
Make Professional Youtube Intros & Animations. Level Up Your Content Today.
To grow your YouTube channel you need to be posting a wide variety of content. Otherwise, you risk going stale, giving potential subscribers little reason to come back to your channel.
You also need to mix it with the pros and create professional looking videos. Animations help with that, and our Youtube intro maker and animation creator can level up your content overnight.
With 1000s of animation templates to choose from, you have almost anything you need for your Youtube content.
Youtube Intros, Lower Thirds, And Transitions That Feature Your Logo
Adding brand touchpoints to content is crucial when building an audience. If your logo isn't featured in your content, how will viewers know where to find more of you when your video is shared or goes viral?
Use Viddyoze's YouTube video creator, to make your channel instantly recognizable to viewers by adding intros, lower, thirds and transitions which prominently feature your branding.
Keep Your Channel Active With Super Fast And Easy Video Creation
Regularly creating new videos to post on YouTube can be time-consuming and involve a lot of complicated software. But it doesn't have to be that way.
With Viddyoze you can create top-quality video content in minutes. In fact, it's so easy, you can share something new every day. Simply choose a video template from our library, customize it with your messaging, save it, and then download and share – it's that simple!
Gain Access To 1000s Of Youtube Ready Animations
Across Our Youtube Animation Creator Platform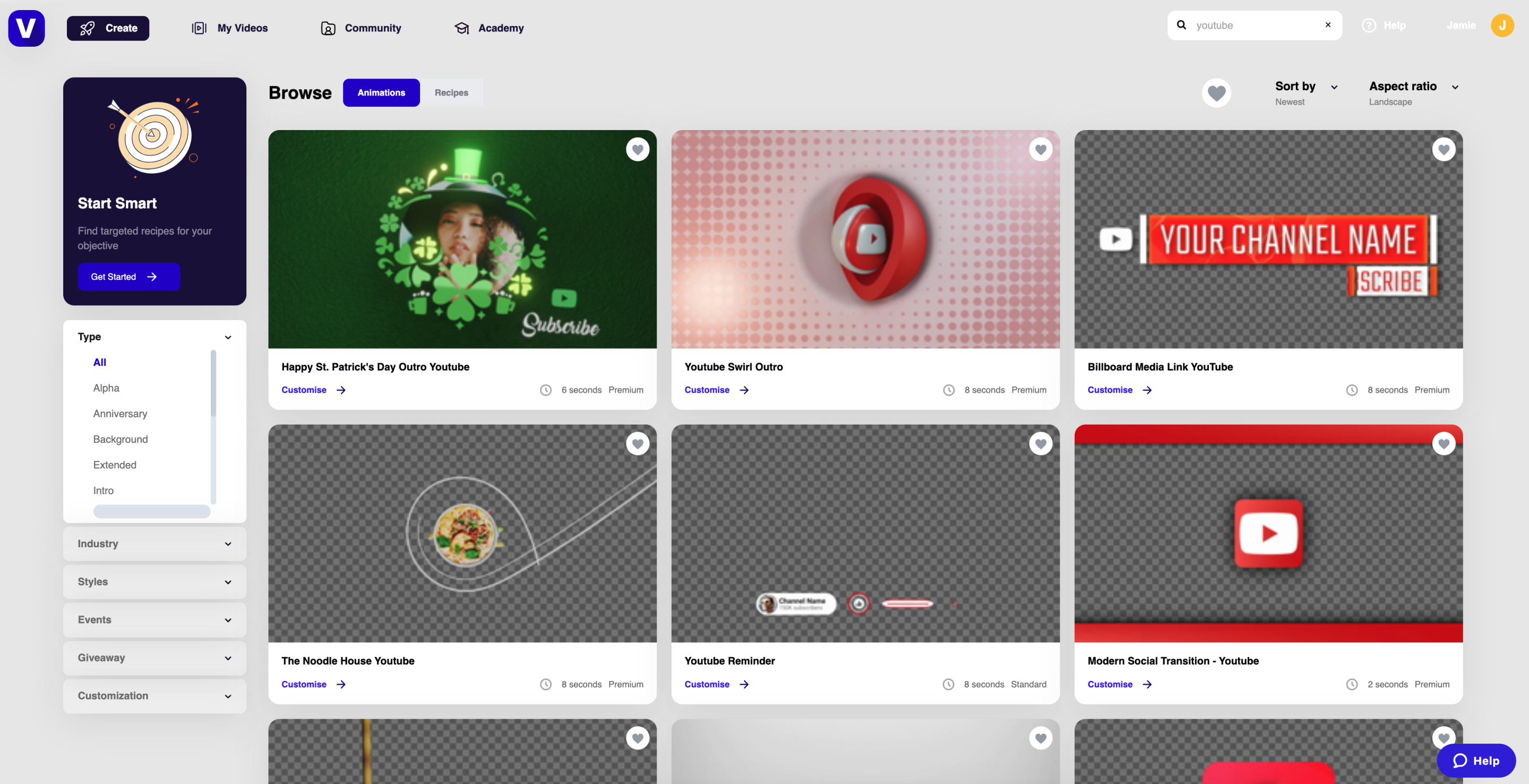 Making YouTube Intros & Animations
Sign up to the Viddyoze app for free.
Choose a template from our library and customize it
Download and post your video

Andreas
"VIDDYOZE is worth every penny for its growing library of short clips, lower thirds, ideas and so much more. I love this platform. A 10/10 recommendation."

Konstantinos Krampovitis
"I bought a life-time package 2 years ago in the first Covid lockdown, and learnt how to use these templates… Now I'm using them at work! Very useful for creative users :)"
Powerful Ways You Can Utilize
Viddyoze's Video Maker For YouTube
Make Your YouTube Channel Your Biggest Lead Generator
Approximately 2 billion active monthly users watch around 5 billion YouTube videos per day. That means, there are people searching for information on your products or services right now – it's time to make that first video!
Posting regularly to a YouTube channel increases your visibility on the platform and makes your content appear in a wider range of search results.
Use this to your advantage by getting your brand content in front of the right audience. Viddyoze allows you to fast-track the video creation process and get content out quicker. More content means more views and leads.
Adding animations and lower thirds to your Youtube content only increases your brand awareness.
Create Videos That Captures Attention And Boost Your Retention Rate (YouTube SEO Secrets)
YouTube is officially the second largest search engine in the world. Just like Google, the platform is built on an algorithm that determines what videos to display in relation to specific keyword searches.
To boost your views and subscribers, and appear in more searches, you just need to understand this concept: the platform wants to keep people on its app for as long as possible. Videos or channels which accomplish this are rewarded by the algorithm.
This means that you need to keep people watching your videos until the very end. That's where Viddyoze comes in. Our YouTube video maker enables you to create stunning videos which keep your audience watching so that you can improve your retention rate and get an SEO powerup.
Build Your Thought Leadership By Sharing Expertise
Starting a YouTube channel is an easy way for you to share longer-form video clips that showcase your industry knowledge, creative business strategies, and insight into current events.
By persistently uploading and sharing expert tips and fun tutorials with your audience, your channel will establish a reputation as an authority in your field. You will be the go-to resource when people want information around your subject niche.
Viddyoze has the perfect template that can be used to show off your skills and get your message across. Whether your expertise is in 3D modeling, dog grooming, or coding, simply pick your template and customize it to reflect your niche and brand.
1000s Of Templates That Are Youtube Ready
Unrivaled
Customer
Support
Over 180,000 Users & Creators
New Youtube Focused Templates Released Regularly
Videos
Rendered In MP4/MOV
Format
Super Fast To Render Videos
Easy To Use App/Interface
You've Got Q's. We've Got A's.
Is Viddyoze A YouTube Intro Maker?
Yes! Viddyoze can be used to make any type of video, including ones specifically for YouTube.
Our video maker also helps to improve your current YouTube videos by letting you create professionally branded Youtube intros, outros, lower thirds and transitions.
How Long Does Online Video Creation Take?
You can make a YouTube intro or animated video using Viddyoze in a few short minutes.
We can't give a precise answer as it depends on the template edit and video length. Simply find the format you like, amend it to suit your business, save it to your computer and then share it on the web.
Can I Share My Video Content Online?
Yes! Similar to a video editor, our YouTube video maker outputs files in MP4 or MOV format, which you can post immediately. One of our tips is to post your content to:
• All of your YouTube channels
• Facebook
• Twitter
• Instagram
• TikTok
LinkedIn
Your website
How Do I Make An Engaging YouTube Video Using Viddyoze?
Creating a video featuring music, text, and images has never been easier. Select one of the many formats available within our library.
Customize by uploading your photos, adding your text, selecting brand colors, and choosing from a bunch of different music tracks. You can even preview your video before hitting the download button.
Do I Need Video Experience To Use Viddyoze?
No design skills necessary! Viddyoze is cloud-based which means you can use Viddyoze as an online video maker, wherever you are. Simply access the platform from your desktop or mobile device and begin work on your project. Got a problem? Just contact our support team – we're always happy to help.
Does Viddyoze Provide YouTube Video Templates?
The Viddyoze platform provides exclusive YouTube effects as well as other formats that can be easily customized to suit any purpose. Simply search in our cloud browser for one you like. Also, each template comes with a bespoke audio track.
Can I Create YouTube Ads With Viddyoze?
Yes, you can make a YouTube ad using our video maker. Our library is packed full of suitable formats.
Can I Create Outros With Music?
Yes. Our video maker allows you to add music to your content. Just select the file, and drag and drop it into the Viddyoze interface.
Can I Make Videos With Pictures?
Yes. Our YouTube video maker allows you to add quality images to your content.
Can I Host Viddyoze Videos On My Website?
Yes, you can host our quality content on your website landing pages. In fact, you can use videos to increase the conversion rate of your product pages or create videos for your team pages which introduce the people who work for your business.
Should I Add Subtitles To My YouTube Videos?
The choice is yours. Subtitles are a great way to improve your video's SEO and retain viewers – most people watch video with the sound off, so they might not even hear the speech in your video.