Make Beautiful Wedding Videos That Capture The Magic Of The Big Day
With the Viddyoze app, you can turn photos and video clips into a dream wedding video in minutes – all without any technical knowledge.
Unleash Your Creativity with Our Wedding Video Maker
Tell A Love Story Through Video
No other couple has the same story. With our wedding video maker, you can share that story through images and video clips, so the couple and their guests can relive the special day over and over again. Our wedding video templates are designed to put the focus on the newlyweds so everyone can see the love.
Turn Every Moment, From Planning To Ceremony, Into A Video
The Viddyoze app is an all-purpose solution you can use to create content for every single phase of the wedding, such as:
• Save-the-date videos to drum up excitement for the big day
• Wedding invitation videos to send to guests
• Slideshows and montages to play during the event
• Slideshows and videos of the wedding itself
• GIFs and short videos that are perfect for social media sharing
Ultimately, the more professional-quality videos you capture, the more incredible memories you'll be able to share with the happy couple.
Create Wedding Videos Super Quickly And Easily
Never had to create a wedding video before? Not sure where to begin? Our wedding video templates give you a massive head start. Super fast and simple to use, it allows you to create videos in just three clicks, giving you the bandwidth to concentrate on what's most important: choosing the most special moments to share!
All our templates are fully customizable, helping you create a wedding film, a wedding slideshow, or any other type of video content that's totally unique and true to the happy couple's love story.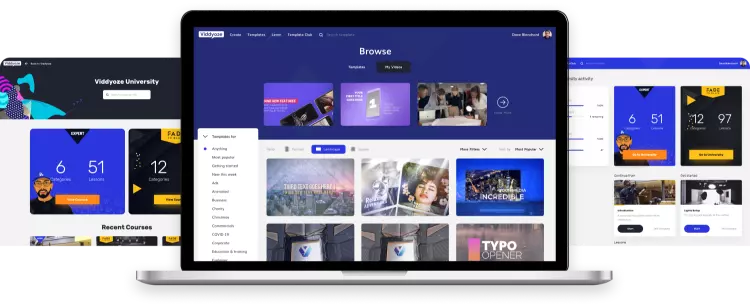 Creating Your Wedding Video
Sign up to the Viddyoze app for free.
Choose a template from our library and customize it
Download and post your video

Cathy Townley
"The service is very easy to use and more than that the CUSTOMER service is super great. I'm pleased with the partnership!"

Osama Moawad
"Viddyoze is great cloud software that turns you into a professional video maker."
Viddyoze's Wedding Video Creator
Create Shareable Moments For Social Media
Weddings and social media sharing are a match made in heaven. It's the perfect opportunity for newlyweds to share their big day with all of the connections in their network. And it allows them and their guests to look back on the day whenever they choose.
Use Viddyoze's wedding video maker to create multiple short video clips which are perfectly optimized for social media virality. That way, even absent friends can share in the magic of the special day.
Remember The Special Day With A Wedding Video Recap
Want to make a wedding video that's short and sweet? Maybe you want to complement your full-length wedding video with an edit that's short enough to share in a social media post or email to loved ones who weren't able to attend the big event? A wedding video recap is the perfect option.
With a recap-style wedding video, you can package up all the most important moments, from the walk down the aisle to the vows, speeches, and family reactions.
But isn't it a whole lot of extra work to make multiple versions of a wedding video? Not with Viddyoze! We offer all the tools to create new projects in minutes, with hundreds of readymade templates and sophisticated-yet-simple video editing functionality. When you're done, the happy couple can even add their recap video to their wedding website.
Celebrate Important Moments With A Wedding Slideshow
Everyone knows weddings are packed full of memorable moments. But inevitably, some will stand out more than others. The first dance; stolen time away from family and friends; cutting the wedding cake.
And then there are all those behind-the-scenes events that make a wedding day what it is — things like announcing the engagement, picking out a wedding invite or save-the-date card, trying on the dress for the first time, and driving to the ceremony.
Why not package all those special memories together by creating a wedding slideshow?
Wedding slideshows are a quick, easy, and stylish way to share your best wedding photos and video clips from before, during, and after the big day. You can even ask the happy couple and their guests to suggest their own favorites and include them in your slideshow.
If this is your first video slideshow, don't worry — it's a simple process (as long as you use Viddyoze!). Just choose the wedding photos and videos you want to include, cut your videos into parts, then add transitions to move slickly from one image to the next. You can do it all in just a few clicks.
Over 3,400 templates 
to choose from
Unrivaled
Customer
Support
Active
Facebook Community
New Templates Added All The
Time
Videos
Rendered In MP4/MOV
Format
Super Fast To Render Videos
Easy To Use App/Interface
You've Got Q's. We've Got A's.
How Hard Is It To Make A Wedding Video?
As long as you choose the right wedding video maker, it doesn't need to be difficult at all! After you've captured all your video clips and photos on the day of the wedding, you can simply upload them to Viddyoze, then use our professional-quality tools to create the dream wedding video. Customize with text, headings, background music, and more to craft a video that truly reflects the happy couple and their special day!
How Much Does A Professional-Quality Wedding Video Maker Cost?
Just because everything else about weddings is expensive, the same needn't be true of creating a wedding video! With Viddyoze, you get access to world-class video creation and editing tools, all for just one, one-off payment. Unlock our full range of templates with Viddyoze Pro.
How Long Does It Take To Make A Wedding Video?
While the answer to this question naturally depends on the complexity of your wedding video project, it's absolutely possible to create a stunning video in minutes using Viddyoze.
What File Format Will My Video Use?
We offer a choice between MP4, MOV, and GIF files, each of which can be downloaded immediately.