Level Up Your Streams With Professional Stinger Transitions
Keep people watching with your content for longer by adding sleek stinger transitions to your videos. No design skills needed.
Achieve Video Excellence with Our User-Friendly Transition Video Maker
Increase Your Production Quality, Win More Subscribers
Savvy Twitch or YouTube users now expect a similar viewing experience to what they'd get from watching TV. If your content looks cheaply made then you'll seriously struggle to grow your subs.
Instantly raise your channel's production value by adding branded stinger transitions which feature your logo into your content. You'll gain the credibility and trust needed for viewers to subscribe.
Get People Watching Your Videos For Longer
When watching a video our natural impulse is to click away the second we get bored. And what bores watchers the most? Single-camera shots that don't shift focus.
Keep your viewers engaged until the very end by using seamless transitions to shift your content between segments. Viddyoze's stream transition maker makes it easy for you to smoothly change between scenes, giving your audience the viewing experience needed to boost your retention rate.
Create Custom Stinger Transitions, Quickly & Easily
OBS Studio and Streamlabs only provide a few basic transitions such as cut or fade. Not the professionally branded stingers that well-established twitch streamers use in their content.
Thanks to Viddyoze, you can easily create custom stingers without needing any animation skills. Simply upload the video file to your preferred streaming platform – and boom! You'll have stingers on par with the world's most famous content creators.
Access Exclusive Stinger Transition Templates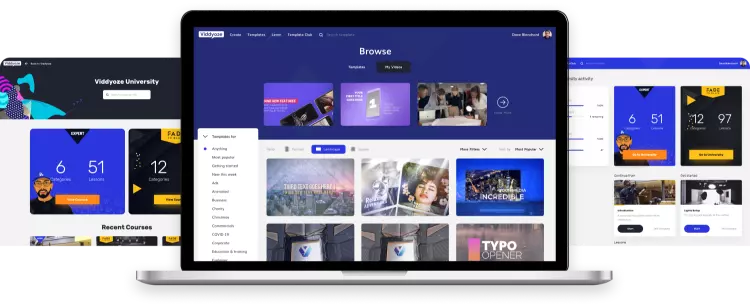 Creating Your Stinger Transitions
Sign up to the Viddyoze app for free.
Choose a template from our library and customize it
Download and post your video

James Franklin II, Founder & CEO Franklins Corporation
"I started Viddyoze back in 2020, and was looking for ways to expand the services we offer. and Viddyoze was the answer. the logo animations alone help add value to the logos we design for our clients. This platform saved us so much time and has proved us a valuable addition to our services."
Improve Your Content By Inserting
Exclusive Stinger Transitions From Viddyoze
Boost Your Retention Rate To Unlock Your YouTube SEO
Chances are YouTube is a big part of your video marketing strategy – after all, it's the world's biggest platform for video creators and streamers.
If YouTube is going to work for you and your brand, you need to keep viewers watching for longer. Why? Because YouTube's algorithm rewards content creators who keep people on the platform. Improve your retention rate and your videos are guaranteed to show up in more searches, which means more views and higher brand awareness for you.
Viddyoze's stinger transition maker keeps your audience hooked by cutting smoothly from one scene to the next. Choose your favorite transition from our template library, customize it with your imagery, add sound effects, and watch your retention rates soar!
Take Inspiration From Stingers In Sports Broadcasts
When posting a new video, you want your audience to instantly recognize that it's your brand's content when they first see it in their newsfeeds.
To achieve this colors, fonts, and correct logo usage all need to be defined and followed stringently in everything you post.
It can be tempting to mix up your video animations from time-to-time but to build brand recognition your video intros/outros, lower thirds, and transitions must always stick to your branding guidelines.
Create Branded Transitions For Every Video Segment
Make your videos more memorable by specifically branding each content segment. What we mean is, if your content follows a formula (such as a mix of interviews, gameplay footage, or product reviews) you can give each segment its own name and stinger transition.
Branding content segments boosts your chances of going viral and attracting new subscribers. It gives a name to parts of your content which makes them easier to recommend and search online for.
One of the great things about Viddyoze is that there's thousands of video templates on the platform which you can customize with your channel's logo, colors, and messaging. Use this to your advantage by thoroughly branding each part of your content!
Over 3,400 templates 
to choose from
Unrivaled
Customer
Support
Active
Facebook Community
New Templates Added All The
Time
Videos
Rendered In MP4/MOV
Format
Super Fast To Render Videos
Easy To Use App/Interface
You've Got Q's. We've Got A's.
What Is A Stinger Transition?
Stinger transitions use animations, audio clips, and other video resources to stylishly and seamlessly cut from one video screen to the next.
Why Should I Add Stinger Transitions To My Videos?
There are lots of benefits to using stinger transitions in your videos. They're a great way to keep your audience engaged with your content, they allow you to display your branding prominently throughout the video, and they make your content look more professional.
Can I Add My Stinger Transitions Into Streamlabs Or OBS Studio?
Yes! Once you've downloaded your stinger overlay, simply upload it to your preferred streaming platform.
Do Viddyoze Stinger Transitions Come With Background Transparency?
Yes! Stinger transitions built on the platform come with full background transparency so that you can easily overlay them onto your stream content.
What Is The Best Stinger Transition Maker Online?
Obviously we're biased, but we'd have to say Viddyoze! Not only do we have 3,400+ templates for you to use and customize, but our stinger transition maker is so simple to use, allowing you to create amazing transitions in seconds.
What Are The Different Types Of Stinger Transitions?
The Viddyoze library contains hundreds of customizable templates, so you won't be short of transition type choices. Fade from one scene to the next, add transparent elements, incorporate sound effects, and more. Feel free to play around with all the different styles until you find one that works for your brand and audience.
What File Format Is Used For Stinger Transitions?
We offer files in MP4 or MOV, which you can save, download, and add to your videos immediately.