Keep Viewers Engaged In Your Videos With Vibrant Transitions
Impress clients and win business by using high-quality transitions in your video content. With the Viddyoze transition maker, there's no previous design experience needed – it's that simple!
Create Professional-Quality Transition Videos Effortlessly
Stop Losing Customers To Bad-Quality Videos
The key to making video content which generates new customers is high-production quality. Offer your viewers something that looks low-budget and they'll switch off long before the end of your video.
Smooth transitions are an easy way to instantly raise the production value of your videos. With our video transition maker, you can instantly raise your content game and keep viewers engaged until the end of your videos.
Tell Your Story With Seamless Transitions
Whether it's your brand narrative or a product tutorial, the main goal of any video is to keep viewers engaged in the story you're telling. And nothing keeps the viewer's eyes stuck to the screen more than well-timed transitions.
Transitions break up camera views to ensure that people don't zone out due to looking at the same visuals for too long. With our video transition creator, you can progress your story by breaking-up your content with premium transitions which also compliment the tone of your video.
Make Professional Video Transitions, Quickly & Easily
Video content often fails to convert watchers into customers when the production quality looks cheap. Signs of an unprofessional video include: not having a branded introduction, not using unique transitions, and not incorporating lower thirds into your content.
Use the Viddyoze platform to give consumers the confidence they need to buy your products. Through our online app you can easily create intros, transitions, and lower thirds which compliment your branding.
Access Exclusive Transition Templates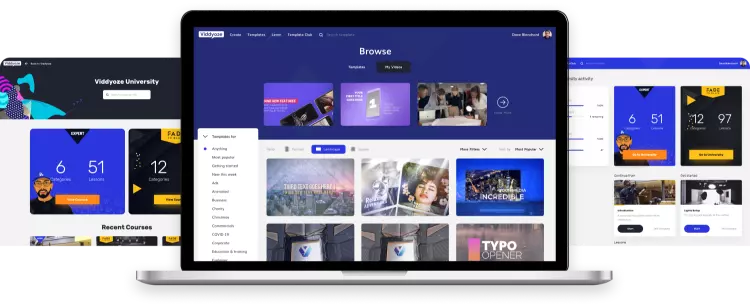 Creating Your Video Transitions
Sign up to the Viddyoze app for free.
Choose a template from our library and customize it
Download and post your video
Improve The Performance Of Your Content
By Creating Transitions Online
Gain More Views On YouTube With A Better Retention Rate
Too many video marketeers fall into the trap of overstuffing their content with different messages or CTAs in an attempt to maximize their ROI.
But this approach tends to confuse watchers and confused customers don't convert.
Every marketing team has multiple goals and objectives they want to achieve. Nevertheless, it's important to keep each video focused on one specific outcome.
Including multiple animated CTAs into your content is recommended, just ensure that each CTA in your content is working to accomplish the same goal.
Stand Out From Your Competition With Branded Transitions
Give your videos the edge over other businesses with bespoke branded video transitions. Unlike standard video transitions, which are solely used to enhance the engagement value of your content, branded transitions add a level of recognition, too.
By branding your videos you're more likely to go viral, raise brand awareness, and win new business. Why? Because branded video segments make your business more memorable, as well as easier to remember, recommend and search online.
Viddyoze gives you access to thousands of branded video transitions, which you can use for all types of content. You'll be able to customize your logo, brand colors, and messaging in a few simple clicks. With Viddyoze, it's never been easier to stand out with effective branding.
When You Should Use Video Transitions
Whether you're making a documentary to support your brand narrative or a product video to show how good your new merch is, a transition can be used to enhance all kinds of video content. But where do they work best?
Most often, video transitions are used to stitch multiple scenes together in a cohesive and engaging way. Take an interview as an example. One long, fixed shot of your subject talking would be pretty boring, wouldn't it? Instead, we recommend filming your subject with two cameras, from two different angles, at the same time.
Using our transition video editor, you can seamlessly move between shots, creating a much more engaging interview. Transitions also work well in tutorial videos, sales videos, promo videos, and many, many more. Whatever kind of content you want to create, Viddyoze has the transition template you need. Create stunning videos now.
Over 3,400 templates 
to choose from
Unrivaled
Customer
Support
Active
Facebook Community
New Templates Added All The
Time
Videos
Rendered In MP4/MOV
Format
Super Fast To Render Videos
Easy To Use App/Interface
You've Got Q's. We've Got A's.
What Is A Video Transition?
A video transition is a visual tool used by video creators to stitch together two different clips seamlessly.
What Is The Best Video Transition Creator Online?
We might be a little biased, but it has to be Viddyoze. For starters, we've got 3,400+ templates ready and waiting for you to edit, but our stinger transition maker is so simple to use, allowing you to create and add transitions to your content in seconds.
What Is A Stinger Transition?
Stinger transitions use audio files, animations, and other types of video media to smoothly move from one video clip to another. They can be created using a stinger transition maker.
Can I Add Transitions To Streaming Software, Such As OBS Studio?
Yes. You can add video transitions to OBS. Simply download your template, and upload it to create slick OBS transitions.
Can I Add Transitions To Final Cut Pro?
Yes. Once you have selected the transition you want to use, just download it to your computer, and then upload it to the Final Cut video editor.
Do I Need Any Previous Experience With A Video Editor?
No. Making videos with Viddyoze is simple. In fact, anyone can make an epic video in minutes. Our video maker walks you through the whole process, step by step.
How Long Should A Transition Be?
A transition should be no more than half a second long (that's 15 frames at 30fps). Use a video editor to ensure you find the correct transition point timing for your animation. This is the sweet spot between one clip and another. Remember, perfect timing is crucial when adding transitions – you'll need to adjust the point timing so that the background scenes flow into one another at the correct time.
How Do I Add Transitions To My Videos?
Adding a transition to a video clip is easy with Viddyoze. Just find a transition you like in our vast database, edit it to match your branding, and that's pretty much it – once the new files are done processing, you can download your new transition file.
Can I Add Sound Effects To My Transitions?
Yes. We have a whole collection of audio files and transition sound effects that you can add to your video clips. They are mixed in house and royalty free, so there's no need to work about DMCA takedowns, either. Just select the sounds you like from the dropdown menu, and add them to your content.
Can I Add Transitions Into OBS Studio?
Yes. You can add video transitions to OBS. Simply download your finished template from Viddyoze, and upload to the OBS interface. Next, open the OBS Scene Transitions window, hit "+" and select the type of transition you need from the menu. In the next window, select "Browse" and find your new file.