Create Facebook Video Ads With Our Easy To Use Facebook Video Ads Creator.
Our Facebook ads maker lets you generate more leads with less ad spend by creating videos which engage your target audience.
Just simply choose one of our templates, customize with your brand colors and text, and click "Create". No technical experience required.
Elevate Your Content with Our Powerful Facebook Ads Video Maker
Get More Leads By Posting Conversion Optimized Facebook Video Ads
Facebook itself has confirmed that videos drive more engagement on the platform than any other content type. If your ad creative only consists of static images or simple text posts then you're missing out on new customers.
Our Facebook video ads creator enables you to create Facebook video ads which get noticed and make people want to buy your products. Start generating more leads for less money.
Build Your Audience And Grow Your Page Followers Much Faster
If the goal of your ad campaign is to grow your Facebook followers then you need to post less sales content and more informational content which entertains.
In addition to product and promo videos, Viddyoze guides you to create branded video content which educates your audience and prompts them to follow your page to watch more.
Create Facebook Video Ads To Support Every Facebook Ad Campaign, Quickly And Easily
Most businesses fail to maximize their Facebook ads budget because they recycle the same creative instead of producing new creative which will better resonate with the audience they're targeting.
With Viddyoze's Facebook ad maker, you can drastically lower your customer acquisition cost by quickly creating new videos for every ad campaign, without any technical skills needed.
Access Exclusive Facebook Video Ads Templates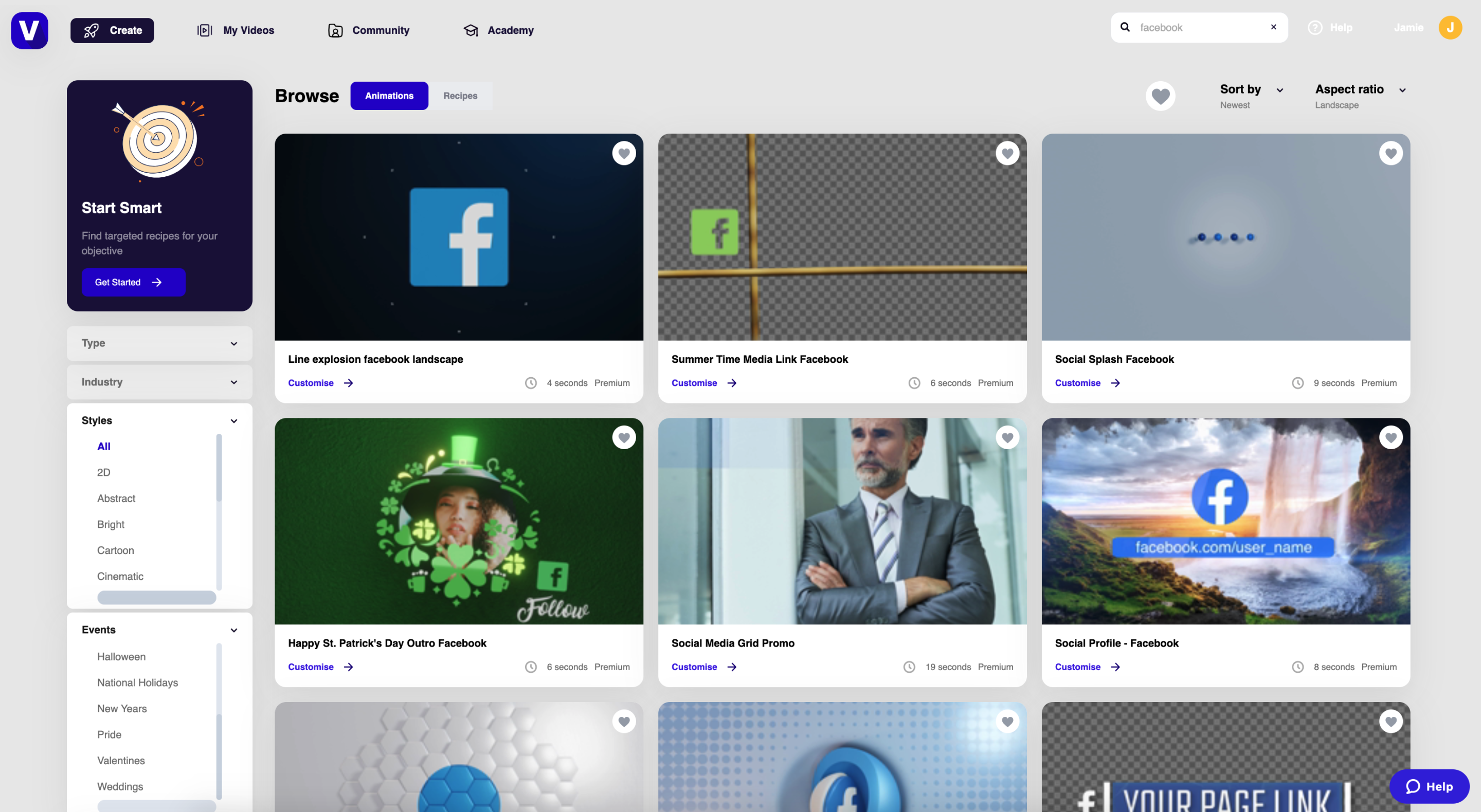 Making Facebook Video Ads
Sign up to the Viddyoze app for free.
Choose a template from our library and customize it
Download and post your video

Michael
"Love Viddyoze. Allows me to create impressive videos for the budget-minded. The more I use it – the more I learn."

Sarah
"The service is easy to use and makes it great for creating videos for my business and for my community… I recommend Viddyoze for your quick videos and animations and great support!"
Strategies You Can Execute With
Viddyoze's Facebook Ad Maker
Create And Target A Lookalike Audience Based On Your Customer Data
Facebook's lookalike audience is a powerful tool which allows you to display ads to people who closely match the profile of your existing customers.
All you need to do is export your customer list as a .csv or .txt file and upload it to Facebook Ads Manager. Facebook will then find platform users who match the demographics, age, occupation, etc. of your existing customers and add them to your lookalike audience.
Finally, create a series of video ads to target them. We recommend creating testimonials, product videos, and company intro videos. These will raise awareness of your brand and work to generate more leads.
Boosting Facebook Video Posts And Targeting Recent Engagement
Facebook allows you to increase the reach of your organic posts by 'boosting' them for a fee of your choosing. We recommend searching through your analytics dashboard and identifying which of your video posts have generated the most engagement. Next, boost as many posts as you can for the next 30 days.
At the end of the 30 days, your page will have driven tons more engagement from new followers. To capitalize on this, create a new targeting segment based on people who have watched your video content in the past 30 days.
Lastly, create a Facebook video ad using our Facebook video ad creator which promotes a limited time offer to new customers! This is an effective way to provide purchase-urgency to people who've recently shown interest in your brand.
Remarketing To Specific Product Page Visitors
If you have the Facebook Pixel installed on your website, you can display Facebook ads to people who have previously visited your site. It's a great way to re-engage potential customers who left without making a purchase.
A common missed opportunity we see many businesses make when running remarketing ads is not creating ads which directly feature the product their website visitors showed interest in.
Get ahead of your competitors by providing personalized ads which drive sales. Use the Viddyoze app to create individual product videos for your entire stock. Then, refine your remarketing so that your website visitors only see ads for the products they showed interest in.
Lots Of Facebook Video Ads Templates
Unrivaled
Customer
Support
New Facebook Video Ad Templates Released Regularly
Create A Facebook Video Ad In Just A Few Clicks
Super Fast To Render Videos
Easy To Use App/Interface
You've Got Q's. We've Got A's.
Will My Facebook Video Ad Look Great On Mobile Devices?
Yes! We understand how important using the correct video format for your Facebook videos are. For that reason we allow you to choose between horizontal videos, square videos, and vertical video formats.
What Types Of Facebook Video Ads Can I Create?
With our Facebook video ads creator, you can create a wide-range of stunning Facebook video ads. Including but not limited to:
• Product video ads
• Testimonials ads
• Brand (or business) promotion ads
• Case studies
• Sale announcements
• Launch teasers
• Staff profiles
• Sponsorships and charity video ads
Can I Also Create Cover Videos?
Yes! Once you've finished creating a successful Facebook video ad, you can also use our video maker to start creating a cover video for your Facebook page.
Can I Use My Videos On Other Platforms?
Yes! In addition to Facebook advertising, you can create ad content for all social media platforms and anywhere else! Once you've created a video it's yours to promote however you choose.
Can I Create Non-Ad Video Content Too?
Yes, you can! Our Facebook video ad maker can also be used to generate videos for:
• Organic social media posts
• YouTube content
• Landing pages
• Online courses
• Recruitment
• Internal business announcements
• Other video advertising platforms
Does Viddyoze Add Its Watermark To The Videos?
No, we don't. No video templates on our platform contain a watermark.
Can I Add My Own Photos To My Facebook Video Ads?
Yes! We encourage you to add a personal touch to every Facebook video ad you create by adding your own images and business branding.
Also, All of our Facebook video ad templates come with integrations to royalty free image sites Unsplash, Pexels, and Pixabay so that you can easily insert stock images from their media library into your custom videos.
Do The Facebook Ad Templates Include Audio?
Yes! Each of our Facebook video ad templates come with a free audio track which was specifically designed for the template. 
Do You Have Animated And Live Action Video Templates?
Yes, we do! We have Facebook ad templates in both live action and animated formats! Our animated templates grab attention with effects such as animated text, logo reveals, and
How Long Does It Take To Create Facebook Video Ads?
Video creation takes just a few minutes!