Create Amazing TikTok Videos Which Get Tons Of Engagement With Our TikTok Video Maker.
Create engaging TikTok videos that stop scrollers in their tracks with Viddyoze. It takes just a few clicks to make high-impact videos – no technical wizardry or editing expertise required!
Our TikTok video maker allows you to create incredible video content for TikTok from a library of 1000s of templates.
Your Vision + Our TikTok Video Maker = Incredible TikTok Videos
Kickstart Your TikTok Marketing Strategy With TikTok Videos Created For Engagement
TikTok is a marketer's dream, with brands getting huge levels of engagement and impressions from organic posts. In fact, businesses are reporting an average organic reach of around 118% — more than 20 times higher than Facebook's.
Start taking advantage of this crazy exposure and brand growth! Viddyoze empowers you to get the most out of TikTok by creating scroll-stopping content that stands out in busy feeds.
Our TikTok video maker makes it super easy to create engaging short videos in minutes.
Post Unique Animated TikTok Videos That Can't Be Created Inside The App
TikTok is amazing for reach but converting those touchpoints into likes and sales requires visually unique content which people simply can't ignore. That's where Viddyoze comes in.
Our TikTok video maker contains thousands of vibrant video templates which are exclusive to Viddyoze customers. Use our software to grow your following by posting unique video content which can't be made within the TikTok app.
Get More Website Traffic By Posting Conversion Optimized TikTok Videos
You're gaining momentum with your TikTok page but you're struggling to funnel that traffic onto your website and translate your TikTok success into paying customers. The answer? Use Viddyoze to add custom-made lower thirds to your video content.
Personalized lower thirds which contain persuasive calls-to-action are an effective way to direct web users without intruding on their browsing experience. Sign up to the Viddyoze app now and optimize your TikTok videos with a conversion focused lower third.
Gain Access To Stacks Of Engaging
Exclusive TikTok Video Templates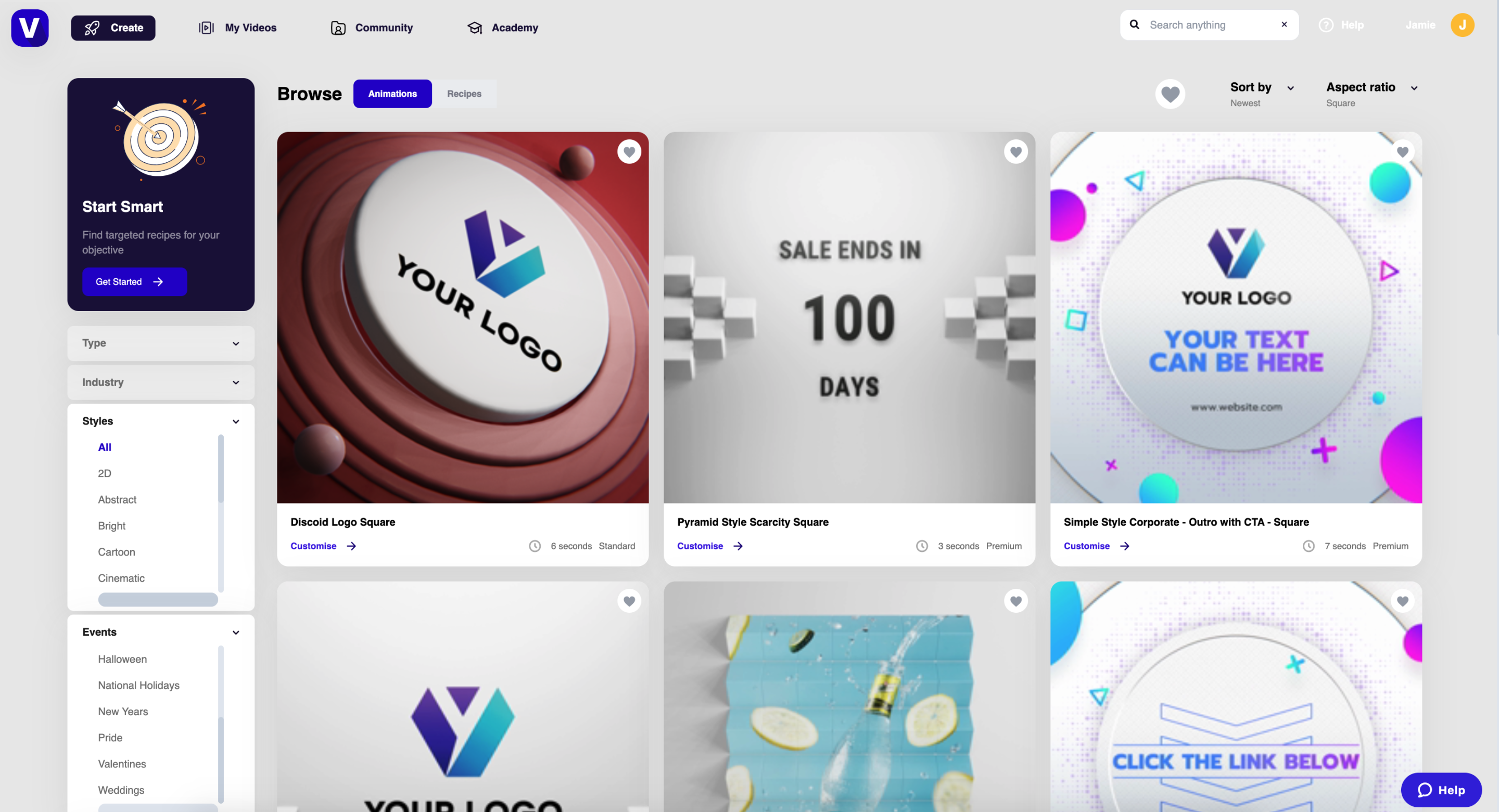 Sign up to the Viddyoze app for free.
Choose a template from our library and customize it
Download and post your video

Gaurav
"Really wonderful and amazing experience with Viddyoze. They are 10 times better than any word class similar video creation platform. 👏"

Greg
"I love your product and Service, you help make me look like a genius! I can't say enough!"
Drive Sales With TikTok Video Ads
TikTok isn't just about capturing stunning video footage of your cat or sharing your attempts to master the latest dance trend.
Across the world, brands are using the social media platform to sell more products and grow their revenue. In fact, 74% of TikTok users say the app has inspired them to learn more about a product or brand online, with 67% admitting that it inspires them to shop even when they aren't planning to do so.
TikTok offers a variety of ad types, from in-feed adverts to brand takeovers. Use our TikTok video maker to choose from hundreds of ad templates, customize them to fit the goals of your campaign, and edit the aspect ratio at the click of a button to match TikTok's vertical video style.
Oh, and don't forget to add a strong call to action at the end to compel viewers to buy now.
63% Of TikTok's 1 Billion Users Are Under 30
There's no way around it: if your audience skews younger — or you want to expand your reach among younger consumers — you need to be on TikTok. Of the platform's one billion users, more than three-fifths are aged under 30. No other social app resonates so strongly with younger demographics.
With TikTok, there's no shortage of ways to reach and engage those highly lucrative audiences. You can demonstrate your value and expertise by sharing educational content; cross-promote your videos on YouTube and other social platforms; tap into viral content formats; even create your own TikTok challenge. Add text to your videos to highlight key information or provide useful content. And be sure to use hashtags to grow your reach for free.
TikTok's Algorithm & Insane Organic Reach Explained
Organic reach measures how many of your page followers actually see your organic (that is, non-paid) posts. On most social platforms, that percentage is tiny. By most estimates, Facebook's average organic reach hovers around the 5% mark, while on Instagram it's maybe as high as 10%. That might not sound too bad, but if you've got 1,000 followers on Insta, at most only 100 of them will see your posts.
TikTok blows every other platform out of the water in this respect, with some experts placing its average organic reach at more than 100%. In other words, every single person who follows you on TikTok should see your posts, and some will likely see them more than once. That's incredible from a brand awareness perspective.
But reach is nothing if your TikTok videos aren't engaging. Use our TikTok video maker to create TikToks that scrollers can't help but watch, like, and comment on. And the best news? The more engagement you generate, the higher your organic reach will climb.
1000s Of Different Templates To Choose From
Unrivaled
Customer
Support
Over 180,000 Happy Users & Creators
New Templates Added Regularly
Videos
Rendered In MP4/MOV
Format
Super Fast To Render Videos
Easy To Use App/Interface
You've Got Q's. We've Got A's.
How Do I Make A TikTok Video Incorporating Photos?
TikTok is a visual platform, so it's in your interest to add as many visual elements as possible. Start out with one of our fully customizable templates, then use our tools to upload your own video clips and photos. Add text and animations, include your logo, and choose your audio, all in a few clicks.
What Video Format Does TikTok Use?
TikTok supports MP4 and MOV files for regular videos, plus AVI and GIF files for TikTok ads, with a maximum file size of 287.6 MB on iOS and 72 MB on Android. Beyond that, it's also important you get the aspect ratio right. The recommended dimensions are 1080 x 1920 pixels, or a ratio of 9:16.
How Long Does It Take To Make A TikTok Video?
With Viddyoze, it's easy to create superb TikTok videos in seconds thanks to our fantastic templates. All that time saved on complicated video editing tools means you can spend more time planning and storyboarding your videos, which inevitably helps you drive better results.
Can I Add Music To My TikTok Video?
Yes! Every Viddyoze template comes with several audio options for you to choose from.
What File Format Will The Videos Be?
We offer video files in MP4 or MOV, which you can post immediately.