Make Studio-Quality Videos Which Delight Watchers And Grow Businesses
With Viddyoze, you can quickly and easily make top-quality videos for your brand. No prior video creation knowledge needed.
Many Brands Users And Creators Trust Our Video Maker
Dominate The Content Space In Your Niche
To reach your target audience online, you need to create content in the formats which your customers prefer to engage with. In other words, brands that only create written or audio content are isolating a huge segment of their audience.
Viddyoze empowers you to create professional, engaging videos every day, quickly and easily. So that you can speak to your customers on their own terms.
Create Videos Which Get Noticed On Crowded Newsfeeds
Competition for people's attention on social media platforms is fierce. If you want to generate engagement then you need to post eye-catching videos which scrollers can't ignore.
With our online video maker, you gain access to exclusive video templates, only available to Viddyoze customers. That means you can create stunning videos in unique formats which your target market actually wants to watch.
Producing Videos Doesn't Have To Be Expensive
It's never been easier for your business to begin creating professional-quality video content on a budget.
Viddyoze offers hundreds of animations that will get you more clicks and lower your customer acquisition cost and significantly improve your video marketing strategy. Our ready-made templates are easily customizable with no prior experience or training needed.
Gain Access To Over 3,400
Exclusive Video Templates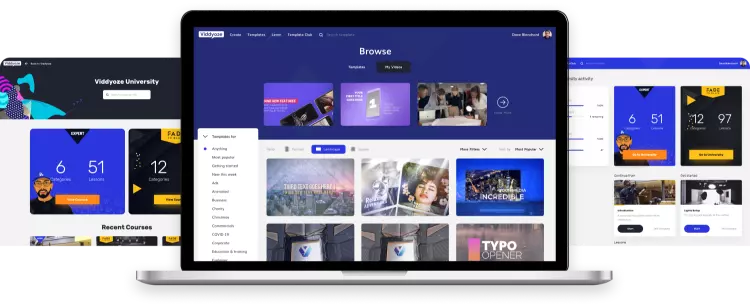 Sign up to the Viddyoze app
Choose a template from our library and customize it
Download and post your video

Bradley Utpadel
"Great product and Great support!! I've been a customer for as long as the product has been around. The quality of VIDDYOZE ups my game as a video producer."

Mazni
"Any template you want, they've got it!"
More Ways Our Video Creator Can
Turbocharge Your Business
Increase The Conversion Rate Of Your Landing Pages
If your website is generating traffic via Google but not sales or leads then you're a prime candidate for conversion-rate-optimization (CRO). CRO is the process of changing your web pages to make site visitors take action, usually by making a purchase.
One highly effective CRO tactic is to embed video content onto your landing pages. A recent study by EyeView Digital explains how they increased the conversion rate of their landing pages by 80%, simply by adding video to their page.
Which video content works best on your web pages depends on your product offering. For example, if you're selling something very technical, try adding an explainer video to your page. Or if you're promoting a service, embed a case study to highlight your results.
Viddyoze can help you create any type of supporting video for your landing pages. Our professional video templates cover everything, from product features to testimonials. Sign up now and give your landing pages the CRO boost they need.
Convince More People To Open Your Emails With Powerful Videos
Email is one of the oldest digital marketing tricks in the book, yet it still remains a highly effective tool. Why? Because the people on your mailing lists are highly qualified leads, who've already shown an interest in your business.
The only problem is convincing your respondents to open your emails when they land in their inbox. That's where video comes in. Research from Campaign Monitor found that including the word "video" into a subject line can:
• Increase open rates by 65%
• Increase click-through-rates by 65%
• And lower unsubscribes by 26%
Transform your email marketing strategy by giving your audience the captivating video content they actually want to see. Viddyoze can support you by providing the tools you need to make your own videos in minutes.
All The Video Capabilities You Need In One Platform
You don't need to be a professional video maker or have any video editing experience to get started. You just need Viddyoze. From intros to call-to-actions, the Viddyoze platform provides hundreds of different templates that you can use.
Make your video stand out from the crowd using branded visuals. The Viddyoze customization tools allow you to modify fonts, images, colors, and background music so you can easily make on-brand videos to suit your business.
There's no need to purchase a bunch of different software or devices, and you don't need to sift through endless video files. Everything you need to create your own brand videos is on one great platform, one browser, and one device.
Over 3,400 templates 
to choose from
Unrivaled
Customer
Support
Active
Facebook Community
New Templates Added All The
Time
Videos
Rendered In MP4/MOV
Format
Super Fast To Render Videos
Easy To Use App/Interface
You've Got Q's. We've Got A's.
Can I Customize Viddyoze Templates?
Yes! Viddyoze features allow you to customize font and text fields, upload your own photos and choose from a bunch of different music tracks. We're constantly adding new features to make Viddyoze the best video software on the planet.
How Long Does It Take To Make A Video?
Whether it's for online sharing or SEO, it doesn't take more than a few minutes to make a video. We can't give a precise answer as it depends on the template edit and video length.
Can Viddyoze Templates Be Added To A Video Editor?
The content you create and download using Viddyoze can be added to your video editor and used alongside your own video clips. Be sure to check out other platform features such as Viddyoze transitions to move seamlessly from one clip to another.
Can I Add Music And Photos To My Videos?
Yes. Viddyoze video maker allows you to add music and photos to our templates. In both cases, you can either use your own audio or images or choose from our extensive royalty-free libraries. Simply drag and drop, start creating, and download when you're finished.
What Types Of Video Can I Create With Viddyoze Video Maker?
Using our online video maker you can make all kinds of spectacular content. Here are some of the more common types of video created on our platform:
• Promo videos
• Tutorial videos
• Explainer videos
• Short videos (for TikTok and Instagram Reels)
• YouTube shorts
• Facebook ads
• Testimonials
• Sales announcements
• Walk-through video (this can include screen recording)
• Plus, many many more.
Can I Use My Videos On Social Media?
Yes. Viddyoze templates are designed to be used on every social media platform. The most common places our content is shared include TikTok, Instagram, Facebook, and YouTube. Other social media platforms include Twitter, Twitch, and LinkedIn. Simply create your video, download to your device, then upload to social media.
What Is The Best Format For A Video?
We offer video files in MP4 or MOV. Either format can be posted immediately. All Viddyoze templates are optimized. This means that you can easily download, embed and share videos and clips that you create on your social platforms, YouTube channel or a blog post.
Do I Need Experience To Use Viddyoze?
You don't need to be a professional or experienced video maker to create content using Viddyoze. You can easily create your first video in just 3 clicks.