Create Marketing Videos That Sell Your  Products With The Best Marketing Video Creator.
Viddyoze helps your business create stunning marketing videos for every campaign goal. No technical skills required.
Simply login to our marketing video creator, choose a template from 1000s of options, customize around your brand in a few clicks, and you're done!
Discover the Power of Our Marketing Video Maker For Your Business Today
Create Stunning Marketing Promo Videos That Generate Leads
Most businesses produce marketing videos that fail to get results because they don't have the resources in-house to create content that looks professional or showcases their products at their very best. Viddyoze is here to change that.
Our marketing video creator gives you access to templates that are designed to look great and get viewers excited about your products. Start creating top-quality marketing videos and connect with your audience now.
Make Videos That Support Every Marketing Campaign
Busy marketing teams are often running multiple campaigns which have different goals. Creating marketing videos to support every campaign can be challenging and time-consuming. Thanks to Viddyoze this is no longer the case!
Viddyoze's marketing video creator software lets you create marketing videos of any type, from social media ads and case studies to sale announcements, in minutes, so that you can support any campaign with professional marketing videos.
Professional-Quality Marketing Videos For Any Budget
You don't have to pay a high price to create marketing videos and boost your business. Our online video maker is the perfect tool for businesses who want to create a promo video on a budget.
There's no need to spend funds on equipment or video editing software. Choose your template, customize and share your branded content with your audience. It's that easy.
1000s Of Marketing Video Templates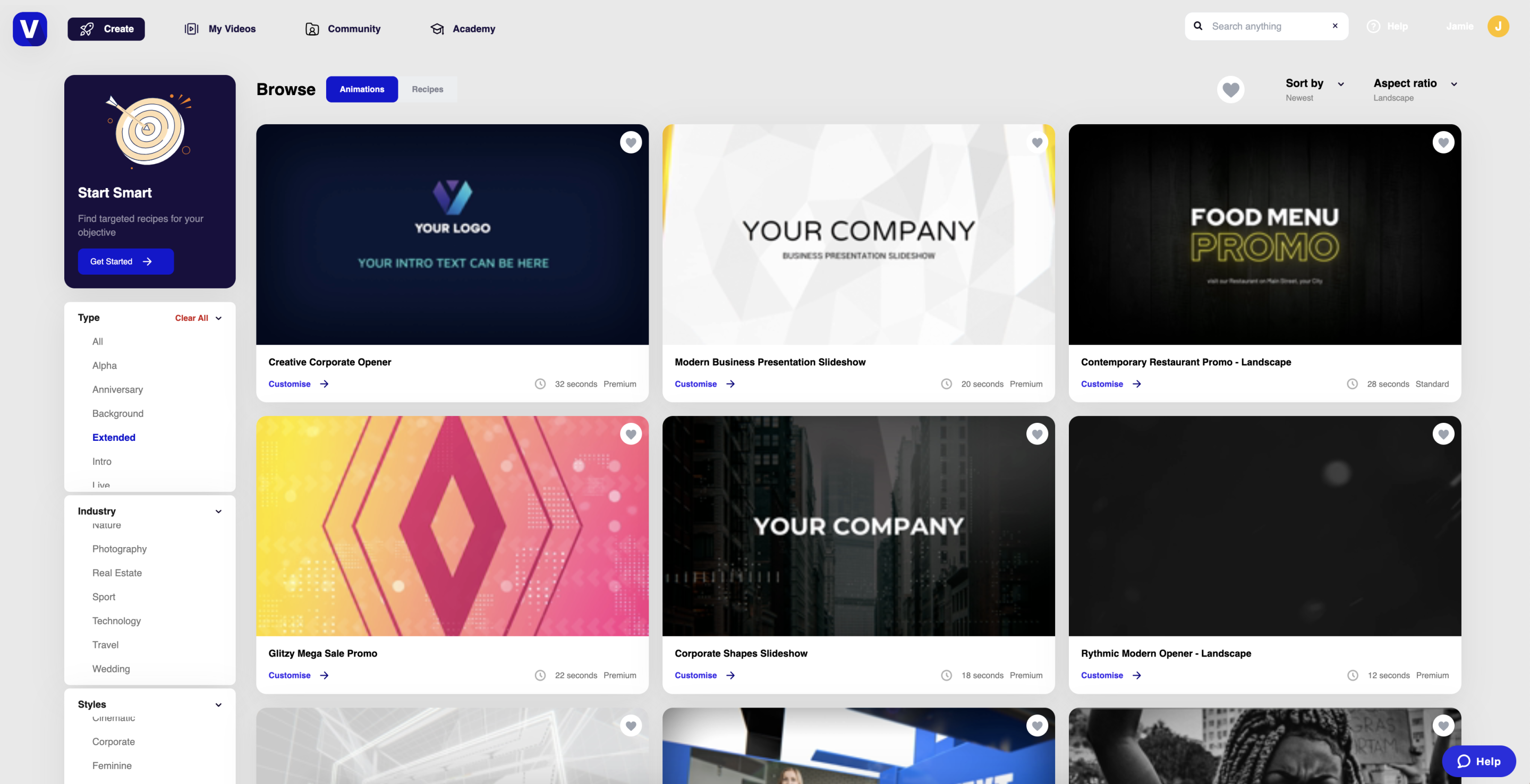 Making Beautiful Marketing Videos
Sign up to the Viddyoze app for free.
Choose a template from our library and customize it
Download and post your video

Courtney Patterson
"Viddyoze is a top notch video marketing and performance tool. My customers love the products that I can produce from this platform. Love it."

Paul Connaghan
"Really great to quickly put together professional short video content for marketing [campaigns]."
How To Take Your Video Marketing
Launch Your YouTube, Facebook, And TikTok Video Marketing Strategies
YouTube, Facebook, and TikTok are widely-popular platforms with over one billion active users.
For businesses, the opportunity here to drive brand awareness and capture new customers is huge. The only thing holding you back is not knowing how to create video content that drives engagement, attracts potential customers, helps increase traffic, and stands out during the scroll.
That's where Viddyoze comes in. Our marketing video creator lets you create a constant stream of entertaining and visually engaging video, so that you can post regularly and grow your organic followers on both platforms.
Harness The Power Of Storytelling For Your Brand With An Animated Marketing Video
A strong narrative is unforgettable. Research from Jerome Bruner explains that facts and statistics are 22x more likely to be remembered if they are told as part of a story.
What does this mean for your brand? Simple, if you explain the value proposition of your product in a story format, then it's likely your target audience will think of your brand first when they're ready to buy. It's just good video marketing.
Viddyoze makes storytelling easy. We'll provide you with powerful animated video templates, which tell the story you want to tell. Each template hits specific story beats and contains keyframes, which you can fully customize with static images, music or messaging. With Viddyoze, you'll have full control over your story.
Increase The Session Duration Of Your Website (And Get An SEO Boost)
Keeping visitors on your site is important. It increases the likelihood that they'll convert into paying buyers, and it also sends positive user signals to the major search engines about your business.
Websites that provide a great user experience are rewarded by search giants, such as Google. And quite often user experiences are measured by how long people stay on your website during each session.
A recent study by Wistia found that people spend 2.6x longer on web pages that contain video. Take advantage by using Viddyoze to create video content for every key page on your website and turn viewers into buyers. Your customers will love it and you can boost your organic traffic in the process.
1000s Of Marketing Video Templates To Choose From
Unrivaled
Customer
Support
Over 180,000 Happy Users & Creators
New Marketing Video Templates Added Regularly
Create Marketing Videos In Minutes
Super Fast To Render Videos
Easy To Use App/Interface
You've Got Q's. We've Got A's.
Is Viddyoze A Marketing Video Creator?
You can create marketing video content for any purpose using Viddyoze, whether it's a video ad, Facebook video, video tutorial, or slideshow.
How Long Does Online Video Creation Take?
No more than a handful of minutes. We can't give a precise answer as it depends on the template edit and video length. Generally, a good animated marketing video takes around 2-5 minutes to make using our tool.
Can I Share My Marketing Videos Online?
Yes! We offer video files in MP4 or MOV, which you can post immediately. All Viddyoze templates are optimized. This means that you can easily download, embed, and share your video content on your social platforms, YouTube channel, Facebook, blog etc.
What Kind Of Video Content Can I Make In Viddyoze?
Viddyoze allows you to create high quality videos in minutes. Here is a selection of the type of video marketing videos you can create using our tool:
• Video Ads
• Social Media Video (Such as Facebook or Instagram)
• Landing Page Video
• Business Videos
• Sales Promo Video
• Explainer Video
• Personalized Videos
• Plus many more
It's never been easier to promote your message with animated content.
Do I Need Experience To Use Viddyoze?
You don't need to be a professional or experienced video creator to create animated videos using Viddyoze. Whether you want to make a snappy video ad or brand documentary, you can easily create your first marketing video in just 3 clicks. We have a friendly support team and free tutorials if you do get stuck.
How Do I Make Engaging Marketing Videos Using Viddyoze?
Creating a marketing video with music, text and images has never been easier. Select one of the many templates available within your account. Customize by uploading your photos, adding your text, selecting brand colors and choosing from a bunch of different music tracks. You can even preview your marketing video before hitting the download button.
Do I Need Video Experience To Use Viddyoze?
No design skills are necessary! Viddyoze is a simple platform to use, whether you're using it as a marketing video creator or for your video intros, outros, lower thirds etc. Viddyoze is cloud-based which means you can use Viddyoze as a marketing video maker, wherever you are. Simply access the platform from your desktop or mobile device and begin work on your project.
How Does The Viddyoze Service Work?
Our service is split into two premium plans. With our commercial license, you can create unlimited animations. On our Individual license, you can have access to 3o a month. Both contain all the features and resources you need to turn your business into the finished product. Speak to your audience, promote your business, and drive more sales.
Can I Download My Created Content Directly From Viddyoze?
Yes! You can download all created content straight from our platform once you've finished.