Create Engaging Promo Videos Which Hook Watchers
Create professional-looking videos for your brand or product in just a
few minutes with our promo video maker. No technical skills required.
A Promo Video Maker That Unlocks Creativity for Brands and Video Creators
Make Promos Which Inspire People To Take Action
Many businesses fail at video marketing because they don't have the skills in-house to create content that looks professional and generates sales at the same time.
Viddyoze solves this problem for you. Our exclusive promo video templates are designed to get people excited and showcase your products at their very best. Sign up, and start posting promotional videos that actually convert.
Build Excitement Ahead Of A Launch
When launching a product, event, or business, building hype is essential. Otherwise, you risk flopping and struggling to generate early sales.
Make your launch an unmissable event with well-executed promo videos. The Viddyoze promo video maker gives you all the tools you need to make the type of promo video you need to connect with your audience pre-launch.
Make Promo Videos Quickly Without Any Headaches
Viddyoze gives you everything needed to make epic promo videos in minutes, whether you're making video ads, sales promos, or launching a new product.
Just log in to the Viddyoze app, choose a template from our library, customize it with your messaging – and that's it! Studio-quality business promo videos that actually convert and boost sales.
Gain Access To Over 3,400
Exclusive Video Templates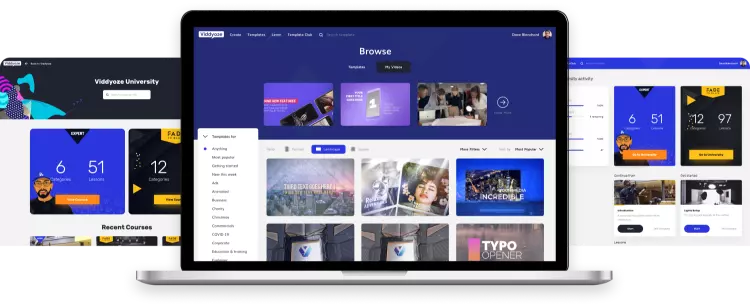 Creating Your Promotional Videos
Sign up to the Viddyoze app for free.
Choose a template from our library and customize it
Download and post your video

Gene
"I own a private fitness training facility. Viddyoze helps keep our frequent promo videos from looking repetitious."

Tarek
"One of the best sites specialized in designing and producing video with high accuracy and quality. I advise those interested in subscribing to the site [to do so]."
Powerful Things You Can Accomplish With
Viddyoze's Video Promo Maker
Increase Website Conversions By Adding Promo Video To Your Landing Pages
Everyone consumes information in their own way, whether that's by reading paragraphs of text or by watching video ads. To get the best results out of your marketing, you need to cater to both sets of people. Otherwise, you risk alienating half of your audience.
One easy way to boost the conversion rate of your website is by adding video clips to each of your main landing pages. Don't believe us? A study by EyeView Digital witnessed their site's conversion rate increase by 80% one week after adding videos to landing pages.
The point? Don't just rely on text to tell your story. Use Viddyoze, and convert simple text into an exciting promotional video to entertain, educate, and convert viewers into customers through your website.
Transform Hard-To-Explain Messages Into Easy-To-Understand Promotional Video
If you're struggling to win over your customers, it's pretty likely your message just isn't clear enough. If they aren't sure what you're selling, there is no reason they'd buy. So how do you make a promo video that your audience will understand? The answer is Viddyoze.
Viddyoze guides you through the video creation process so that you can communicate your message clearly to your customers.
Creating videos for complex products and services is super simple. And using our promo video maker, you can even plan the next step in your customer's journey, by creating explainer videos, case studies, or testimonial video content. All of which will close the sale once you've got them interested.
Boost Your Visibility Across All Social Media Platforms
Social giants, such as Facebook, Instagram, and TikTok, have recognized the importance of promo video content and have shifted their platforms to prioritize it.
The Marketing Helpline found that "video posts on social get 48% more views." Therefore, if you want to generate more engagement, and grow your followers, you need to be posting more promotional video content.
Now, making promotional videos might sound hard, but it really doesn't have to be. Thanks to the Viddyoze promo video maker, you can create persuasive content for social in minutes. Get started now – create a buzz on your social platforms with your own promo video.
Over 3,400 templates 
to choose from
Unrivaled
Customer
Support
Active
Facebook Community
New Templates Added All The
Time
Videos
Rendered In MP4/MOV
Format
Super Fast To Render Videos
Easy To Use App/Interface
You've Got Q's. We've Got A's.
What Is A Promo Video?
A promo video (also known as a promotional video) is used to raise awareness of a specific product, event, launch, or sales initiative.
How To Make A Promo Video?
The best way to make promo videos is by using the Viddyoze app. All you need to do is choose a promo template from our library, customize it with your messaging, then download and post. Creating professional video promos really is that easy.
How Long Should A Promo Video Be?
There's no right or wrong answer here, it depends on your target audience and what your promo has to say. In general, don't make your promo longer than it needs to be, once you're referenced all the key information, that should do it.
Where Can I Post My Promo Video Content?
Whether it's for business or personal use, our promo videos work with all platforms and websites. The most popular places to upload video include Facebook, Twitter, Instagram, and YouTube!
Can I Create Videos For Promo Facebook Ads?
Yes. We have video frameworks specifically designed to work as ads on a range of social sites, including Facebook and YouTube.
Can I Add Music And Photos To My Promo Video Content?
Yes. Viddyoze's promotional video maker features the ability to add both audio and images to our promo templates. You can even upload your own.
Can I Use Viddyoze To Make Brand Resources?
Yes! With our platform you can build a whole suite of on brand content to promote your business and keep viewers hooked. We have branded intros, logo animations, branded transitions, branded lower thirds, and much more. Simply upload your logo and tweak your template to match your brand colors.