Create And Share Gripping Slideshow Videos That Wow Viewers
The Viddyoze slideshow maker lets you create spectacular presentations with your images and text in minutes.
Our Slideshow Maker Is Like the Secret Weapon for Brands, Users, and Creators.
Tell Your Story With An Impactful Slideshow
Effective storytelling builds trust and influences buyers' decisions. The truth is that stories that build strong relationships and make it easier to remember your product will impact your audience emotionally and make them more likely to buy.
The Viddyoze slideshow maker sells your story with images, text and music. Our templates are built to highlight the emotion that beats in your story.
Keep Your Audience Hooked With Stunning Slideshows
Whether you're presenting to a room full of colleagues or at an industry event, a visually poor slideshow can damage your credibility and prevent audiences from listening to what you have to say.
Viddyoze provides captivating slideshow videos for any occasion, regardless of where it's being presented. Creating studio-grade videos that are guaranteed to impress your audience and win their trust has never been easier.
Retain People On Your Website For Longer With Videos
Webpages that contain videos are proven to keep people on your website for longer and increase the conversion rate in the process.
Use Viddyoze to combine images, text and audio to produce a slideshow video that perfectly introduces your audience to your brand as soon as they land on your website.
Gain Access To Over 3,400
Exclusive Video Templates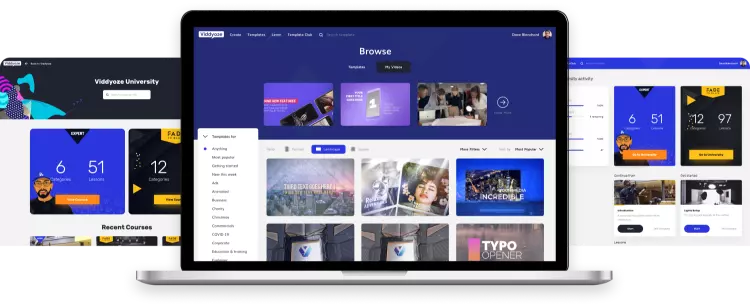 Creating Your Slideshow Videos
Sign up to the Viddyoze app for free.
Choose a template from our library and customize it
Download and post your video

Gary, Digital Productions FX
"Viddyoze is a great easy site to work with to create amazing animations quickly. I always find a template for a project or video that I am working on. I would highly recommend this to anybody wishing to create professional added content to their video's or presentations."

Iria Anenih
"Awesome experience with Viddyoze – every time. Great service!"
How To Get The Most Out Of The
Build Competition A Crushing Slideshow Video
You know the benefits of creating a video slideshow that looks professional. But your slideshow may just be one of many at a marketing event, on social media feeds or amongst the business pitches. So how do you make your slideshow video stand out from the crowd?
Thanks to Viddyoze, your slideshow will be a cut above the rest. Our team of in-house animation experts have crafted hundreds of visually breathtaking animations, which are exclusively available to Viddyoze customers.
All you need to do is upload your images to the slideshow maker, add your text, amend your brand colors and choose your music, hit save, and share with your friends or potential customers. No technical experience is necessary. In just a few clicks, you'll have created a slideshow that flows seamlessly and crushes the competition.
Increase Reach By Sharing Your Slideshows Anywhere
Want your own slideshow videos to have a positive effect on your business? Well, they need to be seen by your target audience first.
Viddyoze animations can be modified to fit all industries, and are easily distributed across any social media platform. Using your slideshow video on sites such as Facebook, Instagram and LinkedIn can help attract new followers and make your Pay-Per-Click advertising unmissable.
Make a slideshow in just a few clicks. Simply, save, download and it's ready to share anywhere straight away. Fill your content calendar with engaging video content created with the best slideshow maker!
Make A Slideshow Which Brings The Best Out Of The Speaker
With the Viddyoze slideshow maker, you can completely customize your content to the speaking style of your presenter.
What we mean is, if your presenter is a confident speaker who can command the audience, then we have minimalist slideshow templates which will provide key visuals in an aesthetically pleasing way.
Alternatively, if your speaker prefers to pack their slides with text and other tidbits, we have things in more of a presentation style, which they can refer back to if they lose their place.
Regardless of your presenting style, our slideshow video maker can empower you to deliver in the most effective way. Each template, created by expert animators, contains the ideal amount of photos and titles, all perfectly timed to an audio track.
Over 3,400 templates 
to choose from
Unrivaled
Customer
Support
Active
Facebook Community
New Templates Added All The
Time
Videos
Rendered In MP4/MOV
Format
Super Fast To Render Videos
Easy To Use App/Interface
You've Got Q's. We've Got A's.
Is Viddyoze Just A Slideshow Video Maker?
Viddyoze can be used to make a bunch of different video content, including but not limited to slideshows. Our app can be used for social media posts, video ads, YouTube videos, tutorials, explainer videos, announcement trailers, and much more!
Can I Share My Video Creations Online?
Yes! We offer video files in MP4 or MOV, which you can post immediately. All Viddyoze templates are optimized. This means that you can easily download, embed and share your video slideshows on your social platforms, website, blog etc. Just save your files to your preferred platform, such as Dropbox or Google Drive, before sharing with friends. All content created with Viddyoze is social media friendly, so you can share your files easily on Facebook, YouTube, and any other platform you like.
Do I Need Experience To Use Viddyoze?
You don't need to be a professional or experienced video maker to create content using Viddyoze. You can easily create your first video in just 3 clicks. We have a friendly support team and free tutorials if you do get stuck.
Can I Add Video Clips?
No. Viddyoze is great if you're looking for a text or photo slideshow maker. You can currently only add text and pictures to a Viddyoze slideshow template. You can add music and video clips in your own video editor.
What Kind Of Slideshow Video Content Can I Make?
You can make a photo slideshow or a text-based slideshow. It couldn't be easier! You can make this by uploading your photos to the Viddyoze platform or adding your custom text to the text fields. Whether it's for family events or a corporate format, our tool can help.
How Do I Make A Slideshow Using Viddyoze?
It's never been easier to create a slideshow with music, text and pictures. Create your own by selecting from one of the many templates available within your account. Make it your own by uploading your photos, adding your text, selecting brand colors and choosing from a bunch of different music tracks. You can even preview it before downloading your files to make sure you're happy with the format.
Do I Need Video Experience To Use Viddyoze?
No design skills are necessary! Viddyoze is a simple platform to use, whether you're using it as a slideshow creator or for your video intros, outros, lower thirds etc. Viddyoze is cloud-based which means you can use Viddyoze as an online slideshow maker, wherever you are. Simply access the platform from your desktop or mobile device and begin work on your project.
Can I Make A Slideshow With Music?
Yes, you can create slideshows and add your own music or royalty-free music from our library using our presentation-making tool.