Make Professional Intro Videos In Just Few Clicks With The Best Video Intro Maker.
Create a top-quality video intro, featuring your logo, brand and text, in minutes using the Viddyoze app. No specialist software knowledge needed.
Our powerful video intro maker makes it easy for any business or video creator to create powerful professional intro video animations in minutes.
Elevate Your Video Production with Our Intro Video Maker
Retain New Viewers With Professional Animated Branding
To build an audience for your channel your brand needs to make a strong first impression. Otherwise, watchers won't know how to find more of your content, or worse, they'll forget you entirely.
Branded intros force viewers to focus on your channel name for a few crucial seconds. Giving them the time needed to make a note of your brand.
When it comes to video creation these days, if you don't have a professional intro, you lose credibility against all of your competitors. With our video intro creator, you can create almost any type of intro you want in just a few clicks.
Increase The Production Value Of Your Videos
If your marketing videos are filmed with a single-camera and include no animation, then it's likely that the poor production value is preventing your watchers from converting into customers.
To give your videos extra credibility with viewers, use the Viddyoze intro maker to create world-class introductions that animate your logo, introduce your brand and include jaw-dropping effects.
Create Movie-Quality Intros, Quickly & Effortlessly
Thanks to Viddyoze, you don't need to be an expert in Adobe After Effects (or other video-based software) to create quality videos anymore.
All you need to do is sign into the Viddyoze app, choose an animated video intro template from the library, add your logo – and that's it, super easy! In a few short minutes your intro video will be ready to download.
Gain Access To 1000s Of Animated Video Intros
With Our Video Intro Maker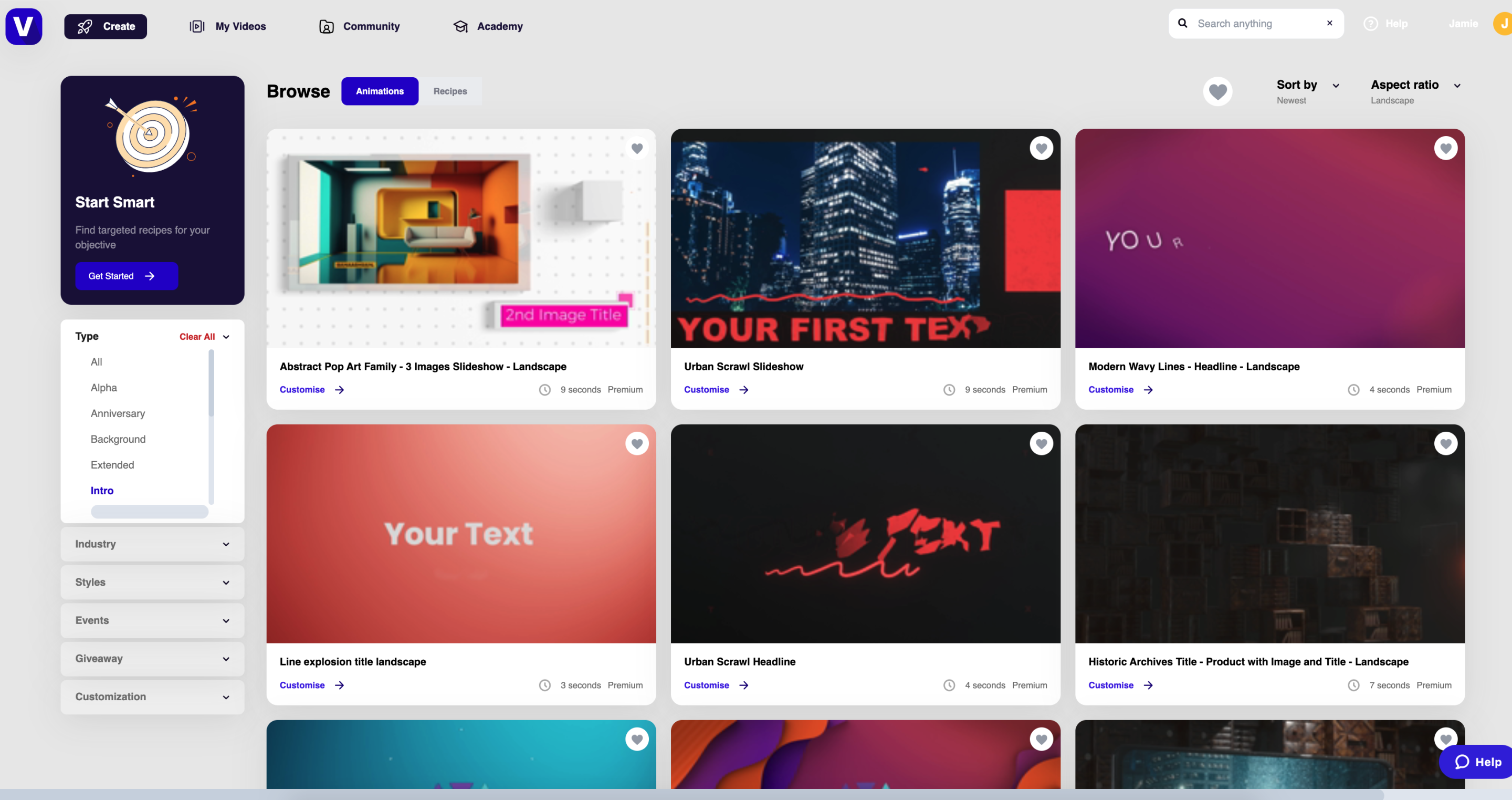 Creating Your Video Intros
Sign up to the Viddyoze app for free.
Choose a template from our library and customize it
Download and post your video

Ron McClammy
"From the moment I realized a service like yours existed I immediately joined up, you have not let me down in any way shape or form. I truly have appreciated the ability to extend my own creativity merged with yours."

Iniyan Selvamani
"Viddyoze has an easy-to-use online interface that lets one create intro videos within minutes."

Using The Viddyoze App To Make
Get More Views By Increasing Your Retention Rate
The secret to getting more views on YouTube videos is increasing your retention rate. In other words, keeping viewers watching to the end of the video. This is because YouTube wants to keep people on their website for as long as possible, meaning it rewards content creators who accomplish this by displaying their videos more often in searches.
If you want to hook viewers until the end of your videos, having a good video intro is essential as it sets the tone for the rest of the video. Viddyoze's YouTube intro maker helps you to animate memorable intros which inspire the trust and credibility needed to keep viewers watching.
With our video intro creator you can create almost any type of Youtube style video intro easily.
Grow Your Subscribers & Build Your Audience
To grow your YouTube channel you're going to need subscribers. To get channel subscribers you need to call your viewers to action by reminding them to 'like and subscribe'.
It can feel like a chore to ask people to subscribe mid-video but the truth is, even if viewers loved your video content the idea to subscribe to your channel won't enter their minds on its own. You need to prompt them.
Fortunately, the Viddyoze app is here to help.
Our video intro maker also contains a wide variety of templates including one's dedicated to overlays and lower third effects as well – both of which you can leverage to display text or graphics during your video which remind the viewer to subscribe.
Generate More Customers From YouTube
YouTube has a reported 122 million daily visitors. It's a staggering total which makes it an ideal place to generate awareness of your brand, your products, or your services.
At the awareness stage in the buyer's journey, potential customers are only just learning that your business exists. The goal here should be to get first-time viewers interacting with your brand by discovering who you are and what you do.
Strong branding on all of your YouTube videos is by far the best way to introduce your business. That includes video intros, an outro, and scene transitions which feature logo reveals and your company name prominently so that it sticks in the viewer's mind.
The Viddyoze app makes creating these video effects quick and simple with no technical skills required, so that you can start building your brand awareness on YouTube immediately.
Why Viddyoze For Video Intros?
1000s Of Video Intro Templates To Choose From
Unrivaled
Customer
Support
New Video Intros Added Regularly
Videos
Rendered In MP4/MOV
Format
Super Fast To Render Videos
Easy To Use App/Interface
You've Got Q's. We've Got A's.
Can I Use Different Video Intros On My Social Media Posts?
Yes! If you feel like changing your video intro, you can always login to the app and create a new one using our video intro maker. Also, you're not required to use the same logo on every video if you manage multiple brands.
Can I Add Music To My Intro Video?
es! Each video template comes with different audio for you to choose from.
What File Format Will The Videos Be?
We offer video files in MP4 or MOV, which you can post immediately.