Create Professional Lower Thirds & Youtube Animations In Just A Few Clicks.
Viddyoze's lower thirds maker allows you to create professional graphic overlays that help audiences to better understand your videos. No animation skills needed.
If you are looking to create a lower third animation or other animations for your video content, you've just landed in the perfect place.
Create professional lower thirds for your videos, and more in just a few clicks.
Unlock Your Video-Making Potential with Our Lower Third Creator
What Is A Lower Third Animation & How Can They Help Your Video Content Stand Out?
Lower thirds help to call out anything from a video presenters name or brand, to links users can follow too.
You can also use them to prompt users to do things such as "Like" and "Subscribe".
The best lower thirds relay crucial information without distracting from the visual content on-screen. Think of an interview or a product promo video where the viewer needs extra context to grasp what's happening – an interviewee's title or a product's name, for example.
Viddyoze gives you access to hundreds of pre-made, easily customized lower third templates. With our lower third generator, you can craft more effective messaging and vastly improve the viewing experience for your audience.
Professional Lower Third Templates That Feature Your Logo And Branding
A branded lower third is a simple way to grow trust in your brand. Think of it this way: the more recognizable your content, the more people will pay attention to your message. When used correctly, a well-made lower third will add credibility to your videos.
With Viddyoze you can create engaging lower thirds with our lower thirds maker that match your branding. Edit the colors, add your logo, and even include your business's preferred text type. Why not make things really pop with an animated lower third template? We have plenty to choose from!
Lower Thirds Help Your Video Content Stand Out On Social Media
The vast majority of people watch videos online with the sound turned off. So, how can you get their attention? Engaging animated lower thirds are one way to tell your message online without disrupting the browsing experience.
An animated logo in your lower thirds is a simple way to catch the eye on social media. Using Viddyoze's lower third generator you can make stand-out video content, which pulls scrollers onto your page, in a matter of minutes.
With a wealth of lower third animation templates within our platform you can create almost anything to match your brand and video content.
Access Exclusive Lower Thirds Templates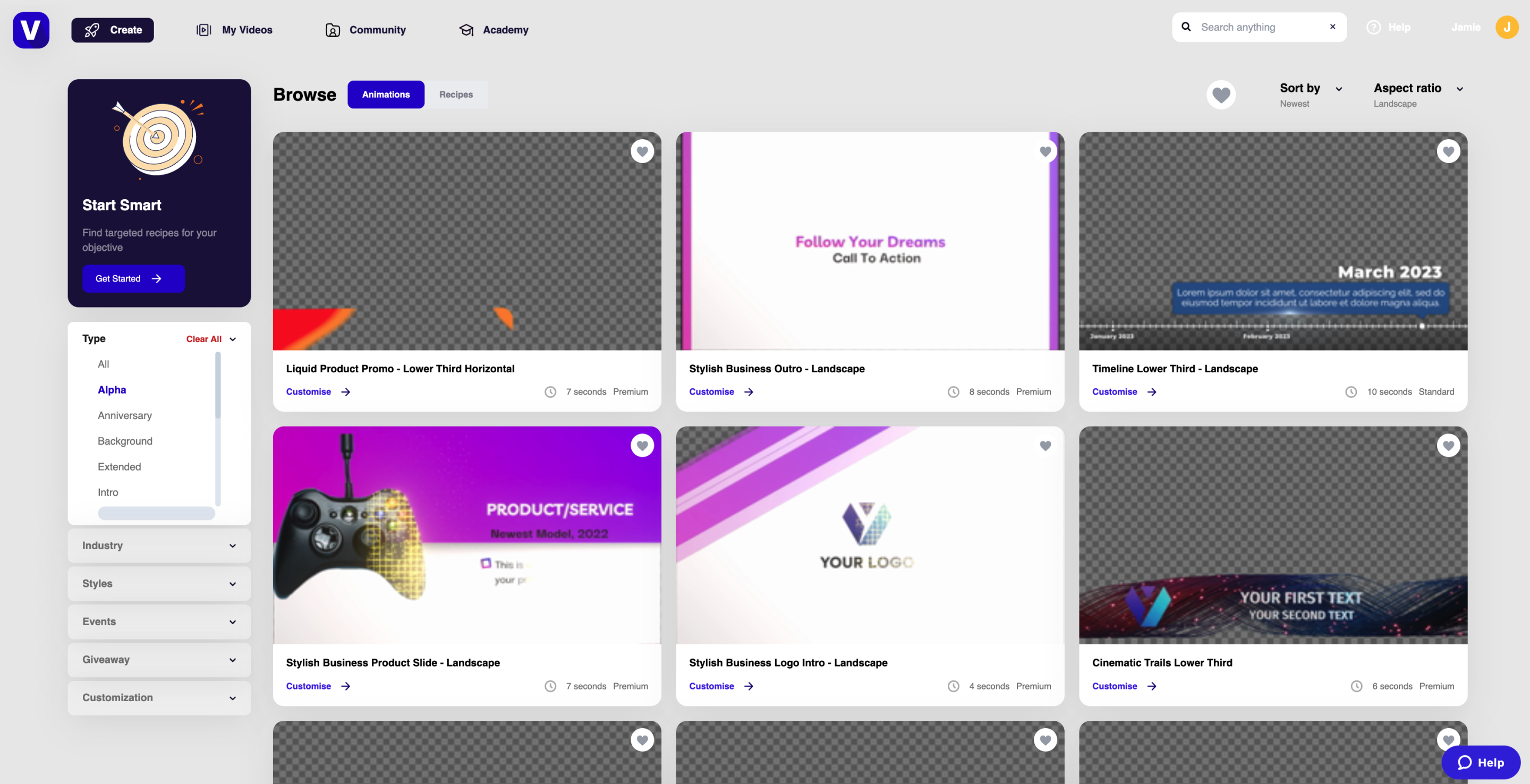 Creating Lower Thirds With Viddyoze
Sign up to the Viddyoze app for free.
Choose a template from our library and customize it
Download and post your video

Suzi Manley
"Great platform to create really wonderful videos and overlays. I use it nearly every day. Love it!"

LaKeithra Taylor
"I have been a user for almost a decade and the customer service and value for money is top notch!"
Using Viddyoze's Lower Third Generator
To Create Highly Engaging Video
Use Lower Thirds To Make Your Viewers Take Action
Every video needs a strong call-to-action (CTA). Why? Because videos that have one convert more and offer a better ROI. But sometimes a CTA needs to be subtle, as well as convincing, without interrupting the flow of your video content.
Enter lower thirds. Whether you're asking people to sign up to your newsletter, like and subscribe on your YouTube channel, or enquire about prices on your website, lower third CTAs get the message across, with minimal disruption to your content. Using our lower third creator, you'll be able to easily create engaging lower third CTAs in minutes.
How To Make The Perfect Lower Third?
A great lower third stands out without distracting from the video itself. We know, that sounds kind of hard to create. But with Viddyoze, it's easy to make an effective lower third that gets the point across in a subtle way.
Here's how. First, make sure any text is short and to the point. No essays – the point of a lower third is essential news only (for example, a person's name and job title). Next, include your logo – not too big, not too small. This is just a little reminder of who you are. Finally, edit the color to match your branding, and try to avoid anything too distracting – hot pink might not work for a serious interview!
Do All Videos Need Lower Thirds?
Dynamic lower thirds add an extra level of engagement to your videos. Often a combination of text, graphics, and animation. Lower thirds give vital context to your content when it's needed most. So, which type of videos should you use lower thirds for?
Lower thirds are most often used when the audience needs a little more information in addition to a video's visual content. They work well in interviews and documentaries, introducing the speaker's name and title, for example. They're also great for product videos, adding extra info, such as product specs. Ultimately, the more useful information you provide, the more likely your video will convert.
1000s Of Animation Templates Including Lower Thirds
Unrivaled
Customer
Support
New Lower Third Templates Added Regularly
Create Animated Lower Thirds In A Few Clicks
Super Fast To Render Videos
Easy To Use App/Interface
You've Got Q's. We've Got A's.
Where Should I Position My Lower Third Graphics?
While most people position a lower third in the lower part of the screen (the clue is in the name), it really just depends on the composition of the video itself. To help, Viddyoze's software uses aspect ratios so that you can find the best screen position every time.
Do All Videos Need A Lower Third Template?
No, not all videos require a lower third. In fact, lower third graphics are mostly used for documentary-style content, and interviews. That said, these templates can also be useful in tutorial videos, promo videos, product videos, and industry news announcement videos.
Is It Easy To Add A Lower Third To My Video Content?
The Viddyoze platform has been designed to make video creation as simple as possible. Just use our browser to find the template you like, drag and drop it over your video, change its features to suit your brand, hit save, export the video, and you're done.
Can I Create A Lower Third With Images?
You can upload your own image (for example, your logo) to some of our lower third graphics. Simply browse our vast database, find the one you want, and customize it to suit your needs.
Do I Need Video Editing Experience To Use Viddyoze?
No, you don't need any previous video editing experience. The beauty of Viddyoze is that anyone can use it to make professional video content. Our super-simple platform makes video editing easy, whether you're adding a lower third to your brand story, creating a title for a news update, or need a stop motion template for your website.
Can I Customize All Viddyoze Templates?
Yes. Every single one of our templates can be edited, which is why we stand out – it's one of our product's best features. With Viddyoze, you can change the smallest details, from fonts and text to the colors and title. Our lower third maker is particularly easy to use. In fact, you can change these templates to suit your brand in just 3 simple clicks.
Can I Customize All Viddyoze Templates
Yes. Every single one of our templates can be edited, which is why we stand out – it's one of our product's best features. With Viddyoze, you can change the smallest details, from fonts and text to the colors and title. Our lower third maker is particularly easy to use. In fact, you can change these templates to suit your brand in just 3 simple clicks.
What Type Of Content Needs Lower Thirds?
We recommend creating lower thirds for the following: brand story documentary, thought leadership interviews, tutorial videos, new-staff interviews, news updates, and promo videos. With Viddyoze's easy-to-use software, there are tons of templates to help you.
What Video Types Can I Create With Viddyoze?
Viddyoze allows you to make high-quality video for any audience. Our tools have been used for the following types of video:
• Promo video
• Explainer video
• Industry news updates
• Company news updates
• YouTube video intros and outros
• Product launch video
• Company culture video
• Testimonial video
• Documentaries
• Video case studies
• Stop motion video
• Ad content
• Introduction and staff profile video
• And much more