Make Animated Cartoon Videos With Our Online Cartoon Video Creator.
With our cartoon video maker, you can create animated cartoon videos for your business or video projects, with no technical skills required!
Our Cartoon Video Maker Is Trusted By Many Happy Users & Creators
Create Animated Cartoon Videos That Match Your Brand Personality
To create video content that stands out, you need to post vibrant videos that clearly explain your value proposition. Otherwise, you risk wasting your budget without generating many leads.
If you are looking to create animated cartoon style video projects, then you have just stumbled upon the best video creator for cartoon animations on the planet.
At Viddyoze, we have a vast library of animation templates that you can customize in just a few clicks. This includes a ton of cartoon styled animations that you can "make your own" in seconds.
Make Customers Understand The Value You Provide With Animated Cartoon Style Video Content
Generating new customers when they don't realize they have a problem is difficult. You need to let them know they have one first, and then explain the value you will provide by solving it.
With Viddyoze, you can create professional cartoon explainer videos which explain your USPs in a clear and fun way! So that you can educate and convert watchers into new customers.
Top-Quality Animated Cartoon Videos Without Breaking The Bank
Before Viddyoze, if you wanted to use professional animated cartoons in your marketing, and didn't have an in-house animator, you'd have to outsource the project to an agency. That's expensive and time-consuming.
Now, all you need to do is sign up to the Viddyoze app, choose an animation template from our library, and then customize it with your messaging using our cartoon video maker- it's as easy as that! Engaging cartoon videos, made instantly, without the heavy price tag.
In fact you can get started completely free below.
Access Exclusive Animated Cartoon Video Templates
With Our Powerful Cartoon Video Maker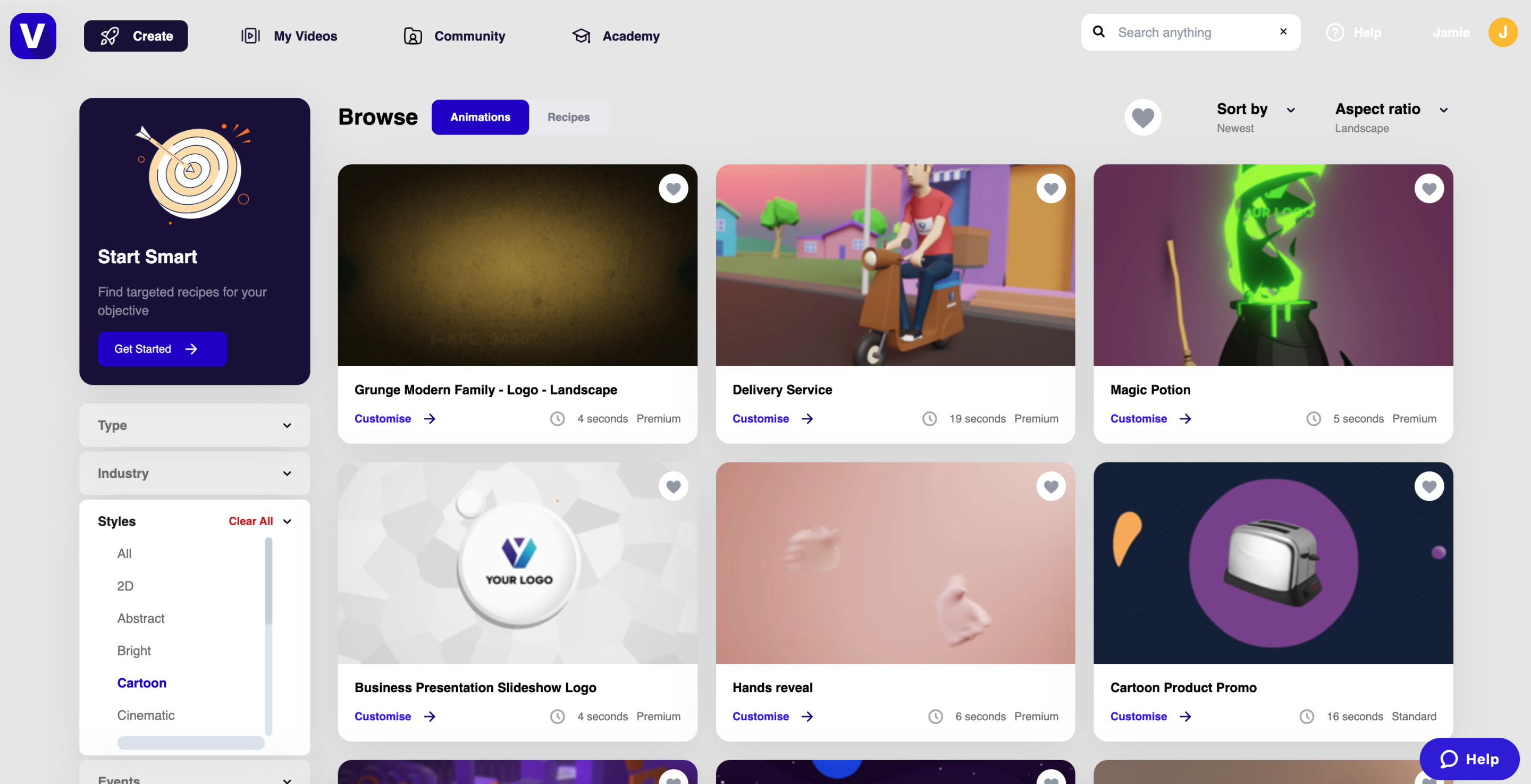 Creating Animated Cartoon Videos
Sign up to the Viddyoze app for free.
Choose a template from our library and customize it
Download and post your video

Wesley Garven
"I'm very impressed with Viddyoze. The graphics are top-notch and there is a template for just about anything you can think of. I'm also very satisfied with their customer service."

Organica Group
"Fantastic product equaled by very helpful and knowledgeable support."
More Ways Viddyoze's Cartoon Maker
Will Transform Your Brand
Create Animated Cartoon Ads That Stop People Scrolling
With people scrolling through hundreds of ads a day, you need to show your audience something different if you want to stand out and achieve a healthy return on investment.
Colorful and charming cartoon video ads are the perfect way to catch the eye in crowded newsfeeds. But not just that, cartoon videos enable you to clearly explain what your products do and why buying them is a no-brainer.
So stop wasting time with generic ads which no one will remember! The Viddyoze animated cartoon maker empowers you to build cartoon ads that drive conversions and drastically enhance the profitability of your ad campaigns.
Keep Your Social Channels Active With Regular Animated Cartoon Video Posts
If your goal is to grow your social media following and organic reach, then posting regular animated videos is a must.
Each of the major social media giant's algorithms favors animation video posts. Why? Because they drive more engagement and keep users on their platforms for longer. In fact, research from Twitter shows that video tweets, including cartoon clips, animations, and promotional videos, receive 10x more engagement.
So, if you want more visibility on social media, you need to play by their rules and post more world class cartoon videos. The Viddyoze cartoon maker supports you by removing the time constraint of creating content so that you can post videos every day and grow your audience! Just pick a template and create a video!
Use Animated Cartoons To Differentiate Yourself From The Competition With Our Video Maker
If your video content isn't currently getting the engagement you think it should, take a look at what your competitors are posting.
Check to see if they're posting similar content to yours, in terms of: tone, style, visuals, ideas, messaging, and calls to action. Ask yourself, are their videos similar to yours? If so, there's your problem! You're not doing enough to differentiate yourself in the marketplace.
Viddyoze helps you to stand out from the crowd by creating animated cartoon videos, which look unlike anything your competitors are posting! Our exclusive cartoon characters video templates let you post content that will create a strong brand identity, and make customers remember you.
1000s Of Animated Video Templates
Unrivaled
Customer
Support
New Templates Added All The
Time
Videos
Rendered In MP4/MOV
Format
Super Fast To Render Videos
Easy To Use App/Interface
You've Got Q's. We've Got A's.
How Do I Make An Animated Cartoon Video?
You can make animated cartoon videos easily using Viddyoze's animated cartoon maker. Just choose a cartoon template from our library, customize it with your logo and messaging (you can even change the backgrounds of our templates), then download and post. Top-quality animated cartoons made simple – use cartoon characters to boost your sales now. With our templates, you don't have to start from scratch. Video creation has never been easier – simplicity is one of our key features.
Can I Upload Photos To My Cartoon?
Yes! You can customize each cartoon animation with your own images. If you don't have an image in mind, you can add an image from our image library with a single click. It's super easy and fun!
Do Your Cartoon Video Templates Include Audio?
Yes, all animated cartoon videos on our platform include an audio track which is either music, or sound effects. 
Where Can I Post My Cartoon Videos?
Anywhere you choose! To win more viewers, we recommend posting your cartoon videos online via your website, Facebook, YouTube, Twitter, LinkedIn, Instagram Reddit, and TikTok (animation works well across all social platforms because it's fun!).
How Do I Access Your Online Cartoon Maker?
Viddyoze is completely cloud-based, so you can access it from anywhere in the world. Just sign in and animate – it really is that simple.
Do I Need Animation Experience To Use Viddyoze?
No, anyone can use our platform, from experienced animated video makers to first-timers. All you need is a few ideas, and we'll do the rest. Our simplicity is one of our defining features, and it's why we've helped thousands of businesses step out of the background with engaging video content.