Create Stunning Video Animations With Our Automated Online Animation Maker.
Viddyoze's animation video creator lets you generate world class animations, quickly, easily, and without any technical experience.
Whether you want to build out full animated videos, or your looking for a short animation maker for video assets you can use in your video projects, welcome to the best online video animation creator.
Our Online Animation Maker Is Trusted By Many Happy Users & Video Creators.
Create Online 3D Video Animations With No Technical Skills Required
Before Viddyoze, creating custom video animations which featured your logo and captured your brand feel was a nightmare. It required advanced skills with specialist software and took days, even weeks, to get right.
Now, all you need to do is login to the Viddyoze app, choose one of our many video animation templates, and upload your logo. It's as easy as that: studio quality animations in minutes.
Professional Video Animation Creator Without The High Fees
In the past, if you didn't have the skills to create awesome animations, your only option was to hire an agency. Agencies are great but expensive and it can take them a long time to deliver a video animation you're happy with.
Viddyoze's online animation maker provides elite animations, super quick, without breaking the bank. 
In fact you can start for free right now with unrestricted access. You can create your first video animation in just a few clicks from now.
Level Up Your Video Content Overnight With Professional Video Animations
Video content often fails to convert watchers into customers when the production quality looks cheap. Signs of an unprofessional video include: not having a branded introduction, not using unique transitions, and not incorporating lower thirds into your content.
Viddyoze makes creating all of these elements easy. It's why we built our online animation creator to begin with.
Through our online app you can easily create animated video intros, transitions, and lower thirds which compliment your branding.
It's so easy, you can do it in just a few clicks.
Access Exclusive Animation Templates
With The Best Online Animation Maker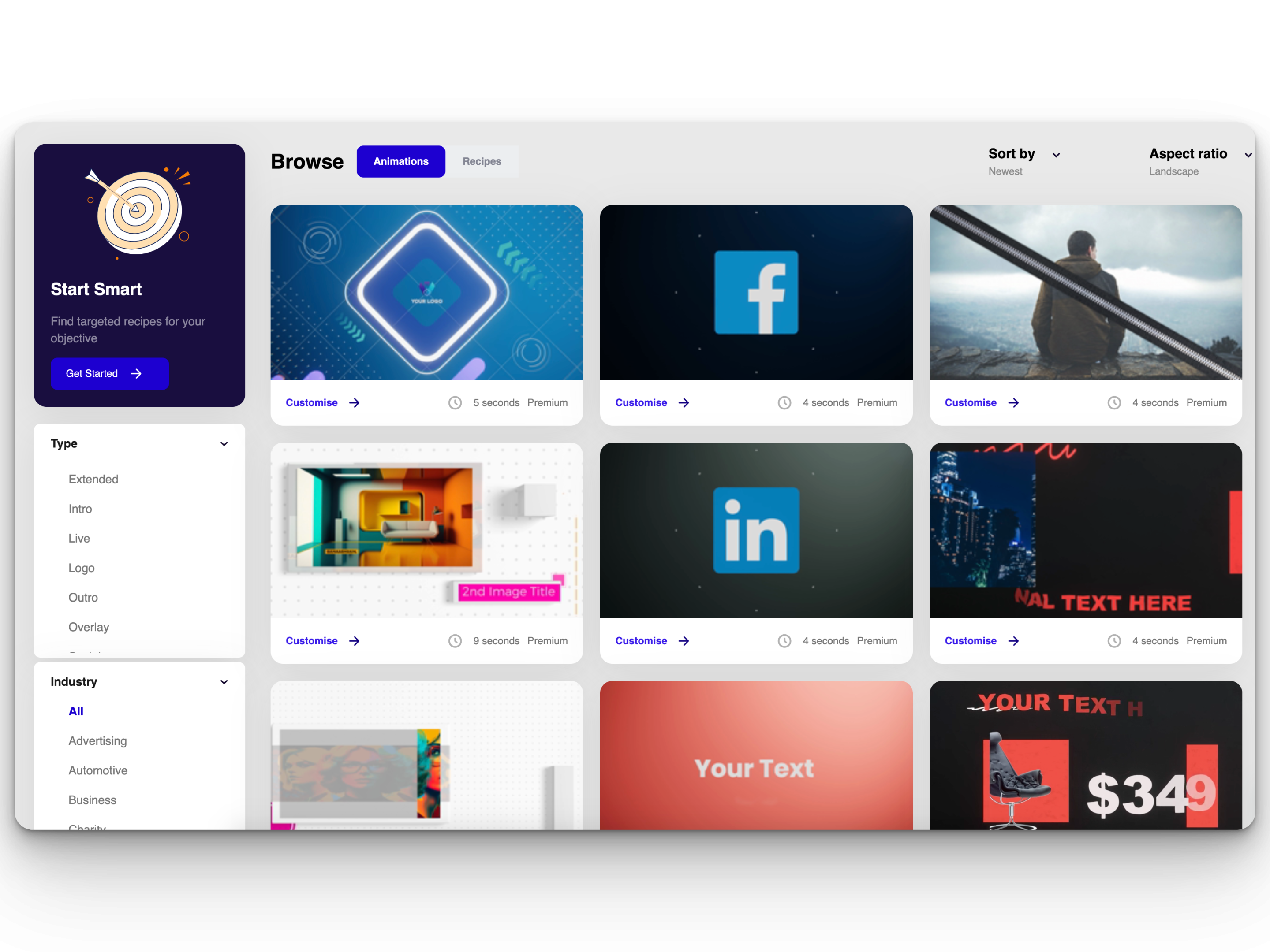 Creating Your Own Animated Videos
Sign up to the Viddyoze app for free.
Choose a template from our library and customize it
Download and post your video

Daniel Jackson-Jones
"Thousands of professional-looking templates, intuitive & easy to use; it's an absolute winner for beginners!"

Tayo Bamgbose
"Viddyoze software is great! Their support team is even greater!"
Level Up Your Video Marketing
Don't Confuse Your Audience With Mixed Messaging
Too many video marketeers fall into the trap of overstuffing their content with different messages or CTAs in an attempt to maximize their ROI.
But this approach tends to confuse watchers and confused customers don't convert.
Every marketing team has multiple goals and objectives they want to achieve. Nevertheless, it's important to keep each video focused on one specific outcome.
Including multiple animated CTAs into your content is recommended, just ensure that each CTA in your content is working to accomplish the same goal.
With Viddyoze and our online animation maker, you can create many different variations of your video content, so you can create, test and see what works for your audience.
Keep Your Brand Videos Looking Consistent On Social Media
When posting a new video, you want your audience to instantly recognize that it's your brand's content when they first see it in their newsfeeds.
To achieve this colors, fonts, and correct logo usage all need to be defined and followed stringently in everything you post.
It can be tempting to mix up your video animations from time-to-time but to build brand recognition your video intros/outros, lower thirds, and transitions must always stick to your branding guidelines.
Use Video Animations To Prompt Your Watchers To Take Action
To give your marketing videos the best chance of accomplishing their goal it's imperative they include calls-to-action (CTA) for your viewers.
CTAs work because they give the watcher clear instructions on what to do next; without a CTA viewers might not understand what the video is trying to do.
This is where animation in your video content becomes crucial.
Constantly interrupting your scenes mid-speech to include CTAs will provide a poor viewing experience, making it unlikely people will watch to the end.
However, branded lower third animations which intermittently appear on screen, without disrupting the viewing experience, are an effective way to convert your viewers.
Viddyoze has created a ton of CTA video animation overlays (including lower thirds) which you can apply to your content to achieve your ideal outcome.
1000s Of Video Animation Templates
To Choose From
Unrivaled
Customer
Support
Over 180,000 Users & Video Creators
New Video Animation Templates Added Regularly
Create Video Animations In Just A Few Clicks
Super Fast To Render Videos
Easy To Use App/Interface
You've Got Q's. We've Got A's.
What Types Of Animated Videos Can I Make With Viddyoze?
The Viddyoze online animation creator features many animated templates to choose from including: call-to-actions, intros, video outros, logo animations, video backgrounds, scene transitions, title reveals, and lower thirds.
We also have a series of live action templates which you can customize with your branding and messaging to create your own videos.
How Can I Make My Own Video Animation?
With Viddyoze it's super easy to create video animation. All you need to do is sign up for the video maker, choose a template from the dashboard, upload your brand images, then download your animation once it's ready.
What File Format Will The Animated Videos Be?
Our professional animation maker produces HD video in MP4, MOV, and GIF formats.
How Long Does The Animation Maker Take To Create Videos?
Never more than a few short minutes, but the actual length varies depending on how long your final animation duration will be, and the template you choose.
Will The Animations Come With Audio?
Yes! There are a bunch of free assets built into the editor tools for users – including free audio and free stock photos or other fun visuals.
What Types Of Videos Can My Animations Be Used In?
Animations are commonly used in all every type of visual content including but not limited to: YouTube videos, explainer videos, video tutorials, social media stories, blog posts, product videos, documentaries, and interviews.