Create Professional, Attention Grabbing Social Media Videos In Just A Few Clicks.
Our social media video maker empowers you to create stunning videos for your social media channels and pages in minutes with no technical skills needed.
Just simply choose a template from 1000s of social media ready promo videos, customize in a couple of clicks and you're done.
Craft Stunning Videos for Social Media with Our Video Maker
Keep Your Social Channels Active With Professional Social Media Video Posts
All social media marketers know that video is the most effective content type for driving engagement. The only problem is that producing high-quality video posts regularly for your feed is tough. But it doesn't need to be.
Viddyoze gives you access to thousands of movie grade video templates which you can customize to showcase your products, events, staff, or anything else. By using our social media video creator, you'll be able to create and post engaging videos to your accounts everyday.
Gain New Followers Faster With Branded Animations
To gain new followers on social media your content needs to win people's trust. If you're posting videos with a low production value, it's going to damage the credibility of your brand.
Viddyoze's social media video maker can instantly raise the production quality of any video by generating animated intros, outros, and transitions which feature your logo. Start posting professional looking videos which will translate directly into new followers.
Create Incredible Social Media Videos With Our Easy To Use Social Media Video Creator
Video content often fails to convert watchers into customers when the production quality looks cheap. Signs of an unprofessional video include: not having a branded introduction, not using unique transitions, and not incorporating lower thirds into your content.
Use the Viddyoze platform to give your followers the confidence they need to buy your products. Through our online app you can easily create intros, transitions, and lower thirds which compliment your branding.
On top of this, our social media video maker also has lots of social media video templates perfect for promoting your products, services, events and more.
Exclusive Social Media Video Templates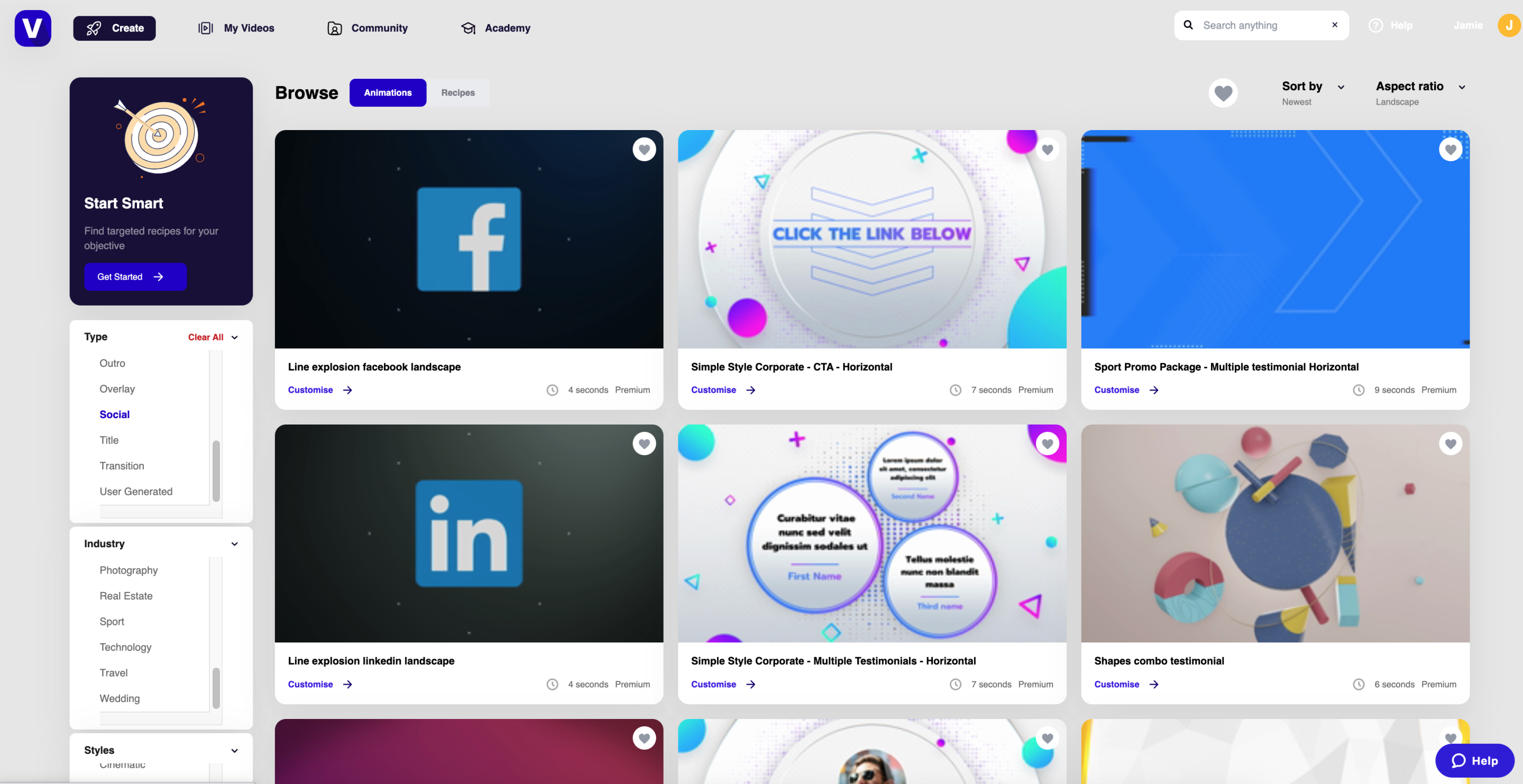 Creating Your Social Media Videos
Sign up to the Viddyoze app for free.
Choose a template from our library and customize it
Download and post your video

Royston B.
"This is a brilliant app, the different templates for all social media portals are especially good. Just had to contact their service and got my issue solved within a few minutes. Top!"

Lee Naugher
"I'm a recent purchaser and already seeing a difference in engagements on my social platforms by using these templates."
Transform Your Social Media Accounts
Into Your Biggest Lead Generators
Build Social Media Ads Which Convert
Creating video ads which convince people to buy on social media is difficult. You first need to grab attention in a crowded newsfeed and then explain the benefits of your product (or service) in a way that's easy to understand.
If your video ad doesn't accomplish those two things, it's likely that you'll burn through your ad budget without generating a lot of sales.
To maximize your ROI, use the Viddyoze app to build your social media ads. We've built a variety of conversion specific video templates which stop people scrolling and make them focus on your products.
Create Videos For All Social Media Platforms
Instagram, Twitter, Facebook, YouTube, LinkedIn, TikTok – each social media network has its own quirks and different user habits. Content formats which work great on Facebook aren't guaranteed to get the same results on LinkedIn, for example.
To be successful across every social network, each one needs its own dedicated content strategy. This might sound like 6x the work for your social media manager but thanks to Viddyoze that's not the case.
Our social media video maker is filled with templates specially designed to make a buzz on every social media platform. From within our online app you can make content professional videos for all of your social channels in just a few clicks.
Social Media Video Templates To Execute Any Marketing Campaign
Video marketing campaigns come in all shapes and sizes. Some campaigns focus on recruiting new staff while others can be purely sales focused.
However, what every campaign has in common is that it'll rely on social media video content to drum up interest.
Viddyoze's video marketing tools let you juggle multiple campaigns easily. Our platform provides you with access to thousands of professionally designed video marketing templates, made for all occasions, so that you can create multiple videos at scale to achieve your campaign goals.
1000s Of Social Media Video Templates To Choose From
Unrivaled
Customer
Support
Over 180,000 Users Already Trust Viddyoze
New Social Media Video Templates Added Regularly
Create Social Media Video Content In Just A Few Clicks.
Super Fast To Render Videos
Easy To Use App/Interface
You've Got Q's. We've Got A's.
How Do I Make Videos For Social Media?
You can make social media videos by signing up to the Viddyoze platform. Our simple to use app lets you create social media video content in just a few minutes. All you need to do is choose a video template, customize it with your branding, and then wait until it's ready to download.
Do You Provide Audio With Your Templates?
Yes! All of our social media video templates come with their own dedicated audio tracks. You can choose to create with our audio, or create without, if you want to to use your own audio.
What Video Types Can I Create With Viddyoze?
Viddyoze helps you to create great videos for any target audience. Our video tools have been used to create:
• Promo videos
• Explainer videos
• YouTube video intros and outros
• Product launch videos
• Company culture videos
• Testimonial videos
• Event recaps
• Case studies
• Tutorials
• Ad content
• Introduction and staff profile videos
• And many more!
Where Can I Share Videos?
You can share and post them anywhere you choose! Facebook video and Instagram video are always popular choices.
Are Social Media Ads Different From Traditional Social Media Videos?
In short, no. Any video content can be used as an ad on social media, so long as it doesn't violate any posting guidelines specified by the platform.
What Is The Best Format For Social Media Video?
The standard file format for social media sites is MP4 or MOV, both of which can be generated in the Viddyoze online platform. Our platform also gives you the option to generate square videos, portrait, or landscape.
Will My Social Media Videos Look Great On Mobile?
Yes! The trend for mobile video consumption has grown exponentially in recent years and we've taken careful steps to ensure all our visual content looks great on any device.