Create Cinematic Trailers That Raise Awareness For Your Brand
Viddyoze's animation maker lets you generate world class animations, quickly, easily, and affordably.
Our Online Trailer Maker Is
the Go-To for Many Brands, Users, and Creators.
Give Your Products The Hollywood Treatment
Stand out from your competition with an epic cinema-style trailer. In just a few minutes, you can create a trailer and earn more sales.
The Viddyoze online trailer maker allows you to customize and create unforgettable trailer videos for each of your products so that your audience thinks of your brand first when they're ready to buy.
Generate Buzz Ahead Of A Launch
When launching a new product, event, or business, you need to build some hype ahead of launch day, otherwise you risk launching to little fanfare and no early sales.
With Viddyoze's trailer maker, you can create engaging videos which get the word out about your launch, so that you can build an audience which is eagerly anticipating your launch date.
Customize And Create Studio-Quality Trailers Effortlessly And Quickly
Before Viddyoze, If you didn't have the videography or animation experience to create an epic trailer, then you'd need to outsource the project to an agency to win viewers. Save money and time, and use Viddyoze instead.
It's our mission to empower anybody to regularly make and customize quality promo content for their marketing campaigns. All you need to do is: choose a trailer template from our library, customize it with your messaging, then download and post! It really is that simple.
Gain Access To Over 3,400
Exclusive Video Templates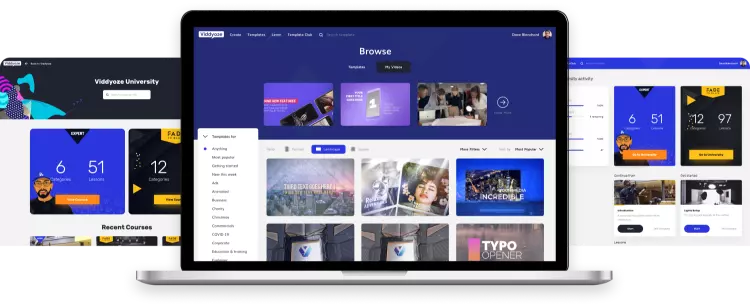 Creating Your Trailer Video
Sign up to the Viddyoze app for free.
Choose a template from our library and customize it
Download and post your video

Syed Ahmad
"One word – AWESOME- I love this software and the excellent customer service this company provides. Very helpful and talented people. Thank you for your kind support."

Daniel
"Looking forward to making more amazing videos for my business. Thank you Viddyoze!"
Movie Trailer That Gets People Excited
Get More Engagement And Grow Your Social Followers With A Trailer Video
Research collected by Hootsuite confirms that video posts on Facebook, Instagram, and Twitter generate more impressions and engagements than any other type of post.
That's why video is so common across popular social media channels – each one wants to keep its audience scrolling for as long as possible. And they know that users will stick around longer to watch video content, such as movie trailers, so posts containing videos get a boost in visibility and earn more viewers.
By using Viddyoze's spellbinding trailer maker, you can create a brand new video every day and post it to your social media platforms to promote your products. Appeal to your audience: start getting more clicks and shares now!
Use A Trailer Video To Boost The Conversion Rate Of Your Website
Your trailer video doesn't just belong on social medias! You can greatly improve the user experience of your site by adding videos to all of your main landing pages.
According to a study by EyeView Digital, adding videos to your landing pages can increase your conversion rate by 80% within just one week. In addition, research from Wistia indicates that visitors stay on websites for longer if that website contains video on the page.
With Viddyoze, you have all the tools to create fun and informative trailer promos which compliment the page content of your site. Use video to upgrade your site now and convert more of your traffic into paying customers.
Use A Video Trailer Announce Updates Or Sales Promotions In Style
When running a sale or price reduction on your products, how do you get the news out to your customers? If your answer doesn't include video then you're leaving money on the table.
An eye-opening study from Invisia discovered that when watching a video, viewers retain 95% of the content's message, compared to just 10% when seeing the same message in text format.
Use this knowledge to communicate with your customers more effectively! Viddyoze provides you with exclusive trailer templates, which you can easily customize with your messaging. Use these to create a vibrant video to announce your sales promotions and watch your campaigns produce more sales!
Over 3,400 templates 
to choose from
Unrivaled
Customer
Support
Active
Facebook Community
New Templates Added All The
Time
Videos
Rendered In MP4/MOV
Format
Super Fast To Render Videos
Easy To Use App/Interface
You've Got Q's. We've Got A's.
Does Content Created With Viddyoze Contain Watermarks?
No! We don't add watermarks to any video content made using our video maker.
How Long Does It Take To Make A Trailer?
While we can't give a definitive answer when it comes to making your own trailer (that really just depends on the length of your footage), the Viddyoze process takes a matter of minutes. Just choose a trailer template, whether that's for a film, new business promo, or product launch, and run it through our online video maker. Once you're done, save, upload and promote across your social channels.
Is Your Video Maker Just For Movie Trailer Video?
No, a movie trailer is only one part of our service. You can easily create tons of other content, besides promo for movies, as mentioned above. We have a template to suit all major content types.
Can I Add Images To My Trailer?
Yes! You can upload any photos or images to your trailer video. You can customize every template theme on our platform with ease.
Can I Add Music To My Trailer?
Yes! You can upload any music or audio clips to all Viddyoze trailer templates. You can customize every template on our platform with ease.
Can I Upload A Trailer To My YouTube Channel?
Yes, you can share your content easily on your YouTube channel. We have a trailer video template formatted to meet YouTube's specifications.
Can I Use Viddyoze Templates To Create A Trailer For My Upcoming Movie?
Yes. Viddyoze allows you to create world-class movie trailers of Hollywood quality. Whether you're creating a movie trailer for a short indy film or a blockbuster production, our movie trailer maker has a template that is up to the task. Make your upcoming movie stand out with our film video templates. Make film and movie trailers in minutes.
Do You Have Any Tips For Making A Trailer?
Our blog and YouTube channel are packed with useful tips about content creation. Whether you want to make a trailer, movie, movie trailer, brand documentary, promo video, or anything else, we have the templates and the know-how to help.