Create Videos Which Educate Students And Promote Your School
Our educational video maker gives schools the ability to better market
themselves to prospective students and provide current students
with a more engaging way of learning.
From Novice to Pro: Brands' and Users' Choice for Educational Video Making
Give Your Students A More Engaging Way To Learn
There's 4 defined learning styles for students: visual, auditory, read & write, and kinesthetic. It's essential for classrooms to provide a combination of each style to give every student the best possible learning experience.
With Viddyoze, you can turn your lesson plans into engaging videos which help your visual and auditory learners to achieve the best grades possible.
Attract Prospective Students With Video Marketing
Each year the competition to attract new students to your institution is fierce. Parents and students alike are judging your campus, facilities, and track record.
Viddyoze enables you to distinguish yourself from the competition by creating professional student recruitment videos which will excite prospects and drive applications.
Create Educational Videos, Quickly & Easily
Whether you're making educational videos to support in-class learning or to raise the profile of your school, Viddyoze makes the creation process easier than ever before.
All you need to do is logon to our app, choose a template from our library, customize the template with your message and branding, then download when it's ready. It's as simple as that! Top-quality video content for your institution in minutes with no technical skills required.
Gain Access To Over 3,400
Exclusive Video Templates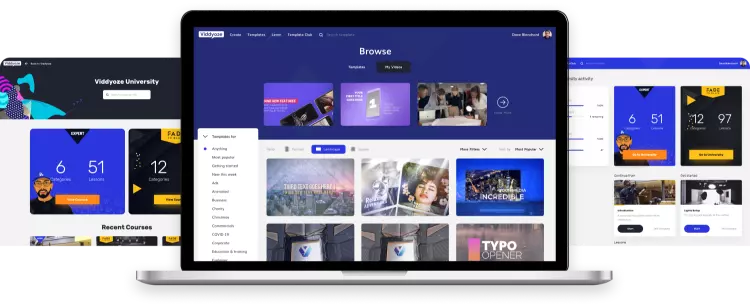 Creating Educational Videos
Sign up to the Viddyoze app for free.
Choose a template from our library and customize it
Download and post your video

Chris Starkey
"Great product with even more great support! The support team is always responsive, professional, and understanding. Lots of companies in the States could use some of that training!!!"

Batuhan
"I am no video editor. With Viddyoze I become one. Great service."
More Ideas For Using Animated
Educational Videos In Your School
Don't Confuse Your Audience With Mixed Messaging
Too many video marketeers fall into the trap of overstuffing their content with different messages or CTAs in an attempt to maximize their ROI.
But this approach tends to confuse watchers and confused customers don't convert.
Every marketing team has multiple goals and objectives they want to achieve. Nevertheless, it's important to keep each video focused on one specific outcome.
Including multiple animated CTAs into your content is recommended, just ensure that each CTA in your content is working to accomplish the same goal.
Keep Your Brand Videos Looking Consistent On Social Media
When posting a new video, you want your audience to instantly recognize that it's your brand's content when they first see it in their newsfeeds.
To achieve this colors, fonts, and correct logo usage all need to be defined and followed stringently in everything you post.
It can be tempting to mix up your video animations from time-to-time but to build brand recognition your video intros/outros, lower thirds, and transitions must always stick to your branding guidelines.
Make New Students Feel At Ease With Video Welcome Packs
Starting a new school can make students of any age a little anxious. The change of scenery and step into the unknown can represent a big change in their life's.
One way to make new students feel at ease before arriving is to create branded welcome videos which answer all the questions they might have.
Things like teachers profile videos, guided campus tours, and 'day in the life of' videos can go a long way to retaining happy students.
Over 3,400 templates 
to choose from
Unrivaled
Customer
Support
Active
Facebook Community
New Templates Added All The
Time
Videos
Rendered In MP4/MOV
Format
Super Fast To Render Videos
Easy To Use App/Interface
You've Got Q's. We've Got A's.
Can The Platform Provide Animated Videos?
Yes! We have a huge library of both animated templates and live action videos for you to choose from.
Where Can I Post My Video Clips?
You can post your educational videos anywhere and everywhere! Social media platforms, on YouTube (for video assignments), your school's website, or any other platform for teaching videos. The choice is completely up to you.
How Will My Videos Appear On Mobile Devices?
With Viddyoze, you can create stunning educational videos and captivating instructional videos which are perfectly optimized for any device.
In our video template library, we provide advanced features which give you more control over the formatting of your video. We allow you to create stunning videos in either portrait, square, or landscape format.
Do Educational Videos Created On The Platform Contain A Watermark?
No. Any educational video (or any other content for that matter) created on the Viddyoze platform will not include our watermark. Once created, any video clips are 100% yours.
Can I Add My Own Images During The Video Creation?
Yes! You can add any photos you like directly into whichever educational video template you choose.
The Viddyoze app also has integrations with Pexels, Pixabay, and Unsplash so that you can insert royalty free photos from those sites directly into your educational videos with just a few clicks.
Can I Add Music To My Video?
Of course! Every educational video template (and non-education themed templates) comes with a selection of royalty free music which you can apply to your video. Alternatively, you can upload any track from your own music library to your video.