Create Scroll-Stopping Facebook Videos Which Drive Engagement
Keep your Facebook page active with vibrant video content that makes people want to like, comment, and share your posts. No video skills needed.
Creating Facebook Videos That Wow: It Starts Here
Post Exciting Videos That Grow Your Likes
Facebook's algorithm prioritizes videos in people's newsfeeds. This means if you're not posting a lot of video clips, you're limiting the impressions your posts can generate.
Viddyoze empowers you to create vibrant Facebook videos which entertain and educate your viewers so much, they'll hit the like button on your page to keep seeing more.
Retain NewaGet More Impressions From Your Facebook Posts Viewers With Proper Branding
Facebook's algorithm prioritizes videos in people's newsfeeds. This means if you're not posting a lot of video clips, you're limiting the impressions your posts can generate.
Stop making posts which nobody sees! With our Facebook video maker, you can quickly create Facebook videos to upload and post daily, to give your account a boost in organic impressions.
Create New Facebook Videos, Quickly And Without Headaches
Before Viddyoze, if you wanted to create professional video animations for your Facebook page, you'd need specialist software knowledge and have to commit a lot of time to the project.
Now, you can create studio-quality animations in minutes. All you need to do is select a Facebook video template from our library, customize it with your logo and messaging, then download and post. It really is that easy.
Gain Access To Over 3,400
Exclusive Video Templates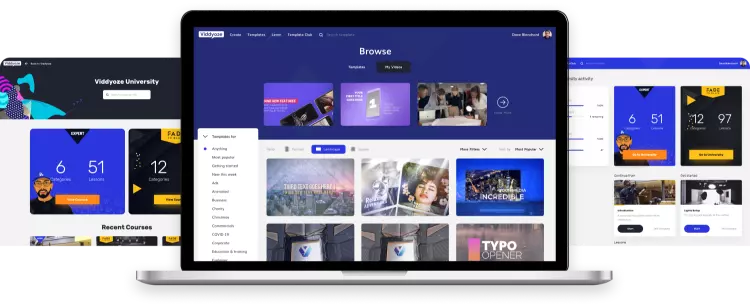 Making Video For Facebook
Sign up to the Viddyoze app for free.
Choose a template from our library and customize it
Download and post your video

Sonny
"Viddyoze has helped me increase my video presence on social media and our clients love the variety they allow us to create for them to market themselves. It has changed the way we incorporate video clips into what we offer! Easy to use and new content added all the time!"

Joefer Bautista
"As always the team at Viddyze is one of the best customer services around!!! I'm not sure how long I have been with this company but I'm so glad I made the right choice!!
All the best to the team!!! Stay Beast!"
Make A Video For Facebook
Create Effective Facebook Video Ads That Drive Clicks And Sales For Your Brand
To maximize your Instagram and Facebook ads budget and achieve the best possible customer acquisition cost, you need to be posting ad creative that resonates with your target audience. And in 2022, that means phasing out static images for captivating animated ads.
A recent study from Insivia discovered that viewers retain 95% of a message when watching it in a video, compared to just 10% when reading the same message in text. These findings should set alarm bells ringing for ambitious brands who want to increase the profitability of their Facebook video marketing.
Use the exclusive templates on our video maker to create dynamic adverts which captivate viewers and make them want to buy your products. Our stunning video templates are built to highlight the USPs of your products and transform potential customers into buyers.
Announce Your Sales Promotions With Professional Videos And Unique Stories
If your sales promotions aren't generating the volume of orders you forecasted, the most likely reason is that you're not doing enough to make your customers aware of the offer. An effective way to change that is by utilizing the stories feature.
A recent survey conducted by Facebook reported that 50% of consumers would like to discover new products through Stories. Combine this statistic with the fact that 300 million people watch Facebook Stories every day, and you have a real golden opportunity to inform people about your products and price promotions.
Start making your sales promos a success by posting vibrant announcement videos to your Story. Viddyoze's Facebook templates allow you to create videos that make your customers pay attention to the limited-time offers you've made available.
Access Facebook Video Templates That Support Every Marketing Goal
When used correctly, Facebook can help you to accomplish all of your brand goals. Whether that's to recruit new staff, increase brand awareness, or generate more sales.
However, to achieve each individual goal, you need to be creating your own videos to meet that objective. In other words, if you're repurposing the same generic posts, you'll fail to mobilize any of Facebook's 2.93 billion active monthly users.
That's where Viddyoze comes in. Viddyoze is your one-stop shop for all brand video needs. Our video maker helps you to create stunning Facebook videos, from recruitment appeals and case studies to testimonials, top tips videos, and even product explainers. We provide you with all the features you need to make your social marketing a success.
Over 3,400 templates 
to choose from
Unrivaled
Customer
Support
Active
Facebook Community
New Templates Added All The
Time
Videos
Rendered In MP4/MOV
Format
Super Fast To Render Videos
Easy To Use App/Interface
You've Got Q's. We've Got A's.
How Long Can A Facebook Video Be?
Facebook has set a maximum video length of 240 minutes (4 hours) in total.
How Do I Embed A Video Clips From Facebook Onto A Website?
1. Open the platform on a desktop computer
2. Find the video posts you want to embed
3. Hit the "share" button beneath the post and select "embed"
4. Copy the iframe code
5. Paste the code onto your website
How To See How Many Views A Facebook Video Has
You can see how many views a Facebook video has by looking at the view counter directly beneath the video.
How Can I Make Facebook Video Ads?
You can make Facebook video ads by using Viddyoze's video maker. Simply sign in to the Viddyoze app, select an advert template from our platform, customize it with your branding and product information, then download and post. Creating Facebook ads that generate sales really is that easy.
Do Videos Increase Engagement?
Yes. It's proven that videos gain more engagement than static images and text posts. Users love them.
Can I Add Music To My Content?
Yes, your business can upload and add your own music track to all Viddyoze templates. Don't have your own music? Just pick a song from our online music library and add to your template.
Can I Add Photos To My Content?
Whether you're making cover videos, a video short, or business adverts, you can upload and add your own images or photos to any Viddyoze template. Simply select the photo you like, and upload it to our platform. Alternatively, choose one from our library of fun royalty-free photos.
On Which Social Media Platforms Can I Share Videos?
Our templates will work perfectly on all major social media channels, including Facebook, Instagram, YouTube, Twitter, and TikTok.
Do You Have Templates With Animated Text?
Yes, we have templates that use engaging animated text to tell your story.
What Other Types Of Video Can I Make With Viddyoze?
We have a template for almost any type of content, including:
• Product promo content
• Sales promo content
• Top tips
• Tutorials
• New product features announcements
• And much more!