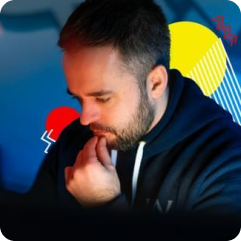 David is a seasoned entrepreneur with a track record of success in the software industry. In addition to co-founding Viddyoze, he's founded multiple other software companies, demonstrating his entrepreneurial spirit and expertise.
Read More
As a leader, David is passionate about driving innovation and growth. At Viddyoze, he has been instrumental in the company's success, overseeing sales, finance, product, and development. With his deep understanding of market trends and user needs, he has helped the company stay ahead of the curve with its innovative offerings.
David is committed to delivering value to Viddyoze's 200,000+ users and is constantly exploring new ways to enhance the product.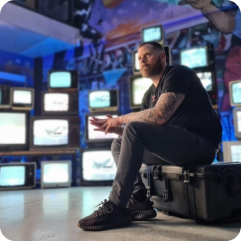 Jamie is an expert in online and digital marketing. Over the past 15 years, Jamie has been responsible for growing multiple software products and apps across various online industries. He focuses on creating high-converting sales funnels and growth through organic marketing campaigns such as SEO. Jamie also has a strong background in email and affiliate marketing.
Read More
Jamie has helped grow Viddyoze from zero to over 200,000 users and cultivate a solid customer-focused online video community. From creating direct response marketing campaigns to engaging with the Viddyoze community across email and webinars, Jamie helps drive marketing initiatives across the business.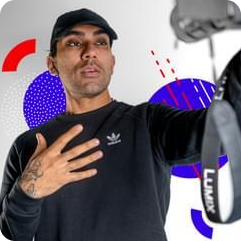 In 2015, Joey co-founded and bootstrapped Viddyoze. Since then, Viddyoze has helped over 250,000 businesses create exceptional marketing videos without needing any technical experience whatsoever.
Read More
Joey's core skills include marketing strategy, video production, and tech business leadership. He also hosts a podcast with his business partners called "Just 3 Clicks," discussing the highs and lows of bootstrapping an 8-figure business.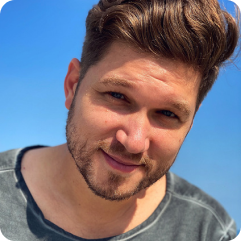 Vlad has been a part of the team at Viddyoze since its early days back in 2015. He designed and developed the first version of Viddyoze, a hit due to its innovative technology.
Read More
With the continuous releases and improvements brought to the app, Vlad improved his design skills along with the overall Viddyoze user experience. As a part of a fast-developing company, he also helped design other Viddyoze products like Blox, Beatwave, and Shout.
His skills combine pixel-perfect design thinking with front-end development and product thinking. He's very thrilled when Figma comes up with a new update that speeds things up, and at the same time, he's constantly improving his development skills.
Relja began his creative journey as a sound technician on a local radio station. He taught himself design, special effects, and 3D animation while working night shifts.
Read More
In the summer of 2015, Relja became the Head of Animation at Viddyoze, where he has since honed his skills as an animation expert. Relja and his team have created over 5,000 unique animation templates for the brand's video creation software.
Aside from his professional work, Relja is a former NGO president and runs a YouTube channel with friends. He also shares his expertise in animation through tutorials on his channel and has spoken at the Blender Conference on motion graphics and automation.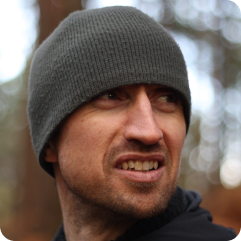 After completing a bachelor's degree in mechanical and manufacturing engineering, Ollie decided software engineering was his passion and pursued a master's in the subject.
Read More
After learning software architecture and development at software agencies, Ollie became the CTO of an AdTech startup after moving into engineering management.
This experience is now applied at Viddyoze, where efficiency and effectiveness are fundamental pillars, emphasized by the Just 3 Clicks mantra.
Ollie loves traveling and spent a year in New York, his favorite city, and two years in Vienna. Having spent most of his youth rowing, he enjoys challenging himself physically, which led to him completing the Three Peaks Challenge and many obstacle races.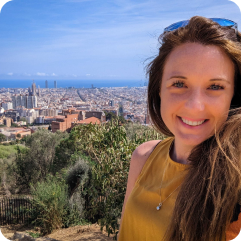 Customer Experience Manager
Katy heads up the support team for Viddyoze, who are on hand to provide our customers with help, advice, and tips. Her daily work goal is simple; she aims to create a smile, whether that's within the team or one of our customers.
Read More
One career highlight Katy cites is the launch of Viddyoze 4.0 in November 2020. As a team of 7, they helped over 50,000 customers within a two-week window while maintaining a customer satisfaction score of 90%.
Dogs are a huge passion of Katy's. Outside of work, you'll find her swimming in the lakes or photographing her two beagles for their Instagram account @lancashire_beagles.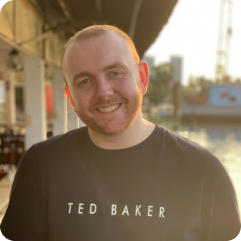 John is responsible for the organic performance of Viddyoze and the day-to-day management of the website. He oversees the content strategy for viddyoze.com as well as core SEO tasks such as link building and fixing technical errors.
Read More
An experienced SaaS marketer, John has worked for many leading brands across a wide range of projects, including new product launches, managing PPC campaigns, and email outreach.
In his spare time, John is a big sports fan, movie buff, and world traveler.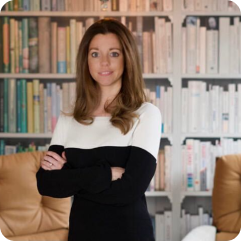 Ruth is responsible for ensuring success in all areas of the organization, particularly focusing on the people aspect.
She works behind the scenes, mediating disputes, finding solutions to problems, and dealing with these issues before they are brought to the founders.
Read More
Professionally, she is motivated by improving the company's ongoing processes and organizing procedures, which have helped her to achieve such accomplishments as ensuring optimal efficiency and productivity throughout the business.
Outside work, Ruth recharges by spending time with her family and walking her dogs. What she appreciates about her job is being able to pursue personal goals and professional passions equally.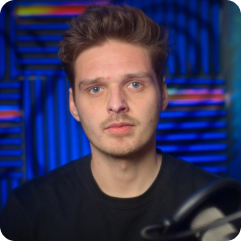 Tom is an accomplished Digital Content Producer with a diverse portfolio that includes feature-length documentaries, short films, and online training materials focused on advanced video editing techniques and digital marketing.
Read More
As the driving force behind the video content at Viddyoze, Tom's expertise has made a lasting impression in the industry.
Outside of work, Tom enjoys a range of hobbies, such as immersing himself in the World of Warcraft and staying active with regular swimming sessions. With a balanced approach to life, Tom excels in his personal and professional goals.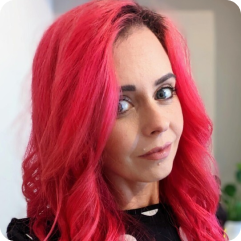 Laura Shearer is Viddyoze Affiliates Manager, a role in which she strategically guides the promotion of our products by our affiliates, ensuring they represent our brand in the most compelling and effective manner to potential customers.
Read More
Her primary responsibilities include working closely with our affiliates, providing them with the tools and strategies necessary to market our products successfully. Laura handles all aspects of this process and monitors affiliates' performance. She has a knack for identifying affiliates' strengths and leveraging them to optimize the consumer's journey, ultimately leading to increased sales. She knows that by aligning with proficient affiliates and equipping them with the right marketing tools, she can significantly contribute to the company's expansion.When she steps away from her professional duties, Laura embraces the joy and fulfilment of being a family-oriented person. The precious time spent with her little girl and family is her source of recharging and offers a beautiful contrast to her dynamic professional life. The lessons learned from nurturing her family have also enriched her with qualities like patience, understanding, and empathy, which she deftly applies in her professional interactions.What Laura values most about her role is the perfect blend of creative marketing strategies and goal-driven business growth it offers, alongside the personal contentment she finds in her family life. She continuously thrives on the balance between professional challenges and personal happiness, making her an indispensable member of our team.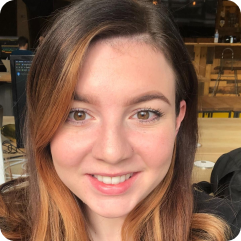 Marketing Communications Executive
Hollie is Marketing Communications Executive at Viddyoze, where she works on the company's social media platforms, creates captivating content, and dives into exciting marketing campaigns.
With a dedication to inspiring and motivating the Viddyoze community, Hollie ensures they stay up-to-date with the latest updates and mind-blowing content.
Read More
When she's not crafting content, you can find Hollie unwinding at the local beach, enjoying live music, or scaring herself with horror movies.
What Hollie loves most about her job is the unpredictability it brings. From writing engaging blog posts one day to creating eye-catching visual assets the next, she embraces the interchangeability of her role.