Picture this: you've just created the perfect soundbite for your blog post, delivered a verbal update for your company, or even released an incredible new track. But what if you could elevate this audio to the next level using a music visualizer?
In this blog post, we'll explore what a music visualizer is and how you can harness the power of Beatwave to turn audio into captivating visual art.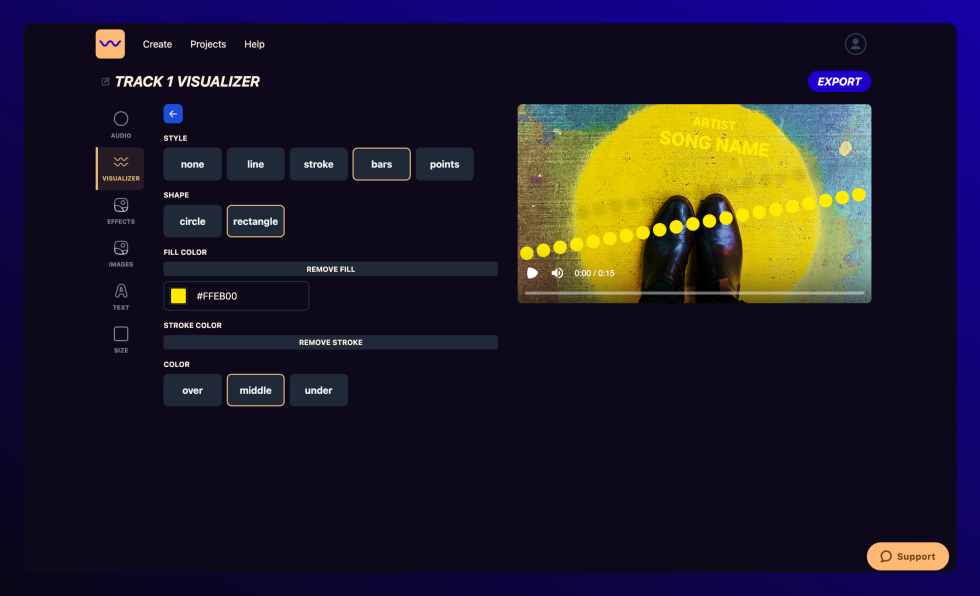 What is a Music Visualizer?
A music visualizer transforms audio into dynamic visuals. These mesmerizing displays respond to the rhythms, frequencies, and intensity of the audio.
Visualizers add an extra layer of immersion to the listening experience, creating something incredible for your eyes in addition to your ears.
Audio visualizers allow us to see almost the sound, unlocking new areas of creative expression and entertainment.
Check out these examples created using the music visualizer – Beatwave. 👇
Choosing a Music Visualizer
Are you looking for a FREE music visualizer? Look no further than Beatwave, a revolutionary product that turns audio into stunning visuals.
Here's how you can sign up for FREE and use Beatwave to unlock the magic of audio-visual synergy:
Easy to Use: Beatwave boasts a user-friendly interface, making it accessible for beginners and pros. You don't need any technical knowledge to turn your audio into captivating visuals.
Audio Import: Beatwave allows you to import audio from your device so you can create visuals for your favorite tracks.
Customization: The true magic of Beatwave lies in its customization options. You can tailor the visualizations to match your style or the mood of the music. Adjust colors, shapes, images, and titles to match your brand and vibe.
Real-Time Interaction: As the music plays, Beatwave's visualizations respond in real-time to the audio.
Export and Share: Once you've created the perfect visual of your music, Beatwave allows you to export the results in a format perfect for sharing.
Beatwave is more than just a music visualizer; it's the gateway to artistic expression. Whether you're a musician looking to promote your tracks, a content creator striving to make engaging videos, or simply a music lover who wants to explore visualizers, Beatwave offers an opportunity to delve into the world of audio-visual synergy.
Final Thoughts
By using Beatwave to transform audio into video, you can take your content to a whole new level. The FREE visualizer platform allows you to add unique and incredible visuals to your audio content, engaging your audience.
So, why wait? Dive into the world of music visualizers, let your creativity flow, and see your sounds come to life with Beatwave.