What Is The Threads App?
"Threads, an Instagram app," is a text-based microblogging conversation app owned by Meta's Mark Zuckerberg, who owns the social media platforms Meta (formerly Facebook) and Instagram. Due to how strikingly similar it is to Elon Musk's Twitter, which is almost an identical replica, you may have seen, it has caused A LOT of noise and commotion online.
The difference is that Threads aims to be more 'inclusive' and conversational.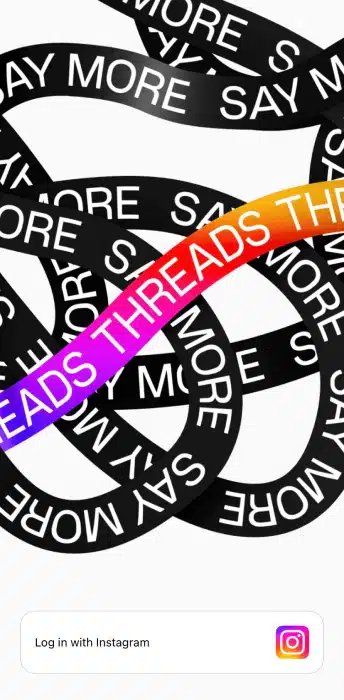 Rather than the classic Instagram 'aesthetic' visual feed, the feed is filled with conversational text threads, as you can see from the image above. These also allow the option to input images and Gifs.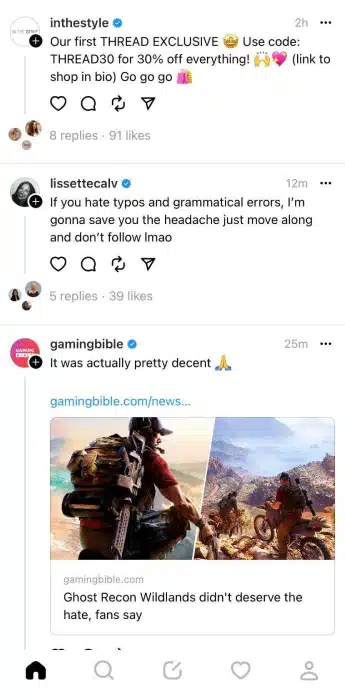 This means that now, the Instagram apps as a whole really cover a variety of users' different needs, whether you would prefer the traditional app for the visual picture/reel feed or/and to hop on mid-day for a casual conversation with a stranger about their thoughts on the upcoming cinema releases this summer or the devastating disaster of the imploding submarine.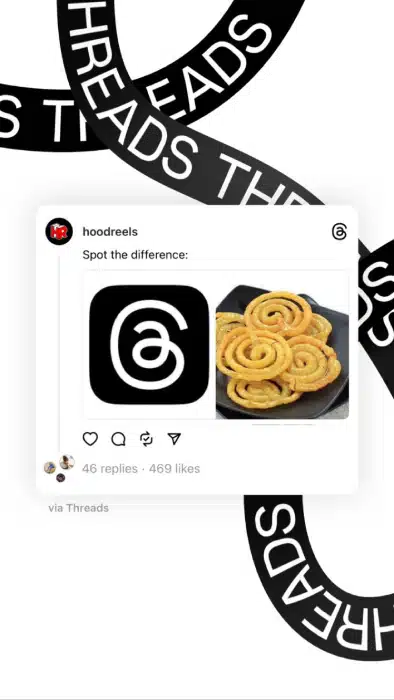 It has the same options as Twitter and most other apps, allowing users to quickly like, repost, and reply to 'threads' with the additional quirky feature of sharing thread conversations to their Instagram story or feed. See the example of an Instagram story above.
The app has an incredibly simple, clean layout with a white background (or black if you're in night mode on your mobile device). It's definitely the simplest social media app we've seen in a while.
Due to the storm it has created online, it has logged more than 30 million sign-ups in its first 24 hours, with businesses already taking advantage of it by offering promotions and competitions to encourage early followers and sales.
Funnily enough, the app has been released not long after Meta owner Mark Zuckerberg and Twitter's Elon Musk have been jokingly posting on social media about battling each other in a physical cage fight. Threads has quickly become known as Twitter's obvious rival, which perhaps means the fight is more virtual than we first thought.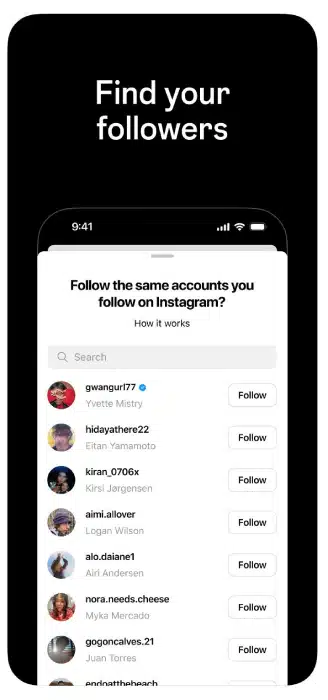 How Does It Integrate With Instagram?
As soon as you have set up your account, you are given the option to follow selected accounts or select all your contacts from Instagram (even before they have set up an account themselves).
Your account name will be the same as your Instagram name, with no option to customize this as of yet.
What Is The Difference Between Threads And Twitter?
On Threads, there is no rate limit like Twitter recently introduced. On Twitter, verified accounts are limited to being able to view 6,000 posts a day, 600 for unverified accounts, and 300 for brand new unverified accounts. The reason for this was to detect and eliminate bots.
As you can imagine, this received a lot of backlash as people weren't too happy about their activity being massively redacted and restricted; Zuckerberg has clearly taken advantage of this by the timing of the launch of Threads.
Threads will be stricter than Twitter when it comes to nudity and hate speech, and in fact, they forbid nudity altogether. Hate speech and "cancel-culture" have particularly been known to be a big problem on Twitter; Zuckerberg has used this to his advantage with the launch of Threads.
This is in an attempt to be a more inclusive and conversational space than Twitter, which, in return, does not so negatively affect mental health.
The age restriction works slightly differently from Twitter's; under 16s (or 18s in certain countries) will automatically be given a private profile when they join. On Twitter, anyone over 13 years old can join, but under 18s are not able to view 18+ restricted content.
And finally, the Threads feed will be in chronological order, unlike Twitter's, which is a seemingly random flurry of arbitrary posts selected by an algorithm. A lot of users are happy about the chronological feed.
How To Join Threads
Joining Threads is incredibly easy, as the app walks you through a clear step-by-step process for a quick sign-up.
You cannot set up a Threads account without an Instagram account.

Step 1: Download the app from the App Store or Play Store.

Step 2: When you open the app press 'Log in with Instagram'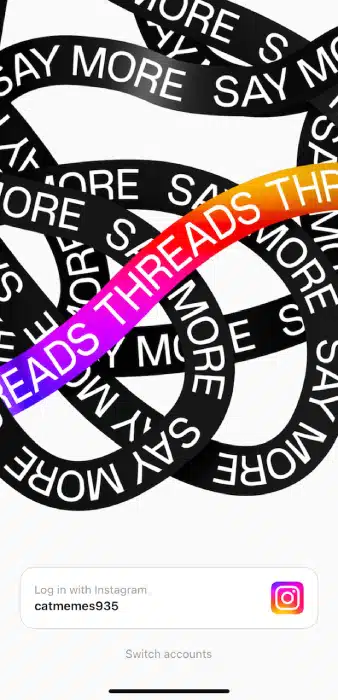 Step 3: Next, you'll have the option to customize your profile with a picture, bio, and links. You can press 'Import from Instagram' to make this quicker.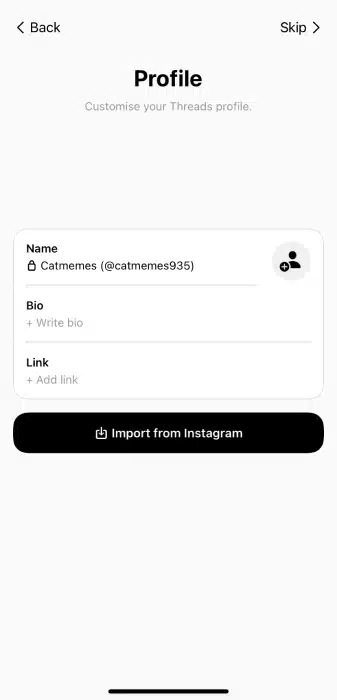 Step 4: Select your Privacy preference: 'Public profile' or 'Private profile.'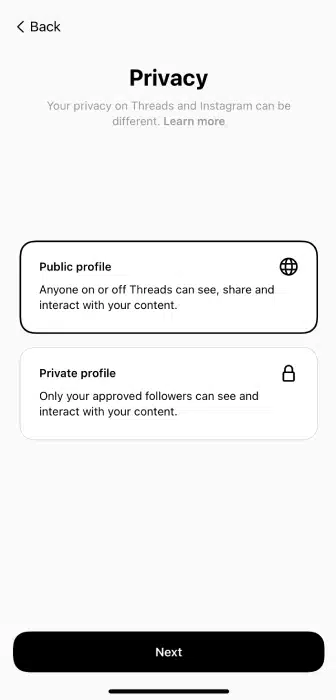 Sep 5: Select 'Follow' on the Instagram profiles you want to follow on Threads, or to skip, just press 'Next'.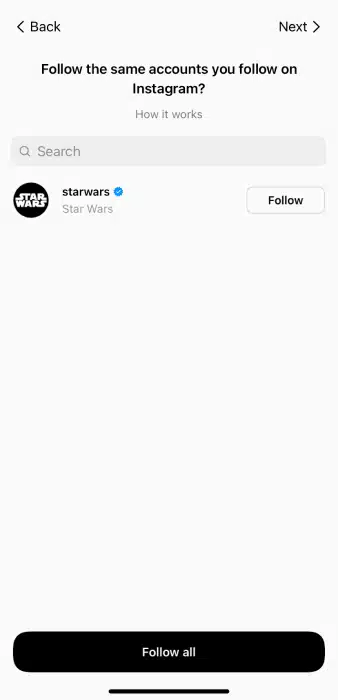 Step 6: You'll be given some information on 'How Threads works', select 'Join Threads.'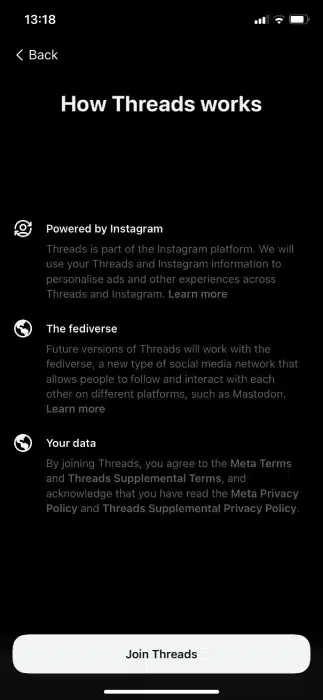 There you have it; now you officially have a Threads account.
In Which Countries Is Threads Available?
Threads is available in 100 countries, including the United States, the UK, New Zealand, Japan, Canada, Australia, and more.
It is not available to the European Union for countries such as Germany or Belgium due to privacy laws. Other applications, websites, and software are not available to the EU for the same reason, such as ChatGPT.
Can I send DMs?
No, unfortunately, so far, there are no options to send direct messages to any users.
How To Delete Your Threads Account
Deactivating/deleting your Threads account is very straightforward if you decide it's not for you.
Go to the 2 lines in the top right-hand corner of the app whilst on your profile.

Press 'Account'.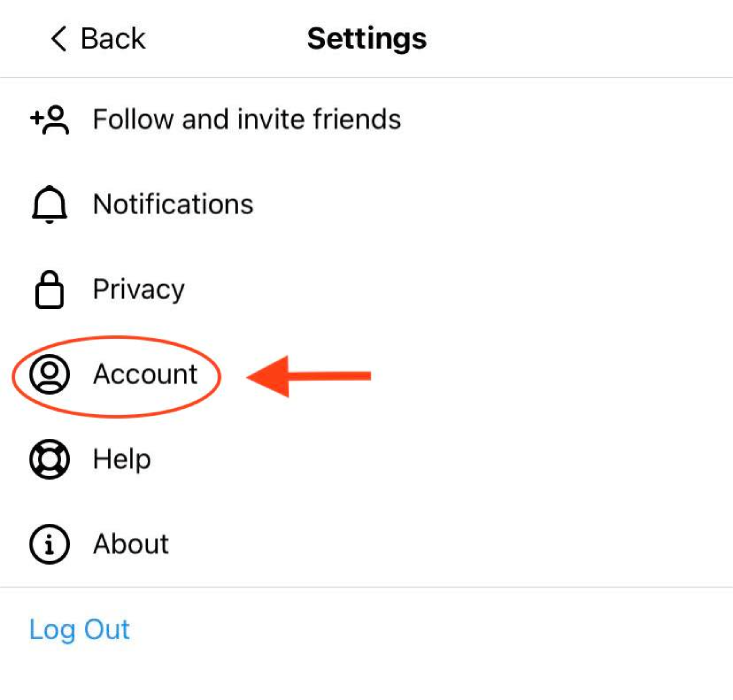 Press 'Deactivate profile' or, if you prefer, 'Take a break.'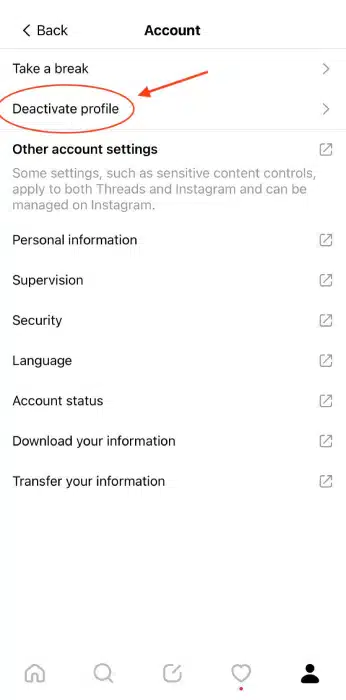 You will ask to confirm that you really want to deactivate your account. Press 'Deactivate Threads profile.'
Does Deleting Threads Delete Instagram?
No, deleting your Threads account will not also delete your Instagram account. It will also not remove any data from your Threads account unless you delete your Instagram account.
When Was Threads Released?
Threads launched in 100 counties excluding the EU on Thursday, 6th July 2023.
I'm Banned On Instagram, Can I Still Use Threads?
No, you cannot use Threads if your Instagram account is banned. And Vice Versa, if your Threads account gets banned, your Instagram account will also be banned.
Will Twitter Sue Threads Aka Meta?
According to many news sources, such as The Guardian, Elon Musk has threatened to sue Meta, owned by Mark Zuckerberg over "systematic, willful and unlawful misappropriation of Twitter's trade secrets and other intellectual property." Alex Spiro, Musk's attorney, issued this threat in a letter and claimed that Meta hired a former Twitter employee to obtain Twitter trade secrets.

On Thursday, 6th July, Thread's release date, Musk tweeted, "Competition is fine, cheating is not," in reply to the claims about threatening to sue Meta.
Who Should I follow On Threads?
Within the first two days of release, many businesses and celebrities have already signed up and been taking full advantage of the app.
Check out Mr. Beast running a giveaway for a follower to win a free Threads customized Tesla to increase his following below.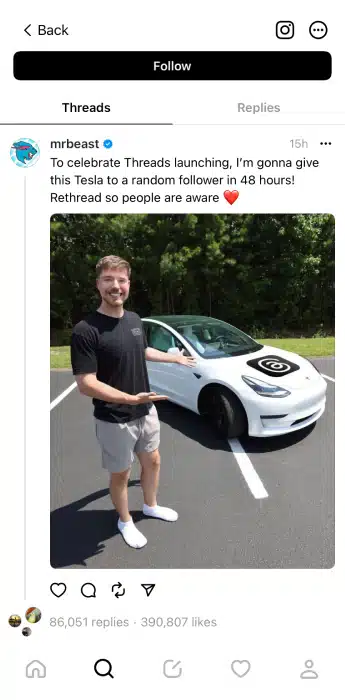 And P!nk leveraging the app to share tour updates with her fans.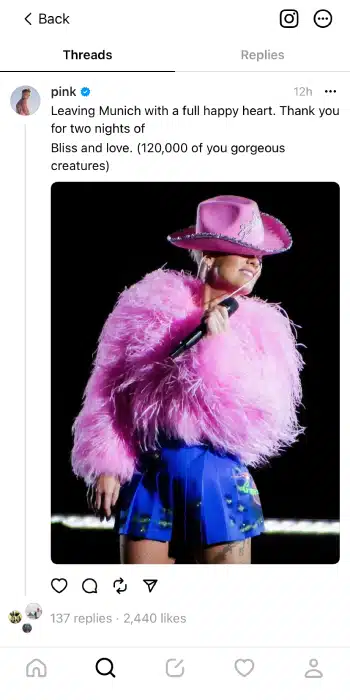 Some businesses and celebrities you may consider following include:
Viddyoze (yes, you can now follow us on Threads)
Mark Zuckerberg
Elon Musk (believe it or not)
Gordon Ramsay,
Oprah,
Spotify
Netflix
Paris Hilton,
Jennifer Lopez,
Sam Smith
Kris Jenner
Disneyplus
People Magazine
Asos
Demi Lovato
Tony Robbins
MTV
Usher
Coca-cola
Calvin Harris
P!nk
Gymshark
Coldplay
John Cena
Boohoo
Tyson Fury
Lewis Hamilton
The Economist
Richard Branson
Britney Spears
Will Smith
Jada Smith
BMW
Bear Grylls
Lily Singh
LEGO
Sony Pictures
Mr Beast
Joe Wicks
Ellen DeGeneres
Stacey Solomon
Hulu
Gwen Stefani
Kourtney Kardashian