Greetings, Viddyoze Users!
We're thrilled to bring you the latest update on what's happening at Viddyoze. Our team has been working hard, listening to your feedback and working tirelessly to enhance your video creation experience.
In this company update, we're excited to announce fantastic new features and initiatives that will take your video projects to the next level. Let's dive right in!
Seamlessly Integrate Your Own Videos into Viddyoze Templates
We understand that flexibility is key when it comes to creating engaging videos. That's why we were excited to announce our new Video Upload Feature recently.
Now, you can seamlessly upload video files to select Viddyoze templates. With this powerful addition, you can incorporate your own footage into our professionally designed templates, giving your videos a personalized touch.
We can't wait to see the incredible videos you'll create with this feature! Witness the huge impact this feature has on creating competition-crushing content by checking out our page full of examples here.
🚨 Unlock the full power of Viddyoze Pro with our free trial!

Sign up now to get access to our incredible features, including weekly new templates and a library of over 2500 templates.

Don't wait, sign up for FREE and start creating stunning videos today!
Challenge Tom: A New Video Training Series
As the name suggests, this series revolves around your challenges! We want you to submit your challenge requests, and our very own Digital Content Producer, Tom, will use Viddyoze to create captivating content based on those challenges.
We've already released Episode 1, so make sure to check it out below!
Don't forget to head to our social media posts to leave your suggestions for future episodes. It's your chance to have your challenge featured!
User-generated Live Action Templates – Lights, Camera, Upload!
Our Viddyoze community never ceases to amaze us with their creativity. The uploads from users have been pouring in at an incredible pace, and we're astounded by the level of innovation displayed – our users are really pushing the boundaries of what's possible.
Check out this incredible submission from a user's visit to an air show!
You can find the full range of live-action templates created using your uploaded footage in the User-Generated section on the platform.
🔊 Remember! Only Pro users can upload their footage and see it turned into live-action templates.

Trial Pro for FREE today!
Unveiling Our Latest YouTube Videos: AI, ChatGPT, and YouTube Marketing Mastery!
We're thrilled to present our latest YouTube videos that dive deep into the realms of AI, ChatGPT, and the art of mastering YouTube marketing.
How ChatGPT Is Transforming Content Marketing
Discover how AI can craft engaging content, analyse data trends, and even predict consumer behaviour.
YouTube Marketing vs Traditional Marketing: A Comparative Analysis
Whether you're a business owner, marketing professional, or a digital media enthusiast, this video is your ultimate guide to understanding and leveraging both marketing strategies.
AI Ethics: Should Humans Be Worried?
We explore the ethical concerns surrounding AI, from potential biases to privacy issues and beyond. Is AI a cause for worry or a source of excitement?

Stay Connected with the Viddyoze Community: Catch Up on the Latest News!
Want to immerse yourself in the dynamic world of the Viddyoze community?
Check out our Community Update blog post, your one-stop destination for the latest news, inspiring videos, and exceptional achievements from our incredible community members!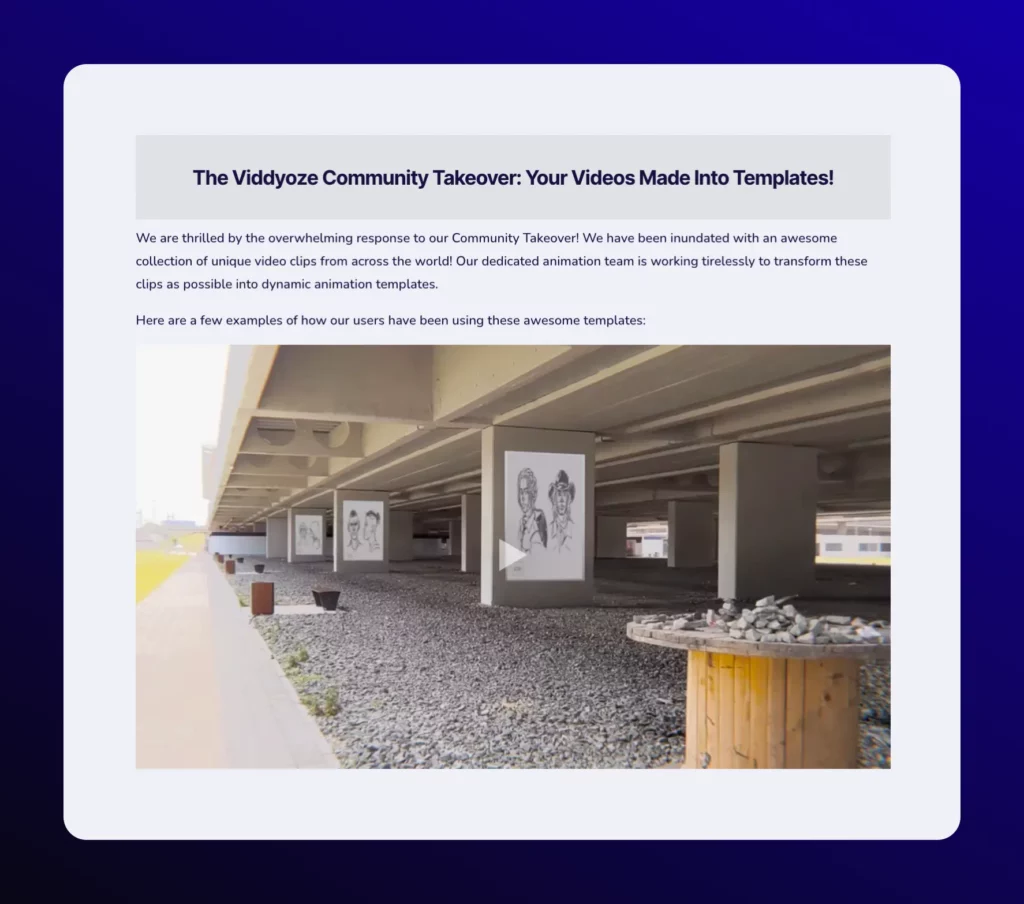 That's All…For Now!
We hope this Viddyoze Company Update blog post has left you feeling inspired and excited about the incredible developments happening within our community.
We've covered some game-changing features and initiatives that are designed to enhance your video creation experience and empower you to unleash your creativity.