Email marketing is one of the oldest tools in the modern marketer's playbook. With a staggering ROI of 4,200% (Litmus), it's easy to see why email plays a big part in branded communication.
So where does video email marketing fit in? In short, adding video makes email even better – and in this comprehensive guide, we're going to show you how to use it to take your business to the next level.
You'll also learn:
how to embed video into your campaigns
how to devise a strategy for continued and successful emails
how to use video in email marketing so that your profit margins grow
At Viddyoze, we help brands harness the power of video to tell their story. We've helped thousands of businesses already, with our easy-to-use video e-mail marketing templates. Read on to see how we can help you.
What Is Video Email Marketing?
Video email marketing is the use of video and other visual content (such as GIFs and teaser images that link to video) to increase engagement, revenue, and the effectiveness of a brand's email marketing strategy.
It's a simple way to supercharge your email marketing tools, which is already a powerful tool for businesses. Just the mention of the word "video" in email marketing can help boost open rates and click-through rates significantly.
Video Email Marketing Statistics
4 Ways To Add Videos To Your Emails
Linking To Your Video Through Still Images
Embed Videos From YouTube In Emails
Linking To Your Video Through A Gif
Adding Emails Using HTML5
While video email marketing is a powerful way to boost your main KPIs, there are a few limits to what can be done.
The main obstacle is that most of the major email providers don't actually support embedded videos or playback directly within an email. These include:
However, there are a few effective workarounds that allow you to inject video marketing into your email campaigns. Here's how.
1. Linking To Your Video Through Still Images
The easiest (and best, in our opinion) way to use video in your email is by using a still image or thumbnail, with an embedded video link within the image.
The video link should take the viewer to the full video, either via YouTube or supported on a landing page, such as a blog post.
At Viddyoze, we like to use images with a "play button" at the center. That way, your email subscribers know what to expect. Naturally, they'll want to hit the "play button" and watch your video.
It's also vital that your email contains text before the image – if you just send an email containing an image, it will be caught out by most spam filters.
2. Embed Videos From YouTube In Emails
Unfortunately, you cannot embed videos from YouTube directly into your emails. If you want to link to your video, we recommend using the exact same method mentioned above. But remember to use the YouTube play button when creating your linkable image.
3. Linking To Your Video Through A Gif
GIFs are another effective way to promote your video email marketing, without having to embed videos.
The process is pretty much identical to the still image method we've just been through. The only difference is that GIFs add an element of movement to your content, which some argue is more engaging.
With a GIF, it's important to add a strong Call To Action (kind of like the "play button" mentioned above) so that the user knows to click through and watch your content.
4. Adding Emails Using HTML5
There are a select few email providers that do let you embed video in email. They include:
iOS and Apple mail
Thunderbird
Samsung
To include your video in the email, you'll need to use HTML5 code, the latest version of the markup language, HTML.
While this sounds exciting, we'd still recommend that you opt for the above options over this one. The reason is that, unless you know exactly which provider your email audience is using, you run the risk of sending out an email with a video that won't work.
Keep it simple; standardize your video emails.
How To Create Video Content At Scale For Your
E-mail Campaigns
Most small businesses start by sending one or two marketing emails a month. This is great to begin with but to see real results, you'll soon need to start ramping up to a weekly send.
Depending on your audience, content, and product, you may even need to send 6 or 7 emails per week.
The big problem for email marketers is creating enough video to match your email campaign output. If you don't have previous video marketing experience, this can be time-consuming, difficult, and expensive.
So, need some help? Viddyoze is the answer you're looking for. Our super simple video software lets you create video email campaign content in a matter of minutes. Plus, our marketing tool won't blow a huge hole in your marketing budget.
To get started all you need to do is sign up for our app, choose a template from our library, customize it with your message and branding, then download and post! Creating studio-quality videos really is that quick and simple.
Our goal is to empower you to create expert-level email campaigns that drive:
More opens
More clicks
And more sales
Subscribe to Viddyoze today and make your marketing campaigns a lucrative success. For more information into how Viddyoze works, check out the video below.
Pro Tips And Strategies For Using Video In Email Marketing
Build Your Email List With Video Lead Magnets
Boost Your YouTube SEO By Promoting New Videos To Your Email Subscribers
Include the word 'Video' In Your Subject Lines
Welcome New Customers With A Personalized Video Email
Nurture Leads With A Video Content Series
Add Video Links To Your Team's Email Signatures
Use Videos To Announce New Products And Events
Build Your Email List With Video Lead Magnets
Email clients are the gold standard in marketing. We call them "super qualified leads" because they've already visited your website, and decided to sign up for more content.
Or to put it another way: they're the stuff of dreams for your sales team.
But how do you transform site visitors into email subscribers and customers? A personalized experience, such as an exclusive video is one of the most successful marketing tools to achieve this.
Using a standard squeeze page, tell your potential customers about the exclusive video content they'll receive once they sign up for your mailing list.
The key here is to tease content your email clients will actually find valuable. This could be an interview with an industry thought leader, a video tutorial for how to use your product more effectively, or an in-depth and thoughtful case study.
To the prospect, the perceived value of this video is extremely high. So they will happily give you their email in exchange to watch your video.
Boost Your YouTube SEO By Promoting New Videos To Your Email Subscribers
Adding videos to email isn't just a great way to improve your CTR rates, it can also help boost your YouTube channel's SEO – and it's super simple to do it.
As soon as you publish a new video on the platform, you should send out an email that links to the video. By driving new views to your video quickly, you'll improve its chances of ranking faster.
How does this work? Well, the platform rewards videos that have a high retention rate with amplified search visibility.
The only problem is, that the platform cannot work out a video's retention rate until it has enough data to do so – that's why new content doesn't rank immediately in the platform's search function. With email alerts, you can drive viewers to watch your content ASAP, and push your videos up the ranking list.
And the best part? Your email subscribers already love your business, so it's likely they'll watch your content for longer. That means a longer retention rate, boosting your video's SEO even more.
Include the word 'Video' In Your Subject Lines
The average person receives over 100 marketing emails a day, according to Campaign Monitor.
To stand out from the crowd, your email subject lines need to be punchy and exciting. Just including the word "video" in an email's subject line can increase open rates by as much as 18%.
Now, that might not sound like a lot but in email marketing, even small gains can help you significantly increase revenue. Think of it this way: more opens mean more chance of conversions.
Here are a few examples:
"(New Video) The Secret To Effective Emails"
"Video Story: A Day In The Life Of An Animator"
"A Short Video From Our CEO"
"How To Master Email – Tutorial Video"
Welcome New Customers With A Personalized Video Email
A personalized video in email can increase your CTR by an incredible 200%, according to LinkedIn. On top of that, the same study found that businesses increased customer engagement by 50% with personalized emails.
Now, we're not saying you need to create a video for every single new customer you win – that's just not going to be possible for most businesses, even with Viddyoze! – but it's nice to send something with a personal touch.
For example, a short welcome video from your company CEO can go a long way to creating a lasting relationship with your audience. Likewise, a discount video or onboarding video can have the same effect.
Nurture Leads With A Video Content Series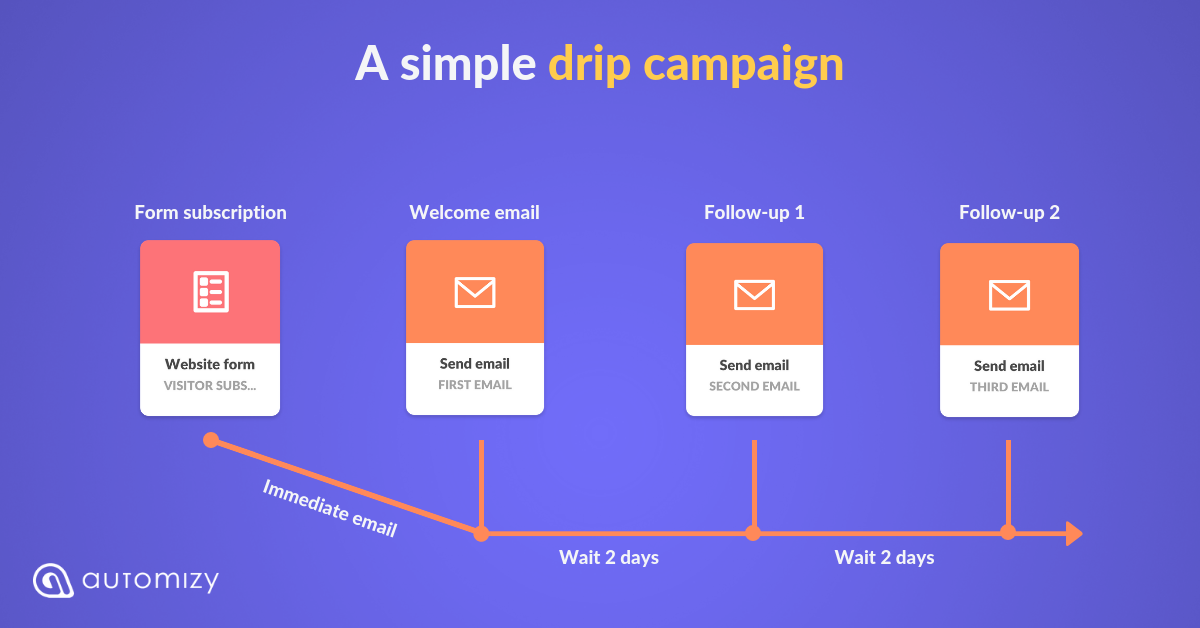 Once you have a new subscriber to your email list, it's time to let your marketing automation tools do their job and work on nurturing these subscribers into paying customers.
The most effective way to do this is by emailing your new subscribers every day with your most valuable and engaging content. We recommend utilizing an interlinked video series to get people excited about your email reaching their inbox each day.
In terms of content, you could build a short course about your product or industry, or film a series of exclusive insider tips which can' be found elsewhere online.
Take Shopify as an example. When a new customer subscribes to its email list, the brand sends out a tutorial video explaining how they can set up a digital shop in 25 minutes. Now, Shopify opts for just one video, but we recommend cutting up your content into 4 or 5 and sending a new one out each day of the week.
The key here is to keep it relevant. If you start bombarding new leads with useless content, or fly in with the hard sell, they'll unsubscribe in a matter of minutes.
Good video content keeps customers interested, boosts brand recognition, and helps push people further along the sales process.
Add Video Links To Your Team's Email Signatures
Using video in email signatures is a super simple way to promote your content. Think about it, if your teams are collectively sending out hundreds of emails per day, it makes sense to include some soft promo tactics, too.
Think about which employees send out which types of videos, too. For example, your recruitment team will benefit from company culture videos (a day in the life, last year's event recaps, etc). In contrast, your sales team will benefit from more lead-focused content, such as product videos.
Use Videos To Announce New Products And Events
Speaking of products, video in email is a super effective way to shout about your new releases and events.
Every brand, from Apple to Innocent Smoothies, uses email to launch a new product, and, more often than not, video is the way they do it.
Why? Because people retain more information when they see it in video. Remember, you've only got a tiny window to grab your consumer's attention, so be sure to make the most of it with an engaging video.
When a new product drops, it's best practice to send out an email linking to your video on a product landing page that is already set up to sell.
Video Email Marketing Examples
Trainingym Increases Its Email Conversion Rates With Videos
Trainingym, a Spanish fitness company, managed to boost its conversion rate by 65% using videos in email.
Prior to using videos, the business was struggling to connect with subscribers, and a high proportion of the company's emails were going straight to the spam folder.
Since Trainingym began sending emails with video, the overall user experience has increased, leading to better results all around.
Wistia Achieves Incredible Boost In CTR Due To Videos
When Wistia switched from using plain images to video thumbnails in email, the results were incredible.
This simple change led to a 300% increase in click-through rate. Now, Wistia uses video to explain their sales messaging as a default whenever they can.
The brand found that people reacted more positively and retained more information once their marketing was converted into easily-consumable videos. Not only did it speak to Wistia's audience, but it improved results, too.
Summary
So, want to improve your email performance? Just add video.
It really is that simple. Videos improve click-through rates, conversion, and subscriber retention. They make an already powerful marketing tool even better. Plus, the best brands are already using video in their emails. Without it, you'll struggle to compete.
To harness the power of video in email, subscribe to Viddyoze today. We can help you create videos for email in a matter of minutes.
FAQs
Are Videos Good For Email Marketing?
Yes, videos are good for email marketing. Multiple studies have shown that video is the most popular content format on the internet.
By incorporating videos into your email campaigns you can generate more engagement from your audience by providing them content in their preferred format.
Subject Lines For Video Emails
Research shows that using the word 'video' in subject lines can increase the open rate by 6%. Using this information, here is some suggested subject lines for video emails:
Watch this video to learn [example]
(Video) See the experts discuss [example]
Access this exclusive video before it's too late
Is It Better To Text Or Email Videos?
It is better to email videos than text them because email allows you to embed clickable images as well as the link url.
However, the answer to this question depends on your audience. We recommend testing before communication methods to see which one performs the best.
How Might You Best Use Video In An Email?
The best way to use video in an email depends on your marketing goal. If you want to generate sales from your email subscribers, send them a product video or a video announcing a sales promotion.
If your goal is to generate YouTube views, job applications, or to simply educate your audience, send them content that compliments that goal.