In an increasingly online world, webinar digital marketing has become a powerful tool for small businesses. The problem is, many companies don't understand how they work.
That's why we're going to tell you.
In this in-depth guide, you'll learn how webinars work, how you can include webinars in your digital marketing efforts, and use them to quickly inject cash into your business.
What Is A Webinar In Digital Marketing?
A webinar in digital marketing is an online presentation or event where a business can deliver valuable content to potential customers.
Usually, this content is designed to explain or promote a product in order to convert multiple leads at the same time.
What Are The Benefits Of Webinars?
You can communicate with and close multiple customer sales at the same time
There are no physical limitations to how many customers you can connect with
There's no need to hire a venue and limited running costs
Webinars have a high conversion rate (55%, according to Noisy Little Monkey)
Webinars have a high success rate (95% of marketers say they work, according to Wyzowl)
How To Hold A Webinar Event
1. Choosing A Webinar Hosting Tool
When it comes to choosing a webinar hosting tool, there are tons of options out there for businesses. More often than not, the biggest choice you'll need to make is whether you want to use a free tool or go for a paid service.
Here are the best of both worlds:
Free webinar tools
Paid webinar tools
Now you know the names, here are some of the things to consider when choosing a platform:
How many people can you accommodate? Different tools have different attendance limits
Does the platform have a good customer support service?
If it's not a social media platform already, does the tool allow you to launch on other social media platforms?
2. Decide Whether To Pre-Record Or Go Live
To pre-record or go live? That is the question. There are pros and cons to both.
Live Digital Marketing Webinars
Pros:
Allows for spontaneity
More personable
Allows for questions
Attendees feel more engaged
Cons:
Anything can happen
Live public speaking can be difficult for some
Some free platforms don't have a live option
Pre-recorded Digital Marketing Webinars
Pros:
Easier to plan and execute
Make mistakes and edit them out later
More relaxed recording environment
Cons:
Attendees find it easier to drop off the webinar
Lack of direct engagement
Some free platforms don't have a pre-record option
3. Setting A Time And Date For Your Webinar
The right date and time can make or break your webinar. Research from LiveWebinar says that Wednesday is the best day to host a webinar, with the highest response rate, while data from ON24 suggests Wednesday and Thursday are best days to host.
On the flip side, weekends are the worst possible time to run one. The same research found that the hour after the lunch hour was the best time to run the event during the day.
However, it really just depends on your target customer. For example, if you're targeting parents, the 8 am school run isn't going to get many sign-ups.
It's also important to check the calendar before you send out an invite: to avoid a clash with any public holidays, or existing events.
Start promoting at least 15 days in advance, and you'll give yourself the best chance of success, according to ON24.
4. Building Your Registration Webpage
Before you start promoting your webinar, you'll need somewhere on your site for attendees to sign up for the event.
By creating a bespoke landing page on your website, you'll have somewhere to direct traffic from multiple digital marketing channels, whether that's social ads, email marketing webinar reminders, paid ads, or SEO website traffic.
A sign-up website page also allows you to collect analytic data, which you can use to gauge interest in your upcoming webinars.
For the best results, consider using a "squeeze page" on your site to max out on sign-ups. These pages offer a high-value piece of content marketing in return for customer data or action on their part. In this case, the high-value content is the webinar.
The website page should be short, sweet, and to the point, and always include these 3 things:
A headline telling the customer what the benefit of your webinar is
A few lines of supporting copy that elaborate on the headline
An embedded sign-up form where the customer can secure their place

Content Ideas For Your Webinar
There are 3 stages to the buyer's journey:
Awareness – attracting new prospects to your business
Consideration/decision – convincing interested customers to buy into your business
Retention – keeping existing customers, turning them into repeat buyers
When deciding on the topics for your digital marketing webinars, you need to consider which of these 3 stages you are targeting.
By creating digital marketing webinars for each stage of the buyer's cycle, you're more likely to generate qualified leads.
In fact, 70% of marketers say that digital marketing webinars are an effective way to do this, according to MarketingProfs.
So, how do you create an effective webinar for each stage? Using one of the world's biggest companies, Tesla, we're going to explain how this kind of content marketing works within the buyer's journey.
Awareness Webinars
At this stage in the journey, your potential customer has no idea who you are. They've never heard of you and don't know what you offer. The goal here is to educate them on your niche and bring them into your brand's orbit.
Forget the hard sell. Here, you need to offer something educational. A piece of content that will teach the viewer something beneficial, and help them with a problem they might have.
Let's look at Tesla as an example. Now obviously, everyone knows who Tesla is, so we're talking in hypothetical terms here.
At this point, the potential customer is probably thinking about ways to cut their impact on the planet. A new car may be one of the many options open to them.
Tesla's digital marketing strategy could be to launch a webinar about the nuts and bolts of electric vehicles. For example:
Electric Vs Diesel: What Are The Big Differences? Watch Our Webinar
The goal is to educate people about electric cars without pushing for a sale. Ideally, an email sign-up, or a product demo (in this case a test drive) would be the next step.
Consideration/Decision Webinars
Your customer is interested in buying your products. Now you need to get them over the line. At this point, your competition is still in the mix, so your digital marketing efforts need to highlight the unique value of your product to convince people to purchase with you.
It's key here that your product is the main focus of your webinar in this phase and that your attendees know this before signing up.
For Tesla, that would mean highlighting its cars' best features. For example, they could run a digital marketing webinar with the following title:
Long Distance Drives: How Tesla's Go Further Than Other Electric Cars – Watch Our Webinar
One of the key issues for most first-time electric car buyers is range. In this webinar, Tesla could talk about the tech that allows its cars to drive further than the competition.
It's this product-led sales pitch that wins over undecided buyers.
Retention Webinars
Once you've got a customer, you need to keep them happy. Don't make the fatal error of thinking your work is over. The reason for this is simple: long-term customers are valuable. Worldwide, customer loyalty is worth a whopping $4 billion.
For Tesla, keeping customers happy could mean helping them get maximum use out of their vehicles.
Tesla cars are some of the most high-tech on the market, so a series of digital marketing webinars to explain each feature would be a great idea.
For example, these could cover the following:
Where Can I Charge My Tesla? Watch Our Webinar
How To Use Tesla's Driver Assist System – Watch Our Webinar
Getting To Know Your Tesla: Dashboard Guide – Watch Our Webinar
Keeping your customers happy and engaged with your product is the secret to brand longevity and creating loyal followers.
How To Attract An Audience To Your Webinar
Now you've got your webinar topic and goal, it's time to get the word out. Here are 5 foolproof ways to market your upcoming webinars.
1. Mastering Scarcity and Urgency
A hefty 60% of people will buy something within 24 hours because of FOMO. That's a pretty powerful stat, especially as the same concept can be applied to webinars.
If you can create a sense of scarcity AND urgency for your digital marketing efforts, you'll soon reap the rewards.
First, scarcity. Make your webinar seem exclusive to drive sign-ups and limit places. If you're regularly getting 40 sign-ups, try setting the limit at 60 to see if you can drive that extra attendance.
At the same time, limit the number of webinars you host, or hold an "on demand webinar" with "exclusive" content.
To create a sense of urgency, put a deadline on the sign-up form. Promote this across your social media platforms, ads, and email marketing in the two weeks before your upcoming events.
2. Promote Your Webinar With Video Marketing
In order to work, your webinar promo material has to be engaging. Whether it's on social media, email marketing, ads, or SEO website traffic, video is the most engaging form of content marketing on the planet.
And that's why you should use it to advertise your upcoming webinars.
With video marketing, you can drive more sign-ups to your digital marketing presentations across all channels.
No matter where you're marketing you're webinar, whether it's social media or through paid ads, video content will help you drive interest to your webinar.
To create epic marketing videos in minutes with no technical knowledge required, use Viddyoze.
With Viddyoze's software you can promote your webinar with teaser announcement videos, create video ads to disrupt people's newsfeeds, and product videos to seal the deal with your customers after the webinar.
All you need to do is hit this link, sign up to our software, select the type of content you'd like to create, customize the video to match your brand, and hit download. It is that simple.
3. Drive Sign Ups With Paid Ads
Paid advertising is the single easiest way to get your upcoming webinars in front of new eyes. Time and time again, it's been proven that paid ads can drive awareness and sign ups.
CPC (cost per click) ads are a brilliant way to push clicks to your squeeze page, as they get the best ROI when it comes to digital advertising. Done right, paid advertising can return $2 for every $1 spent.
For some extra oomph in your ads, try using video to market your upcoming webinars.
4. Announce Your Webinar To Your Email Subscribers
The importance of email marketing shouldn't be underestimated when it comes to a webinar promotion strategy.
Alongside social media and paid adverts, it's one of the best ways to drive people to your website.
There are two ways to use webinars with email content marketing, and it involves the segmentation of your mailing list.
Target non-customers on your mailing list with consideration content – these are the people who are interested but haven't yet made a purchase from your business
Target existing customers with a retention webinar as part of a long-term strategy
Given you already have a relationship with these customers, a sound email digital marketing strategy is used to close warm leads or improve existing bonds. Don't waste time with awareness stage content marketing, leave that for marketing ads and social media.
5. Host A Joint Webinar With Another Brand Or Business
Joining forces with another established business is a great way to share reach and improve sales.
The key to a successful webinar relationship is choosing a business that isn't a competitor, but that shares a similar target market. For example, Ahrefs (SEO tools and strategy) and Buffer (social media strategy) combined to discuss digital marketing.
This kind of content marketing is only used during the awareness phase. The strategy is to put your business in front of new eyes, without spending a fortune in resources and time.
It's a great way to build relationships with other brands, which can lead to other content partnerships and digital marketing events.
Webinar Tips From The Experts
Viddyoze co-founder Jamie Garside knows a thing or two about digital marketing webinars. It was one of the main tools he used to help transform Viddyoze from a disruptive start-up into a global 8-figure business. Jamie is also the host of all Viddyoze's webinar content marketing campaigns. Here are a few expert tips from Jamie: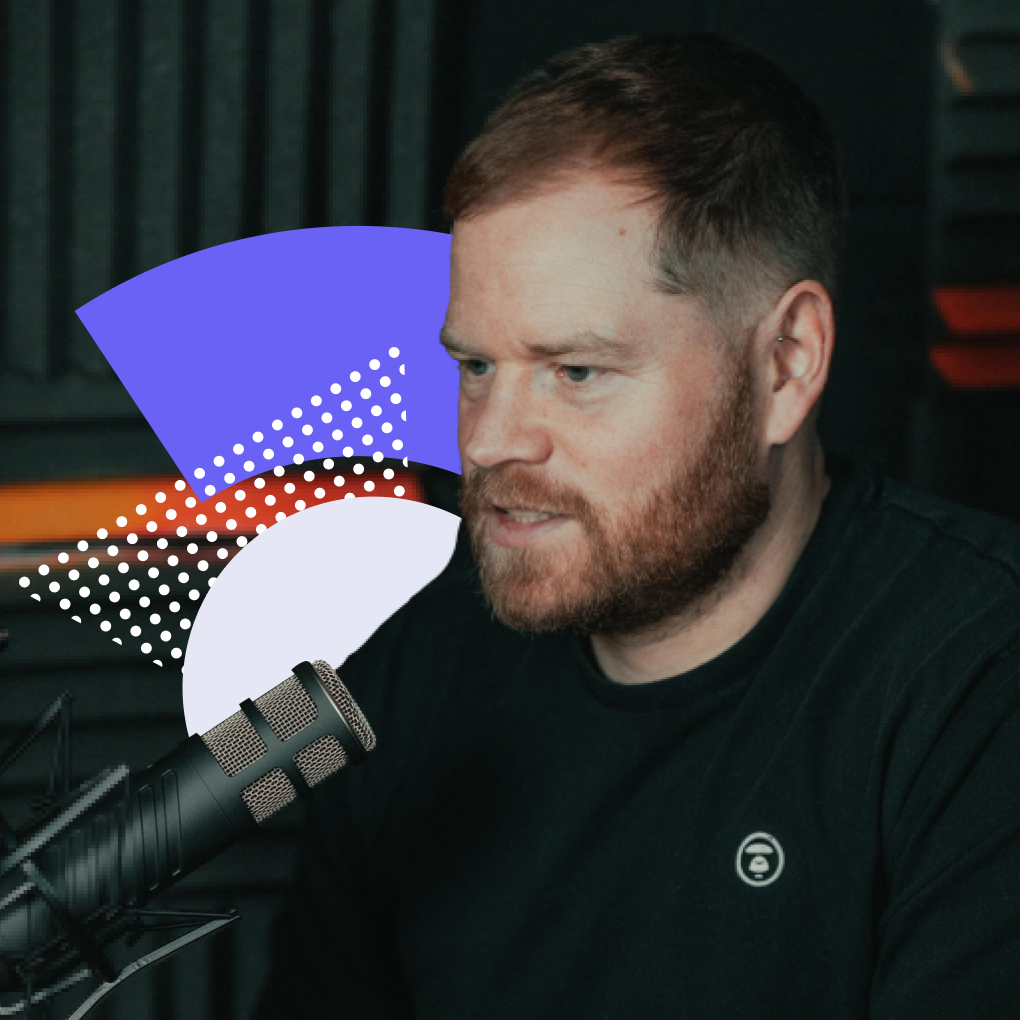 "When it comes to structuring a webinar where the goal is to sell something, it is important to create value first. Think about the content you can deliver on a webinar that viewers can take away. If you are going to invite people to a webinar, it is important that every single attendee feels like they gained something from it."
"This could be in the form of actionable content, such as tips, a strategy, or a step-by-step tutorial, and it should have relevance to what you are selling live."
"Keeping the flow of the webinar content moving is important. Nobody likes awkward silences or unorganized presentations. There is a flow to a webinar, and once you are in it, you need to keep momentum. To make this easier, I would always make sure I have run through all of the content/slides and structure multiple times beforehand so I know what is coming next in the session."
"Keeping questions to the end is also important, especially if running a webinar is new to you. Stopping to read questions or comments partway through can knock you out of the flow and 2turn an organized webinar into a disorganized mess quickly."
"Questions from attendees are important, and interaction is the key to a great webinar, but as a host, it is important to restrict these to certain points within the webinar structure. I would usually handle questions at the end of the webinar once I have delivered my content. I also let attendees know that I am going to do this."
"This leads me to another point. I always tell attendees what my plan for the webinar is, what I am going to be covering, and also when I will be checking things like questions. This way, you set the expectation of what is to come, and attendees know what to expect."
"I usually have a slide right at the beginning of a webinar that starts with 'on this session…' This is where I lay out a few bullet points on what I intend to cover and in what order."
"The last tip I have is on call-to-actions. When you are live, if you are selling something, you need to make it easy to purchase. Using shorter links to checkout pages can help with this and making sure you walk people through the process of what they need to do to purchase also helps."
Common Webinar Mistakes To Avoid
1. Ignoring Your Analytics Reports
Look at your webinar's performance after every event using analytics. Through this data, you'll greatly improve your digital marketing content output and grow your business faster.
Pay particular attention to the following tips:
Drop-off rates – when did people stop watching your webinar and why? If there's a particular point where multiple people drop out, you may need to change this for upcoming webinars.
Average watch time – how long are people watching for? If most people watch 20 minutes of a 50-minute presentation, your webinars are probably too long or people are leaving before you hit your call-to-action.
2. Using Low-Quality Filming Equipment
Don't skimp on quality. Serve up bad video and audio quality, and you can kiss your audience goodbye in a matter of minutes.
Effective digital marketing requires quality. Invest in a professional-level webcam and microphone at the very least. Good lighting is also something to consider. For more tips on equipment, check out this expert blog.
3. Forgetting The Call To Action
Be sure to include multiple CTAs in your webinar marketing strategy, telling your potential customer exactly what to do next.
Be as clear as possible with your direction, whether you're asking for an email sign-up, product demo, or sale. We recommend including one halfway through, and one at the end.
4. Not Delivering A Visually Engaging Presentation
A webinar is not a phone call. It needs to be visually engaging and enjoyable to watch, like any other presentation. Use video wherever possible to engage your audience and explain complex topics.
Animated charts, graphs, and cartoons are a brilliant way to keep viewers hooked on a digital marketing webinar.
5. Failing To Engage Your Audience
Don't just stand in front of your laptop and deliver a rehearsed speech – one of the webinar's strongest features is the ability to interact with viewers.
Assign tasks, hold surveys, and ask questions regularly. Hold a Q&A session at the end of your webinar, and mention this at the beginning so people stick around. Remember, the best marketing keeps people hooked.
Final Thoughts
Digital marketing webinars are a proven way to convert people in a cost-effective way. Video marketing plays a massive role in this process.
With Viddyoze, you can create a visually engaging presentation that keeps viewers hooked, makes them want to learn more about your brand, and gets them to hit "buy" at the end of the webinar.
Don't waste any more time with useless marketing tactics. Learn more about our webinar video maker, and start creating presentations that convert.
FAQs
Why Is It Called A Webinar?
The word "webinar" is a contraction of the term "web-based seminar". It is a relatively modern term within digital marketing.
What Is The Purpose Of A Webinar?
The purpose of a webinar is to inform, explain or promote an element of your business product or brand to a number of leads. For a solid business strategy, it's an essential component of the modern marketing mix.
How Do You Make Money From A Webinar?
A business can make money from a webinar in a number of ways. You can gain a sponsor (someone who pays to be associated with your presentation), you can convert attendees into sales, and can charge people to attend the webinar.
How Do Webinars Help Marketing?
Webinars help digital marketing as they offer high-value content to an audience. This can be used to increase sales, grow business, brand awareness, improve social media engagement, drive traffic to your website, or customer retention rates.
Are Webinars A Marketing Channel?
Yes, webinars are a marketing channel. When used correctly, they are high converters and can be promoted with email marketing, social media, content marketing, and other kinds of marketing campaigns. All marketers should incorporate webinars into their business strategy.
Continued Reading