Video content marketing is the single most powerful way to promote your business.
The problem is that many businesses need help figuring out where to start when creating an effective video marketing strategy.
But that's about to change. In this post, we will explain everything you need to know. You'll discover:
How video in content marketing works
How you can use video to supercharge your marketing efforts
How to begin using video for content marketing within your business
Let's get started.
Contents
What Is Video Content Marketing?
Video content marketing is the practice of using videos to build interest in a brand's product or service.
Video content marketing isn't necessarily about generating immediate sales but educating and entertaining your audience so that they think of your brand first when they are ready to buy.
When done right, video content marketing allows brands to build an online profile, drive SEO traffic, and nurture their target audience into paying customers.
Why Use Video In Content Marketing?
There are tons of great benefits of video content marketing; here are a few of the most significant ways it can help your business grow:
Video marketing helps businesses to increase sales by explaining their sales messaging more effectively to consumers
Consumers are asking brands to create more video content
Video content can be repurposed across multiple channels, including social media, SEO, paid advertising, and email.
Videos on a landing page can dramatically improve conversion rates and drive more traffic to your website
Viral videos on social media have the power to elevate your brand awareness
Video Content Marketing Statistics
Videos help potential customers understand your product or service, according to 94% of marketers
84% of video marketers say that video marketing has helped generate more leads
85% of the US internet audience watches videos online
Video and video streaming services will eventually account for almost all internet traffic
Social media posts with videos earn businesses more engagement than regular posts
Online video platforms have an audience reach of 92%, according to Statista
Video content marketing is incredibly popular with digital marketers, 86% of which use it as a marketing tool.
86% of marketers say that video content has boosted their website's SEO traffic
For more statistics on video marketing, read our expert guide.
Before you get started with video content marketing, there are a few things you need to think about. We've highlighted six essential points to help you:
Create an effective video marketing strategy
Create video content that speaks to your target audience
Take your business to the next level
1. Do You Understand Your Target Audience?
To create good content video marketing, you need to understand your target audience – and we mean really understand it.
Understanding your customers means putting in some serious work behind the scenes to figure out who your audience is, what they want, and how you can help them. If you don't, your video content will appear generic and appeal to no one.
Remember this: the most effective marketing is highly personalized and makes the customer feel like your product was created to solve the problem they're experiencing.
To target an audience, you first need to create a customer avatar. A customer avatar is an in-depth profile of your dream customer, and it needs to cover everything from their occupations to personal interests.
By putting yourself into the shoes of your dream customer, you can begin to think like them, and this will lead to you unlocking messaging strategies and marketing channels that will resonate with this type of person.
You can use several research tools to gather more information about your customers. Here are a few ideas to get you started:
Hold a focus group: a brilliant marketing tool, reach out to existing customers, and ask a range of questions based on your product or service.
Questionnaires: if you're struggling to get enough people together for a focus group, create a customer questionnaire asking the same questions.
Analyze customer data: zero in on specifics with customer data, such as ages, locations, gender, and buying habits.
Identify goals and pain points: use what you know about your customer base to figure out what they want and need from your brand, then create a video that taps into your audience's interests.
Once you've gathered this information, you can create a profile to understand your ideal customer better. This information makes content creation more accessible, helping with content ideation and general content strategy, which leads us to our next point.
2. What Type Of Content Will You Create?
The key to good, high-quality video content is: everything you create has to have a goal.
To make this easier, it helps to create a content strategy that matches up with the four stages of the buyer's journey:
Awareness phase – attract new prospects into the sales funnel
Consideration/Decision phase – convince interested customers to buy your product
Retention phase – educate existing customers, keep them happy and using your product
Each piece of content should slot into one of these stages, driving for a particular outcome.
For example, you could make a series of educational "how to videos" to create awareness for your brand. For the consideration phase, you could release a series of explainer videos highlighting elements of your product that your competition doesn't have.
Creating content for each stage of the buyer's journey is essential. Otherwise, you'll struggle to convert potential customers. Let's look at tech giant Apple as an example. We've come up with a few theoretical ideas that it might create for each stage:
Awareness: TikTok Video Editing Tips For Apple Users (Tutorial video)
Consideration: Find Out Why Designers Love The New Mac Book Pro (Video testimonial)
Retention: How To Get The Most Out Of Your Mac Book (Instructional video)
Recommended reading: 36 Fresh Marketing Video Ideas For Your Business
3. Do You Have Professional Filming And Editing Equipment?
When it comes to video quality, only the best will do. Any grainy footage or bad audio will turn potential customers off faster than you can say "video marketing."
As a result, film and editing equipment will play a significant role in your digital video strategy. To do these things successfully and make great videos consistently, you'll need some production equipment:
2 cameras
2 tripods, one for each camera
Lavalier clip-on microphone
Sound recorder
A light to illuminate your shots properly
Video editing software
Two cameras might seem excessive, but it's not. You can create more engaging and dynamic videos with a two-camera set-up.
How you do it is straightforward: set up your cameras facing the same subject but at different angles (for example, 4 and 8 o'clock), and hit record. Later, when you come to edit the footage, you can jump seamlessly between the two angles, creating a better visual experience for the viewer.
Other top tips include:
Using a mic to capture the sound clearly.
Using animated videos to explain complex topics.
Creating videos in a studio space.
For a more detailed explanation on how to increase the production value of your videos, check our YouTube channel. It's packed full of easy-to-follow video guides, covering everything from editing tips and making social media videos to using B-roll footage.
4. Who Will Present Your Videos?
A dedicated presenter helps audiences connect with your brand, values, and business purpose.
The reason for this is simple: people connect with other people. A presenter gives your business a human face, which helps viewers form a relationship with your video content.
Watford FC, a British soccer club, is an excellent example. The club's former goalkeeper Ben Foster reached one million followers across his social media channels way before it did, partly because of his hosting style.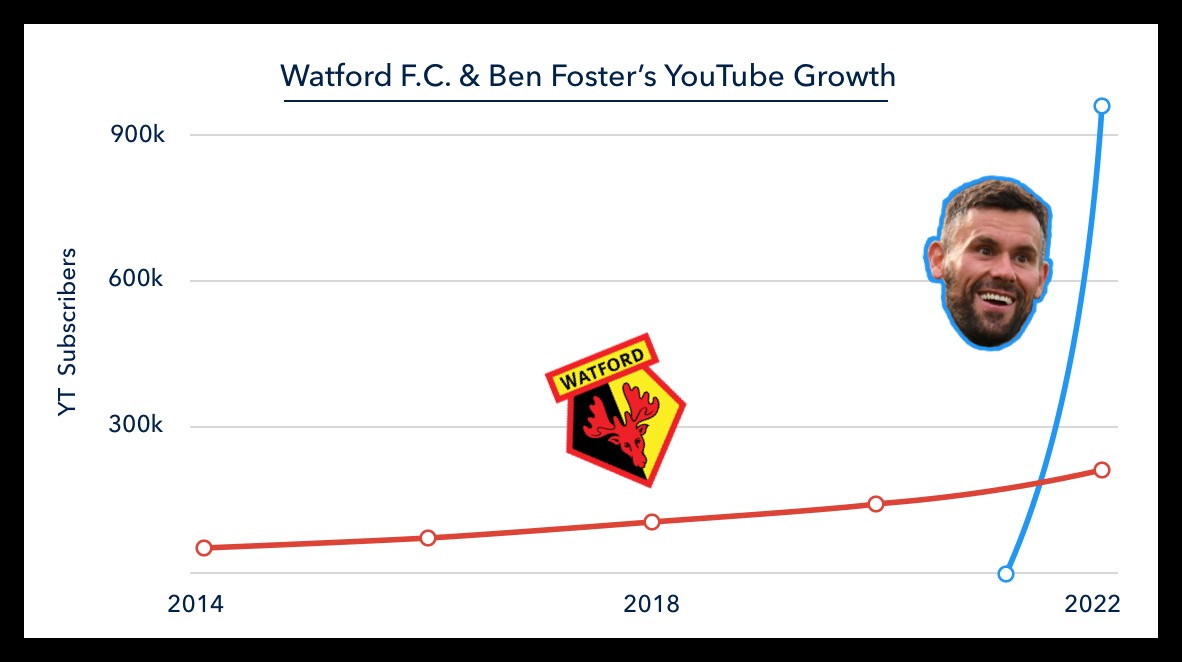 Other well-known examples include Gary Vaynerchuk from Wine Library TV or Tyler Oakley.
Ideally, your presenter should be comfortable with the role and charismatic enough to pull it off. The company CEO or founder is often a good place to start, provided they have the time to dedicate to multiple videos every month.
A presenter is extra important if you're planning live streaming or other types of live video. Live videos require a confident presenter who can handle the pressure of a live audience.
Live videos or webinars are a brilliant way to open your brand to a broader audience. Simple features, such as a Q&A, a live product demo, or a feedback session, can help create a sense of community with your customers.
5. How Will You Drive Traffic To Your Videos?
Effective promotion is crucial to content marketing. Creating videos is one thing, but you'll need to use multiple distribution channels to make your strategy work.
Video content can only be a powerful marketing tool if you push it in the right places. Here's a comprehensive list of the places you should be promoting your video content:
6. How Will You Monitor And Analyze The Performance Of Your Content?
Knowing which metrics to monitor and how to read them will help you create quality videos and improve the performance of your marketing plan.
These quantifiable metrics (KPIs – key performance indicators) are good indicators of your strategy's and video content's health. By tracking KPIs, you can quickly see what needs to change and how things can be improved.
The metrics you track will depend on the stage of the buyer's journey that you are targeting. Here are a few metrics to think about at each stage:
Awareness stage: impressions, reach, engagement (social shares and likes), time visitors spend on a page, SEO ranking, bounce rate, email sign-ups and captures, and pages per visit.
Consideration/Decision stage: number of new customers (conversions), clicks, click-through rate (CTR), cost per click (CPC), engagement (social shares and likes), sales, cost per conversion.
Retention stage: customer loyalty, reduction in customer churn, net promoter score (NPS), customer lifetime value, and feedback.
As we mentioned in the previous point, audience retention is one of the key indicators of a video's success. Both YouTube and Facebook provide bespoke reports on this metric.
To improve your retention, ensure you have a strong introduction (the first 15 seconds), split the entire video into chapters, use animated visuals, and keep video quality high.
Video Content Marketing Strategy Advice From The Experts
To weigh in on video content marketing, we contacted the mastermind behind Viddyoze's YouTube strategy Tom Ainscough.
From coming up with content ideas to being on camera and editing footage, Tom is an expert in producing high-quality video content. He's been integral to almost every video on the Viddyoze YouTube channel. Here's what he had to say:
"One of my top tips for successful video content marketing is to create videos that resonate with your target audience – you need to address their needs and desires in a genuine and relatable manner.
This connection builds trust and encourages organic sharing, drastically increasing your reach and potential views. This is why taking the time to create your customer avatar and understanding what makes your customers tick is so important.
A well-crafted, value-driven YouTube video can be your best marketing tool for building customer relationships, transforming viewers into brand ambassadors, and elevating your business to new heights."
How To Create Enough Video Content To Execute Your Content Plan
By now, you've seen how important video content is for modern businesses. The next step is to create videos.
Regular posting is crucial to success. You must create enough regular video content to build an audience and maintain interest and momentum. The more quality content you create, the better it is for business.
This poses two major issues for businesses just starting out: time and cost.
With Viddyoze, you don't have to worry about either. Our best-in-class software allows you to create any type of video in minutes.
Just sign up, select the template that meets your needs, customize it, download and you're ready to post. And the best part? You can access it right now, FREE for seven days. If you don't like it, simply cancel before the seven days are up and we won't charge you a penny.
Product videos, customer testimonial videos, social media videos, short-form videos, whatever you need to create for your video content strategy, Viddyoze can help you achieve your goals.
Tap the link for more information about Viddyoze's marketing video maker OR start your seven-day free trial now.
Examples Of Content Marketing Videos From Successful Brands
AirCover – Airbnb
Airbnb gives users another reason to choose it over a competitor with one of the best explainer videos of the year. Using high-quality video animations, Airbnb offers potential customers peace of mind with its new insurance product. This explainer video ticks all the boxes for the consideration phase of the buyer's journey.
SEO Copywriting Tutorial – Ahrefs
When it comes to educational videos, Ahrefs takes some beating. This tutorial is excellent awareness stage content that is clear, compelling, and concise, giving the viewer an easy-to-understand rundown of SEO copywriting. This video is a great example of how instructional videos can create brand awareness.
A Countryside Escape with Eve Jobs – Louis Vuitton
This stylish promo video taps into the aspirational ideals of Louis Vuitton's target audience. The video has a travel/lifestyle angle, so it doesn't appear overly promotional, despite featuring the brand's products throughout. This would work at any stage in the buyer's journey.
Final Thoughts
Now you know how video content marketing works, it's time to start using it to get the word out about your business.
Stick to the six principles above, and you'll soon see results, whether you're looking to create a brand identity, increase brand awareness, or boost sales.
With Viddyoze, you can create all kinds of compelling videos in a matter of minutes. Learn more about our video making software now.
FAQs
Why Is Video Marketing So Powerful?
Video content marketing is powerful because it's easy to digest, engaging, and incredibly persuasive. It's a relatively new marketing strategy that has begun taking hold in the last five years.
How Do You Use Video Content In Marketing?
Video content in marketing can be used in many ways, including to educate and explain things to an audience, promote products (for example, using a product video), and tell a brand story. It's an essential part of the modern marketing mix.
Is Video Part Of Content Marketing?
Video can be used as a part of a content marketing strategy or as the primary tool in a video content marketing strategy. The former uses different types of content, such as blogs, written posts, etc., while the latter uses video for most digital marketing.
How Can I Improve Video Content Marketing?
To improve your content marketing, you must use video regularly, conduct audience and analytical research, and create content your target audience finds genuinely valuable. Share your content across multiple channels, including social media platforms, email, and advertising.
How Can I Use Content Marketing For My Business?
You can use content marketing for your business in many ways, including on social media, email marketing, blog content, SEO, and video marketing. It works across all forms of digital marketing.