There is a disruptive new kid on the block.. well new-ish. TikTok has taken the social media landscape by storm since its global launch in 2017.
In a few short years, the platform has exploded from a niche lip-synching app called Musical.ly into the major player it is today, thieving all of YouTube's viewers (well, a lot of them). It's one of the most popular social platforms. Just look at the numbers…
Other social media companies have had to emulate TikTok's short, snackable videos to keep up. YouTube Shorts and Instagram Reels were released in 2020, the same year TikTok became the social media superpower.
Put simply, TikTok is a platform you can't afford to ignore as a business.
We're going to provide you with all that you need. Brand thinking about starting out on TikTok? In this beginner's guide to TikTok on how to use TikTok for business success.
Here's everything you need to know.
Demographics Of TikTok Users
Before diving into TikTok business, it's important we figure out whether or not the demographic of TikTok users matches the audience you are trying to reach with your business.
Here are some helpful stats to help you figure out whether this is the place you want to be:
47.4% of TikTok users are aged 10-29, which means it's an epic place if Gen Z is your target demographic.
Women make up 54% of TikTok users.
78% of TikTok users prefer to consume funny or entertaining videos compared to 35.1% who use the platform to follow or research brands.
About a quarter of US adults under 30 now regularly get news on TikTok.
Get Started With Using TikTok For Business
1. Is TikTok GOOD For Business?
Yes, TikTok is VERY GOOD for business. To give you an idea, we found that the average organic reach for brand posts on TikTok is 118%, compared to only 5.2% on Facebook. That is an INSANE difference in reach and the amount of people who will actually see your posts.
And do you know what's also crazy? 55% of TikTok users have purchased something after seeing it on the app. Time to get excited.
From scrunchies to engraved credit card covers, there have been many success stories of small bedroom-started businesses that have skyrocketed, all thanks to TikTok.
As you read on, you will discover more and more of the benefits of TikTok for business.
But first, the very first stage is to get your TikTok Business Account up and running in preparation for success.
2. What Is A TikTok Business Account?
A TikTok Business account is an account on which businesses can utilize marketing tools that enable them to build a strategy for reaching more of their target audience.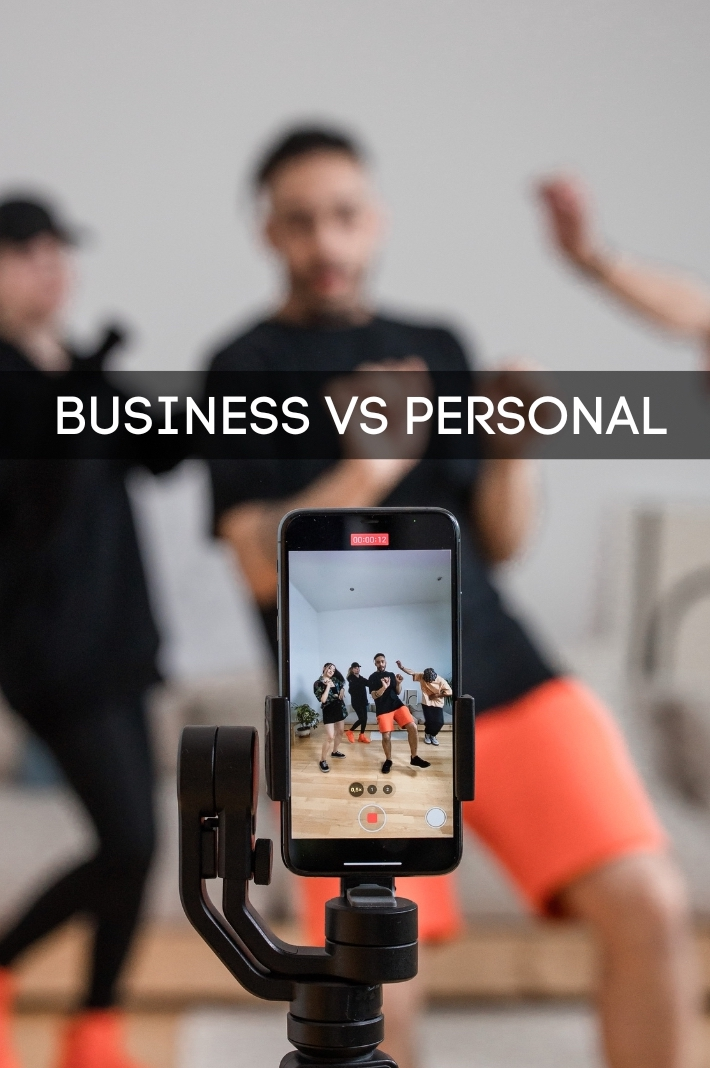 3. Business Vs. Personal Account
The difference between a business vs personal account is that a business account allows access to a suite of marketing tools and analytics. It only allows access to commercial sounds, so you won't have as many sound options as a personal account would. You also cannot make a business account private, unlike a personal account.
The analytics are downloadable on a TikTok business account, unlike a personal account.
4. How To Create A Business TikTok Account
TikTok makes business accounts easy and free to set up. First, install TikTok from the app store. Next, open, press "Me" on the bottom navigation bar, and then "Sign Up." Register with your phone number, email, or social network account.
After creating your account, you'll need to convert it to a business account manually. Tap the upper right of your "Me" page.
TikTok's appeal is its simplicity.
Here you'll find "Manage Account." Select "Switch to Business Account" from this. Choose a business category next; the TikTok algorithm uses this to send you "customized content, events, and solutions."
And that's it – you're ready to start making content on TikTok.
Prepare Your TikTok Channel And Marketing Strategy
First things first. Before diving straight into creating videos, we advise that you make sure your TikTok profile is fully optimized in preparation for success and that you prepare your video content marketing plan in advance rather than arbitrarily posting any video ideas you think of on the spot. This will help you track accurately what's working and what isn't and give you a chance to test out strategies for a fair amount of time one by one.
1. Choose A Marketing Goal
Before getting started with your TikTok account, the first step is to select a marketing goal if you've not done already so that your efforts won't go to waste. Your marketing goal could be to:
Build your number of followers
Generate sales
Create a loyal, engaged TikTok community.
Whichever goal you pick will affect the type of content you create and the messaging strategy you use to engage potential customers.
2. Optimize Your TikTok Profile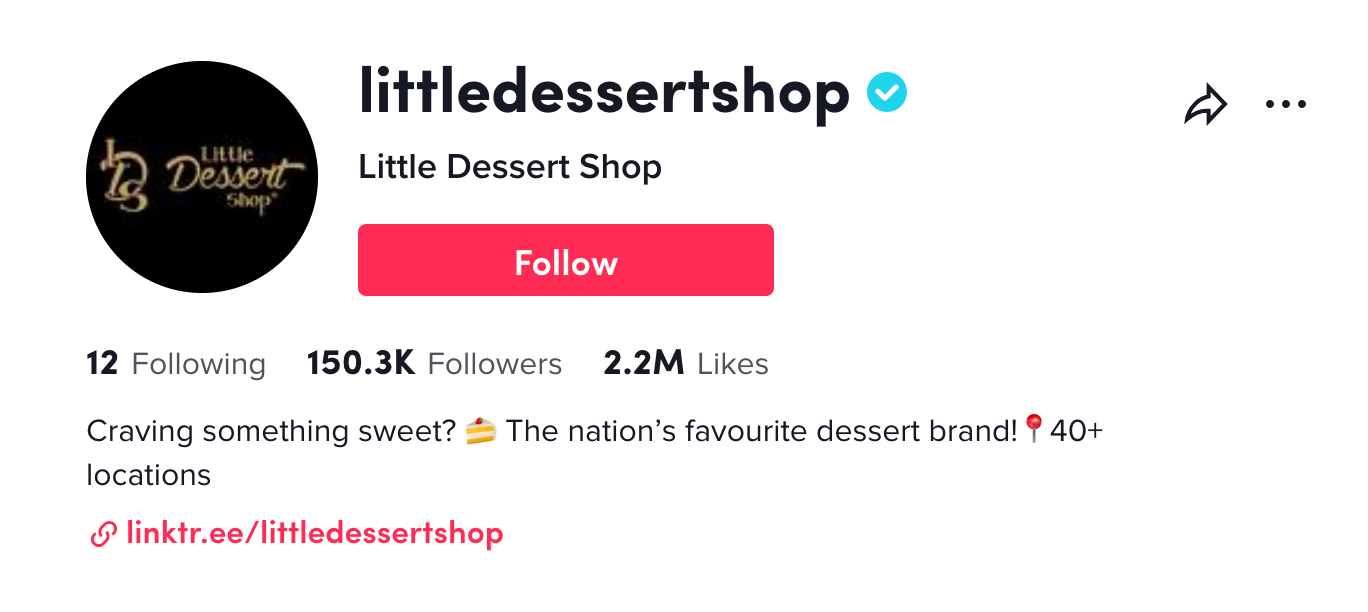 Upload a profile photo on your TikTok profile to appear trustworthy. This will most likely be your brand's same logo from your other social accounts.
In your TikTok bio, you can describe your videos; what TikTok users can expect to see in the videos on your profile. This helps them to make the decision on whether they want to scroll down to watch your videos. For example, a drone brand might say something like "Fly with Us! 🚁 Experience the thrill of miniature drones in action 🎥".
Notable: You need 1000 followers before you can add a link in your bio to your store.
3. Come Up With A Strategy Plan & Content Calendar
When using TikTok for business, you need to treat it exactly like that: a business. A flawless TikTok strategy requires trial and error. You can replicate or rerun a successful video until it stops getting thousands of views.
To stay organized and on track, we highly recommend using a content calendar to track every video that's going out rather than freely winging the social media game. It's better to have a strategy that you can test and follow.
Track Your TikTok Video Metrics
Probably the most under-utilized tool EVER, yet the most important for everyone on the platform. Video metrics are critical to business success. Why? They track your social media performance so you can see what works and what doesn't, whether it's the video's content or length, so you'll want to keep an eye on these to get more reach and engagement.
Your data will give you a deeper insight into who's watching and what you can change up for more success. Here are the analytics you can track to do this.
1. Overview Metrics
In the "Overview" metrics tab, you can get a summary of the basic metrics, such as video views, profile views, likes, comments, and shares over a selected date range. These will literally give you an overview of your profile's performance.
2. Content Metrics
If TikTok users are leaving your 12-second video after 2 seconds, there's an issue, and TikTok won't promote it further.
The "Content" metrics tab allows you to view and measure your videos' performances, for example, watch time which is prioritized by TikTok. All social media sites want to keep users on their platform as long as possible to show them more in-feed ads and make money which is why this may be the most important analytic to track. Other analytics you can track from the content metrics include your trending videos, total video views, likes, shares, and comments, watched full video, and reached audience. This will give you an overview of how/if your viewers are highly engaged.
These metrics will really help you nail your content strategy. For example, if you're not getting many shares and this is important to your business, this will make you aware so you can try out a new strategy, e.g., different types, and more engaging content.
3. Followers Metrics
The "followers" analytics do exactly what it sounds like; track your followers. They give you insight into your follower growth over a set amount of time and also some demographic details such as the gender split of your followers and "top territories" – where your followers are from. So, if you see that your account is growing, then you're on the right track.
4. Live Metrics
The "live" metrics track the analytics for your live videos over the last 7 or 28 days, which will be important if live streaming is a part of your content strategy.
Here you can gain insight into your total views, time, followers, and diamonds (received virtual gifts analytics. This will enable you to see at a glance whether live streaming is having a positive impact on your business.
Run Various TikTok Ad Formats
As a business, if you have a bit of budget room, you may want to consider running advertising campaigns rather than going the organic route alone to enhance brand visibility further. It's seriously worth exploring for further reach. These are the types of ad formats TikTok offer.
1. In-Feed ads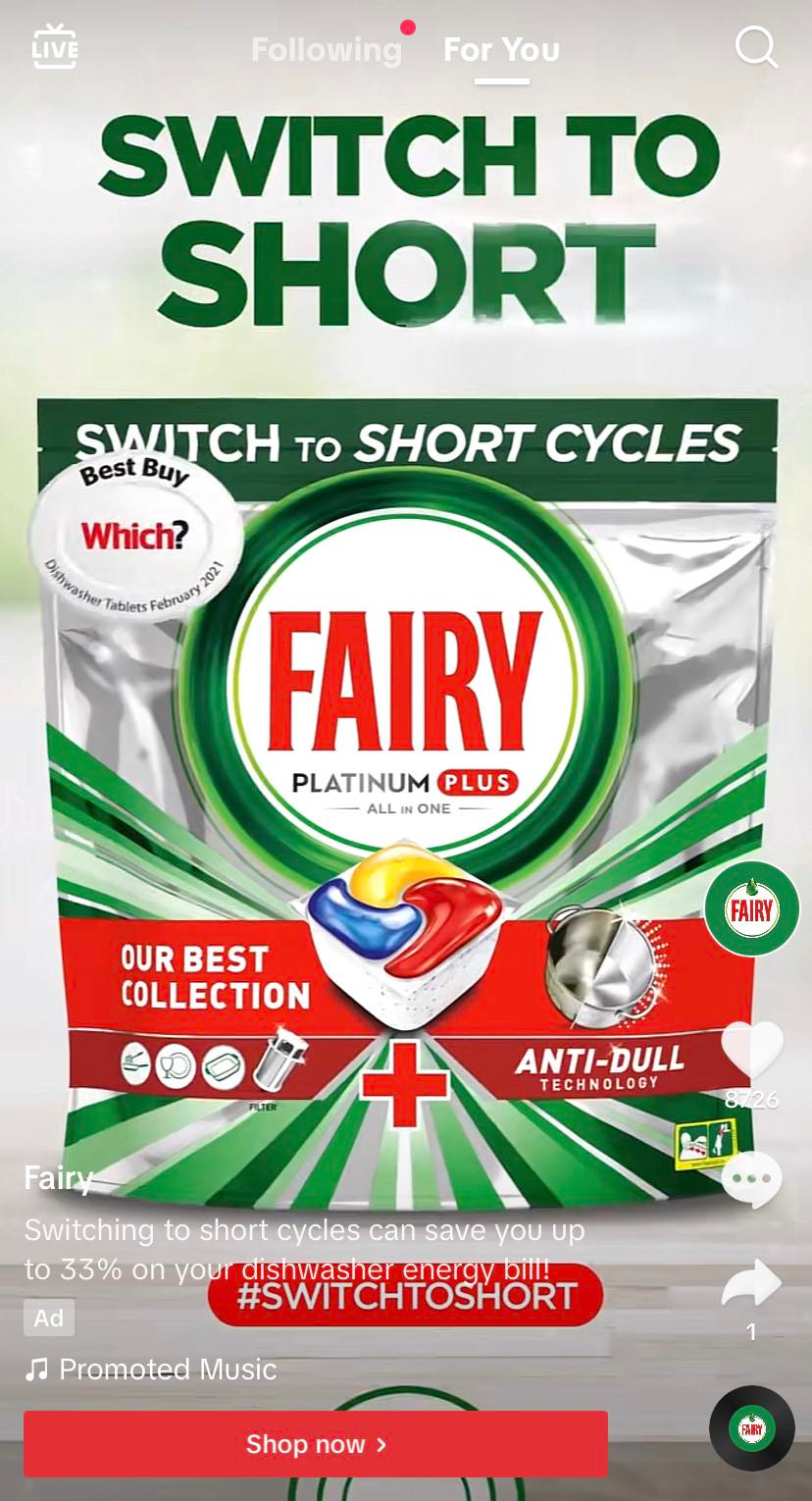 In-feed ads are a low financial investment option for advertising that shows up in the TikTok feed your scroll through on the home page. They look nearly exactly the same and show up exactly the same way as a non-ad video would and are skippable simply by swiping past them as you would with any other video. They have less exposure than brand takeover ads which we'll cover but are still good to consider on a lower budget as they allow you to build awareness and add clickable links. You can also create these types of ads using TikTok Ads Manager.
2. Branded Hashtag challenges
Branded hashtag challenges are also paid advertisements that often show up as a clickable banner on the 'Discover Page', and as clickable TikTok hashtags in video descriptions that direct you to the business' TikTok page. A branded hashtag challenge encourages TikTok creators to post videos participating in a challenge or recreating a specific action/move using a sponsored brand-relevant hashtag. Think of each of them as free video ads. These are great for getting customers to engage with your brand and to increase brand awareness. However, it's important to note this type of ad comes with a high price tag. This is a type of advertisement you do independently and is separate from TikTok Ads Manager.
3. Brand Takeover Ads For Mass Worldwide Exposure
A TikTok brand takeover ad differs from a typical ad in the sense that it's the first thing a user sees when they open the app, taking over the entire screen. They are unskippable for 5 seconds and are embedded with clickable links of your choice.
These types of ads are high-impact video ads with extremely high mass awareness, with the potential to reach millions, so these are an incredible choice for increasing your brand's exposure, and also due to the clickable links, are ideal if your brand's marketing goal is instant traffic to your website or to drive sales.
The above example is the #passthechard challenge, a Mother's Day brand takeover created by Honey which even celebrities such as David Dobrik and Kristen Bell took part in to support the charity Baby2Baby.
You can create brand takeover ads with the TikTok Ads Manager, which is accessible through signing up for a TikTok ads account; this is separate from your regular account.
Important Note: Due to the level of exposure, these ads do not come cheap, starting at $50,000 a day.
The Creator Network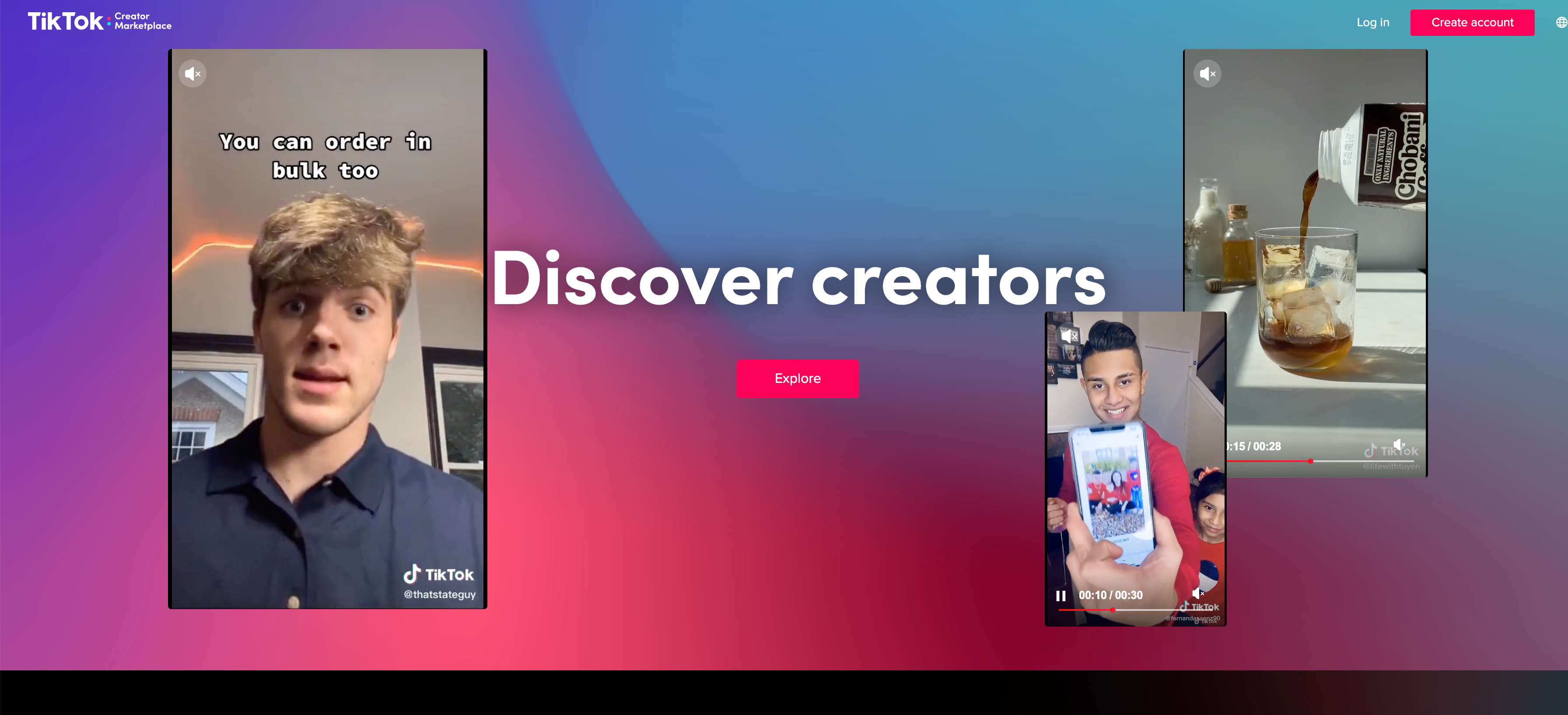 Differently to ads, but still, with the purpose of improved exposure, consider working with other creators (or TikTok influencers) on the platform.
TikTok has made finding the right creators to work with easy through. the launch of their Creator Marketplace. This enables brands to search for creators globally and have a look at their data, such as average views, engagement rate, and reached demographics, and if happy, invite them to collaborate at their set fee (you can negotiate this).
This is an effective business move as it can organically increase brand awareness over the space of the entire platform. People also love and enjoy authentic video content.. as it's real rather than staged. This is why using creators from the creator network as a business is something you should consider exploring. They may be able to help create a unique angle for marketing your product.
Working With Affiliates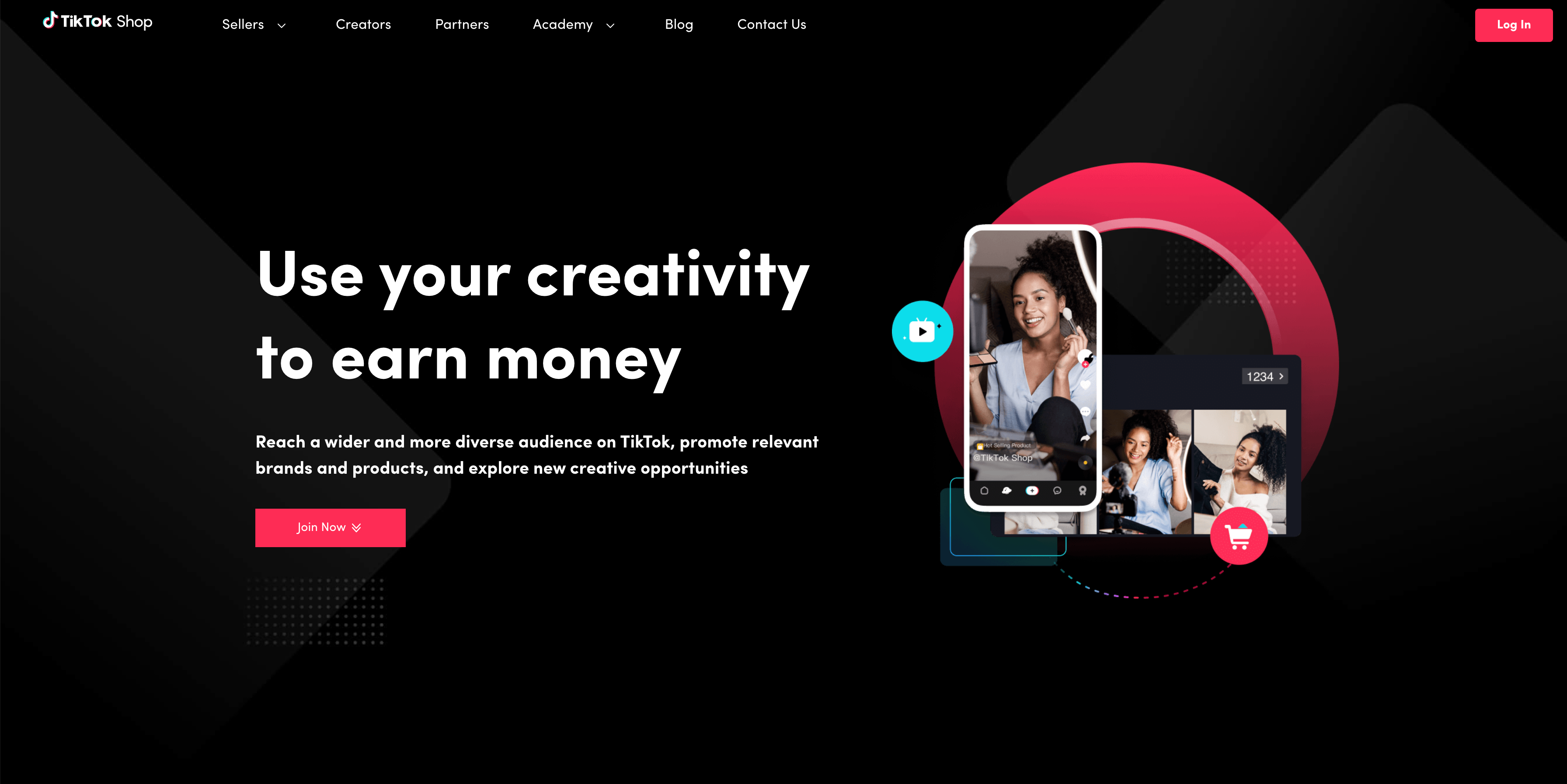 Working with affiliates is very similar to working with TikTok influencers, but the payout is slightly different. See, with the Creator Marketplace, you pay a one-time straight-up fee, but with affiliates, you give them an "affiliate link," which enables them to get paid an automated small commission from you per sale that they drive for your business. They can place this link within their bio, or if your products are listed in the TikTok Shop, they can place the links directly on their video (which is a lot more easily accessible).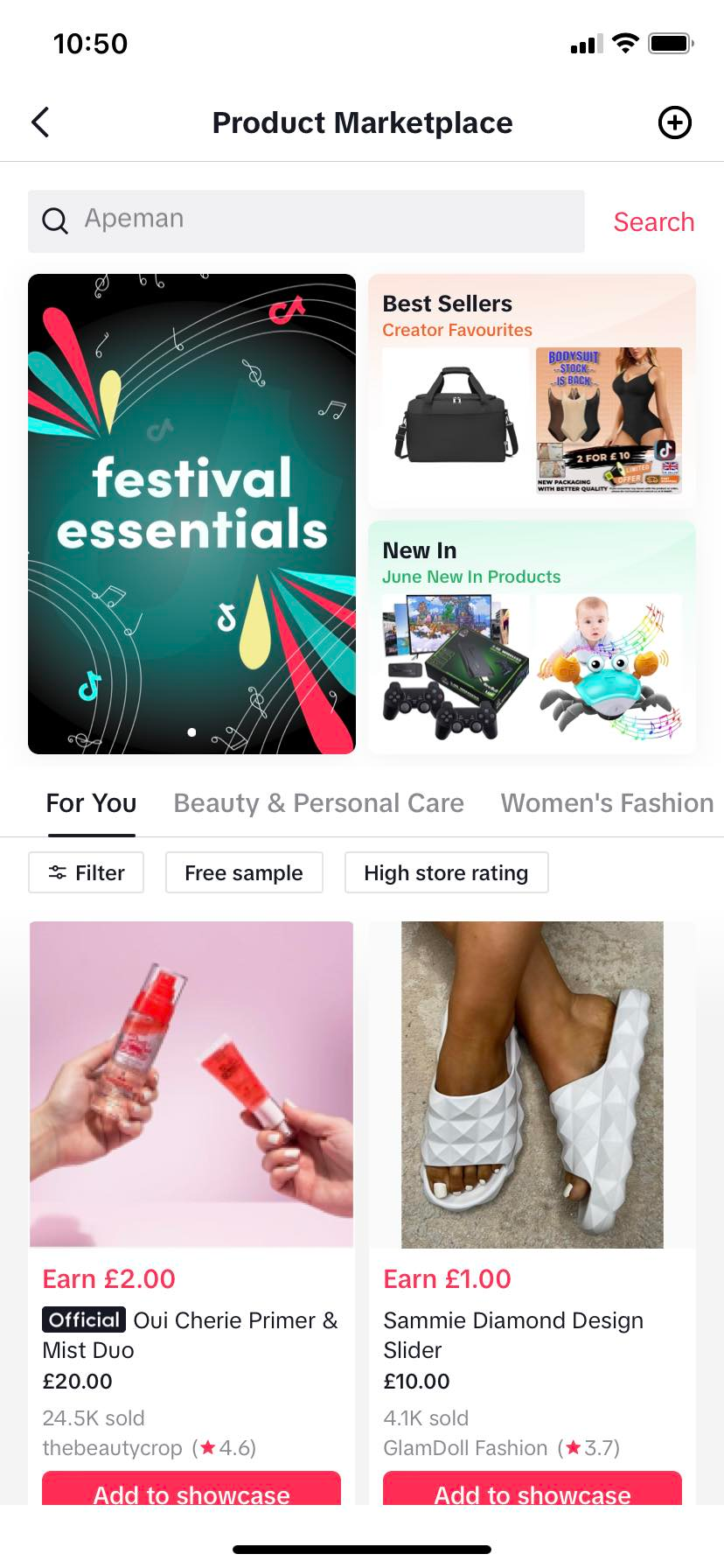 It's really up to you which approach you take, but it's key to note affiliates are financially at lower risk than influencer collaborations through the creator marketplace. This is because you don't run the risk of making a 0 profit margin as you are only paying them per sale rather than an upfront fee.
The only risk to consider is that affiliates are not entitled to make content, unlike when you pay a creator an upfront fee to create content.
Business Examples With Strong TikTok Marketing
We've listed some examples of great video marketing from TikTok businesses below to inspire you and spark some ideas for your starting point.
1. Duolingo
Duolingo found most of their TikTok success of 6.7+ million followers when they started implementing their owl mascot into their videos. They, like a lot of other brands on the platform, concentrate on producing humorous videos around office life, jokes about being misread as Dua Lipa, and comedy surrounding using Google translate as an alternative. They also do their best to stay relevant to TikTok culture by participating in TikTok trends and how-to language videos. Some might say their success was down to their content strategy being on point.
Following their TikTok success, they became the number 1 most downloaded education app from the app store.
2. GymShark
Rather than promoting its products GymShark rather focuses on entertainment videos and sharing meme-style comedy related to the fitness industry.
See how GymShark really targets the right audience for them through using select humor that is relatable to specific people who associate with their niche directly, i.e., gym-goers and fitness lovers. They create videos that appeal to and relate to their target audience and their target audience only. Differently, TikTok has focused a large amount on social media influencer collaborations that particularly resonate with Gen Z to build their audience.
3. Peachybbies Slime
Peachybbies Slime is a brand aimed at kids/teens that blew up on TikTok, giving them 6M+ in followers.
A great takeaway from this brand is how they use fun entertainment content that includes mini story-telling to hook their audience, like in the above example. Look at how they also use colorful great visuals that would appeal to a young audience in their how-to/testing videos so the viewer can imagine the sensory experience of using the slime. The content is thoughtful and effective.
4. Scrub Daddy
ScrubDaddy, yes, a cleaning sponge brand, believe it or not, has absolutely excelled on TikTok with a current following of 3.3 million+.
What's interesting is they have also bought out their own mascot and have been seen collaborating on TikTok with Duolingo's owl mascot. Their main strategy appears to be adding comedic and self-aware personalities to their product, the "scrub daddy" smiley sponges e.g., the emo sponge. Their content is incredibly simple rather than complex or over-creative, which shows. a bit of humor can take a brand a long way.
5.GoPro
GoPro, the brand that sells versatile cameras for action, is a fantastic example of a business that makes great utility of user-generated content.
In fact, all of their profile is user-generated content. Check out the example above of someone using the camera to film their interesting ski-ing journey through an ice cave in Switzerland.
TikTok Content Ideas For Businesses
We've listed some content ideas to get you started with creating content, and if these don't satisfy you, we've written another whole post on fresh marketing video ideas, with more video content ideas for social media listed.
Meet The Team: this can be a really personable approach to making your brand memorable. You can put a fun spin on this to make your video more entertaining such as whoever catches a ball being passed around has to answer a question about themselves quickly.
Tutorial Videos: how-to videos are great for demonstrating your product/s and increasing your brand's trust factor.
Branded Video Content Series: perhaps following the start-up of your new business (small businesses).
Educational / Fact-Style Videos: this is a form of entertainment and can work for a very niche demographic. When you are hitting your exact demographic, you will be increasing your chance of sales.
Packaging Orders: again, another type of entertainment but also a way small businesses can show off the time and care they put into their packaging for each customer, making it feel like a personable experience. This can help push viewers into the sales funnel and start to become interested in your brand.
Storytelling Videos: this is the most effective type of content for creating memorability and reliability. What's great about stories is that you can create them in "parts," meaning you will be covered for a few days worth of content.
Mascot Dance Videos: mascot videos appear to perform really well, probably because they are so entertaining. This is a great way to drive traffic and awareness to your TikTok business account.
Behind-The-Scenes: another personable approach as it feels to your audience like you're exposing a secret. This would be great for existing customers to continue their loyalty to your brand.
An Office Tour: Similar to Meet The Team videos, these can generate a personable, memorable approach for your viewers, and also that trustworthy factor.
Comedy Skits or Entertaining Videos: it's important to nail that comedy/entertainment side as 78% of TikTok users come to the platform for that purpose. You'll be missing out on large audience reach if you don't incorporate these types of videos.
Influencer Takeovers: invite an influencer to hang out and work at your office for the day whilst taking over your TikTok account. Have them film their day for the social platform.
Before & After Transformations: these work fabulously as testimonial videos to build trustworthiness, for example, for fitness or beauty products.
User-Generated Content Videos: this is when you ask a content creator to create content with your product/s for you to use on your social media platform. This saves you from creating your own videos.
Product Videos: with your existing or new customers, product videos (such as unboxings) are effectively show-and-tell and work as demonstration videos to help your audience decide whether they want to buy.
Testimonial Videos: You could do this with influencers to increase the trustworthiness of your product/s/services.
How To Create Advanced TikTok Videos For Free
For a limited time only, Viddyoze is offering a free 7-day trial to help businesses launch their TikTok strategy.
You can sign up for free, create an unlimited amount of videos, and if you cancel before the trial ends – you won't be charged a penny.
When you access the Viddyoze app you'll gain access to thousands of exclusive video recipes and animation templates created by our in-house team of video marketing experts. These video assets are exclusive to Viddyoze and can't be found anywhere else on the web; giving you the perfect opportunity to post unique content that stands out in crowded feeds.
Learn more about our TikTok video maker or redeem your free trial now.
F&Qs
How To Unlink TikTok For Business?
To unlink your TikTok account from TikTok for business in 2023, follow these steps.
Go to "Settings and Privacy" under the three lines in the top right-hand corner of your profile.
Tap "Security and Login."
Tap "Manage App Permissions."
Tap "Remove Access."
How often to post on TikTok for business?
You should post on TikTok for business as often as daily. Being consistent with posting every day will enable you to outcompete your competitors.